The Spaniard has given himself until the start of Euro 2020 to revamp the Gunners
16:01, 06 Feb 2020
There are just under 130 days until the start of the Euro 2020 tournament but that's the time manager Mikel Arteta has provided himself to revamp his Arsenal squad.
The Spaniard, appointed boss of the North London club at which he used to play, towards the end of December 2019 brought in two signings in January, both defensive and loanees, in Cedric Soares and Pablo Mari from Southampton and Flamengo, respectively.
Currently mid-table after 25 games of the 2019/20 Premier League season, Arteta's job is first and foremost to steady the ship that has had the rot set in. After 20 consecutive top-four finishes, Arsenal have failed to finish within the Champions League-qualifying berth for the past three campaigns.
Arteta's regime has so far produced just a single win, but they've also suffered just one loss in a total of seven league games. Arteta, at 37 years old, is the third-youngest gaffer across the Football League and hasn't yet splashed the cash, but The Daily Mail has declared that he is "prioritising a box-to-box midfielder, a central defender and a creative central midfielder" between now and as he stamps his own authority on the three-time Premier League champs, who are without a top-flight title in over 15 years.
Of course, with players moving in, high-profile departures will also be on the cards...
Out
Pierre-Emerick Aubameyang
Incumbent La Liga champions Barcelona are currently having to cope without Luiz Suarez and Ousmane Dembele being sidelined through long-term injuries and so the 30-year-old Gabonese forward has again purportedly piqued interest.
Aubameyang, the joint recipient of the Golden Boot for top goalscorer last season, has produced 57 goals for Arsenal in 92 games since moving from Borussia Dortmund in January 2018 as the, then, club's record signing. This season, however, the young Gabriel Martinelli has quickly taken to the hearts and minds of the Arsenal fanbase, the Brazilian exactly 12 years his junior (the two share a birthday) and Auba's contract expires in 2021.
Alexandre Lacazette
Does he really just show up for the glamour ties? And does he have a phobia of away days?
Between now and the end of the season it looks as if chances will be fewer and far between for the Frenchman with the emergence of the more dynamic Martinelli. Lacazette has five goals from 1500 minutes of play: the Brazilian, ten from 1300.
Shkodran Mustafi
Performances from the World Cup winner have markedly improved but with a raft of more exciting defensive options coming through the gate, it might be time to say thank you for the past four years to the defender had regularly provoked the ire of the Emirates faithful with some erratic displays. Like the two players above, the German also entered the last 18months of his contract.
Gabriel Martinelli so far this season:
-1,300 minutes.
-10 goals.
-5 assists.
-87 minutes per G/A.
-Scored on his Europa League debut.
-Scored on his League Cup debut.
-Scored on his full Premier League debut.
-Arsenal Player of the Month X2.
18-years old. Six million pounds.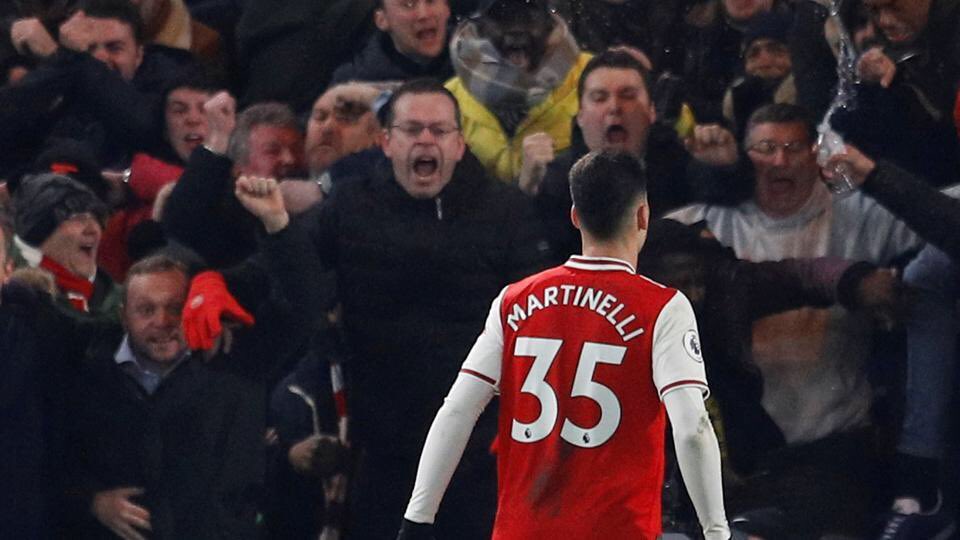 In
Gabriel Magalhães
There's a £30m price tag hovering over the head of the Lille defender and Arsenal are interested in raiding the club they took their record-signing Nicolas Pepe from last summer.
He certainly suits Arteta's purported desire for a left-footed centre-back and at 22 years old, provides that youthful incentive.
Boubakary Soumaré
Don't have to journey too far away from Magalhães for this one. Yes, it's Lille, again! The box-to-box midfielder is under contract until 2022 but has indicated a preference to move to the Premier League (Liverpool or Manchester United have been cited as his ideal destinations, according to reports in France by Le 10 Sport). Values range at the £35million mark.
John Stones
You just knew this move would rear its head again, didn't you? A reunion between Arteta and his Manchester City ward was mooted as soon as the Spaniard took up in the position in N17. Stones, a £47,500,000m signings for City in 2017 has fallen out of favour under Pep Guardiola, is far from a regular starter (and understudy to a converted midfielder no less) and as such, at risk of being exiled out of the England set-up
BONUS
William Saliba
Signed for £27m last year and was immediately loaned back out, despite not yet playing a minute of action for the Gunners, Saliba has already endeared himself with the reveal of a picture of him as a young boy in an Arsenal shirt. He's been beset by injuries this campaign for AS Saint-Étienne, first with a recurrent hamstring injury followed by a metatarsal injury but has slotted back into Les Verts' back-line.