The West Ham boss needs to leave his doubts behind him if they want to avoid the drop
16:01, 24 Feb 2020
David Moyes' woeful record against Liverpool at Anfield is highly likely to get worse on Monday night as he takes his struggling West Ham side to the Premier League's soon-to-be champions.
During fifteen competitive visits, mostly with the Reds' Merseyside rivals Everton, the Scot has failed to win a single game. To be fair to Moyes, the Toffees have not won at the home of their Liverpool foes this century, and certainly suffer a mental block when they face the red half of the city.
Already beaten before kick-off, it could be argued Moyes helped cultivate that lack of belief at Everton, spending eleven years at Goodison and admitting once before a game with high-flying, free-spending Man City: "This is like going into a gunfight and I have got a knife."
That outlook didn't change when he moved to Manchester United to replace the retiring, legendary Sir Alex Ferguson. After another defeat at Liverpool, a Reds' side who had previously finished nearly 30 points behind the Red Devils in the previous season and were without star man Luis Suarez, Moyes remained upbeat and insisted: "I thought we played very well."
Later, he said he was "more than happy" and explained, "after that performance, I wouldn't be worried."
Again, it's not the right time to appear positive. Not for the players and certainly not the fans.
David Moyes has never won any of his 15 matches as a manager at Anfield.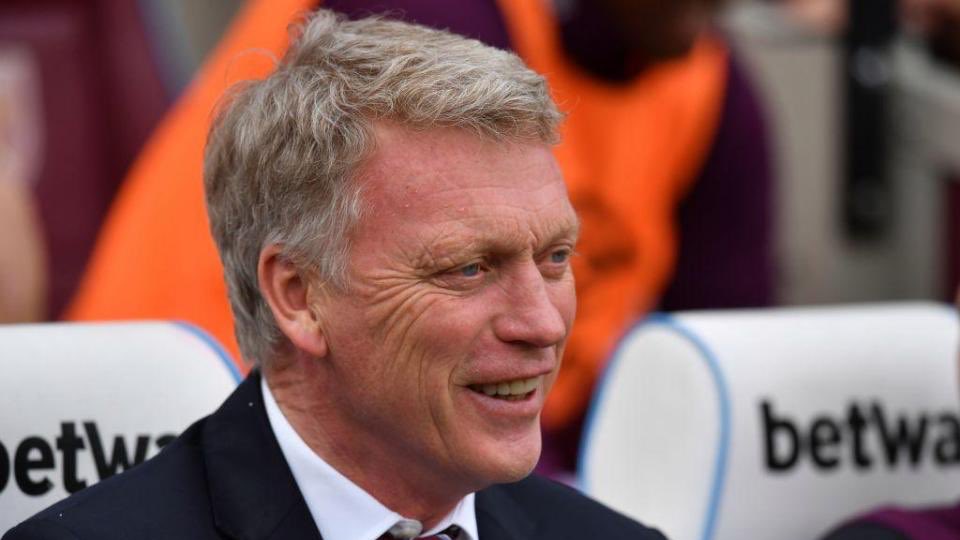 The task was much tougher when he wasn't able to keep Sunderland up and, again, he wasn't able to take three points against Liverpool.
Of course, perhaps the 56-year-old is just a realist but his words as manager carry weight and for some, he needed to be far more outwardly confident, even if that meant putting on an act.
This time around, with West Ham in the bottom three, a point behind Aston Villa in 17th place, he told the club's official: "That's why we love the game and that's why we take part in the game, because you always hope that you're going to be the team who can win. We'll try and do that [on Monday], and let's hope we can."
"It'd mean a lot for me [to beat Liverpool]. Anfield is never an easy place for any manager or team to go to, but we'll go there and do everything we can to get a result.
"With any top team, all the managers of all the other teams are trying to find ways of beating them. That's the way football is. Manchester City were the top dogs in the last few years. Liverpool have found ways of getting above them in the league. There'll be other teams who are trying to overtake Liverpool in the coming weeks and years."
If he is to save the Hammers, a win at unbeaten Liverpool would be massive. A monumental result. This isn't the game he will pin his team's survival hopes on, West Ham have only won there once, but boy, supporters will desperately pray he is doing more than "hoping" they beat the drop.
It may be another knife to a gunfight scenario but he has to scrap with everything he has, starting with his words.