The pair are touring the UK to celebrate the 40th anniversary of their heavyweight fight in Las Vegas
08:35, 15 May 2022
When a couple of heavyweight legends roll into town to reminisce about a classic fight from decades ago, the protagonists could be forgiven for becoming misty-eyed with nostalgia about the good old days. Well, for all their achievements and status in the fight game, Larry Holmes and Gerry Cooney don't necessarily fall into that trap.
"I think that boxing is great right now," says Cooney with a beaming smile and booming voice. "We have so many great divisions, all the way up from featherweight to lightweight to welterweight, it's just amazing! We have a great light-heavyweight division and the heavyweight division? Fury, Joyce, and Dubois and all these guys? It's a phenomenal division and we're going to see great fights."
Cooney clearly knows his audience and the reference to the latter two men, as yet unheralded Stateside, is impressive. Larry is not across the modern fight game to the same extent as his foe-turned-friend but does recognise the current boom with the Brits.
"You've had Lennox Lewis and these guys have got it going on. I wish them the best."
The pair are touring the UK to celebrate the 40th anniversary of their fight in Las Vegas. The date was June 11 and the boxing world stood still as the most anticipated fight of a generation – and one with a troubling sub-plot – came to pass in the sweltering heat of the open-air arena at Caesar's Palace
Interest in the fight extended way beyond boxing – it was the unbeaten 'Great White Hope' challenging the black champion, also yet to taste defeat. A racial drama was unfolding - Cooney could become the first white American heavyweight champion for more than 25 years. Time magazine put the Irish American on its cover with Sylvester Stallone – just as Rocky III was hitting the cinemas - Larry Holmes, who held the WBC belt, was relegated to the inside pages.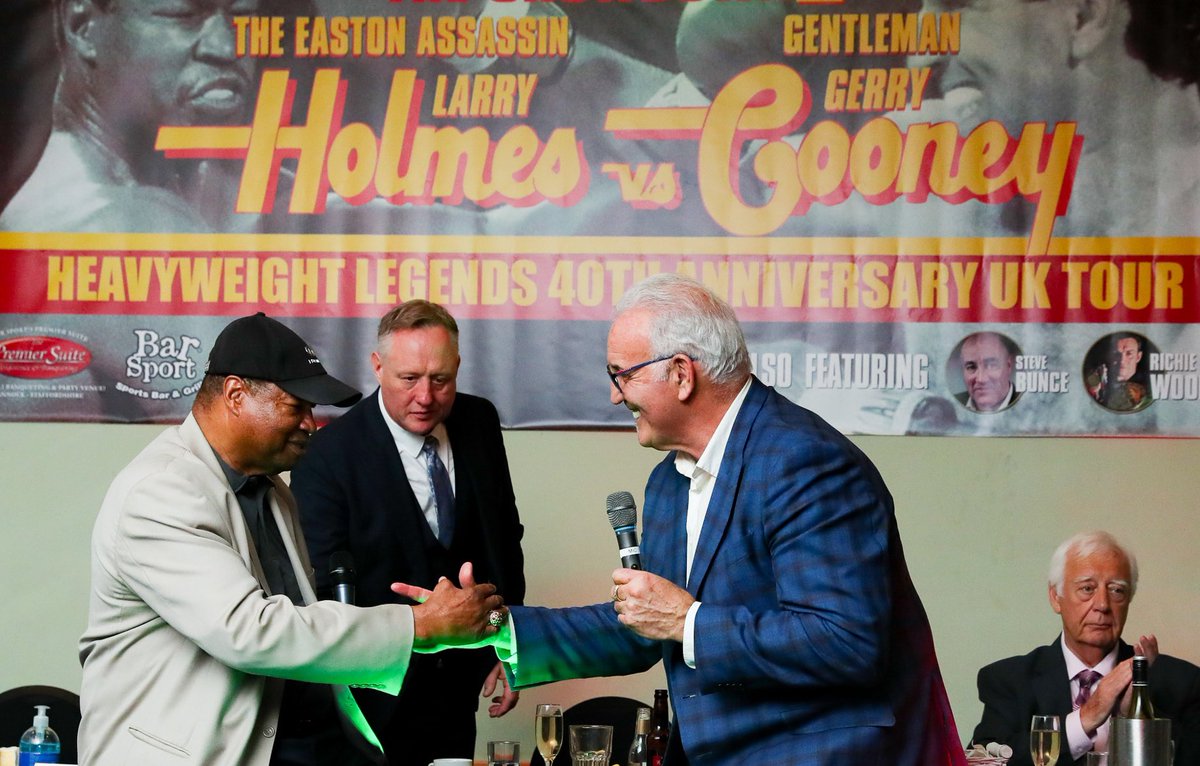 The fact that Holmes, who received death threats in the run-up to the fight, had previously become the only man to stop an ageing and depleted Muhammad Ali, didn't help his public standing. The 'Easton Assassin' was booed by many in the near 30,000 crowd when his name was announced first – another unprecedented twist for the champ to suck up.
Gerry's memories of that night are still vivid. "It was a big fight back then, the biggest fight to date," he said. "There was a lot of pressure, a lot of racism – which was all nonsense and had nothing to do with him or me. But it was there, and I don't know if the promoter [Don King] used it to make more money, I don't know.
"But listen, it came down to Larry Holmes and me in the centre of the ring, [referee] Mills Lane giving us instructions and Larry looks at me and says, 'hey, let's have a good fight!' And we did.
The fight itself more than lived up to the hype. Holmes dropped Cooney with a right hand in the second round, but the challenger came back with a series of left hooks to establish himself in the contest. By the ninth, a tiring Cooney had points deducted for low blows. After an even tenth, the champ took over and a flurry of punches led to end of the contest in the 13th round.
After the contest, the bitterness and ugliness of the build-up was forgotten – by the combatants at least. The fight would be etched in history.
"You would think people would have forgotten about it already, but they still keep reminding me of it," Larry says with a chuckle. "They make me feel good, so they make Gerry feel good because he was a part of it, and he gets asked lots of questions too.
"I think we matched up pretty good, but I'm glad I came out on top and I'm glad that I was the man that everybody wanted to push."
From the opposite corner's perspective, defeat had a devastating effect and led to Cooney's life spiraling out of control.
"I don't know why, for the life of me, we didn't get a rematch? I do not know why," Gerry says. "Today's times we would've fought three or four times. If the fight was that good – we had a great time that night. I was also struggling with some things, and I didn't have the experience, but I learned so much that night from being in the ring with such a great champion.
"I would've loved to have got motivated to go right back to the gym. But I had two managers [Mike Jones and Dennis Rappaport] I couldn't stand, Don King I couldn't stand. I couldn't trust nobody. I had nobody in my corner really, know what I mean? I didn't know how to trust at that time.
"It was a rough time back in those days. It was ridiculous. I needed more fights. I was knocking everybody out and Don King, because I refused to sign with him, he kept me out. All the guys I could've used for more experience or knowledge and who could've made me more prepared for Holmes, I never got to fight.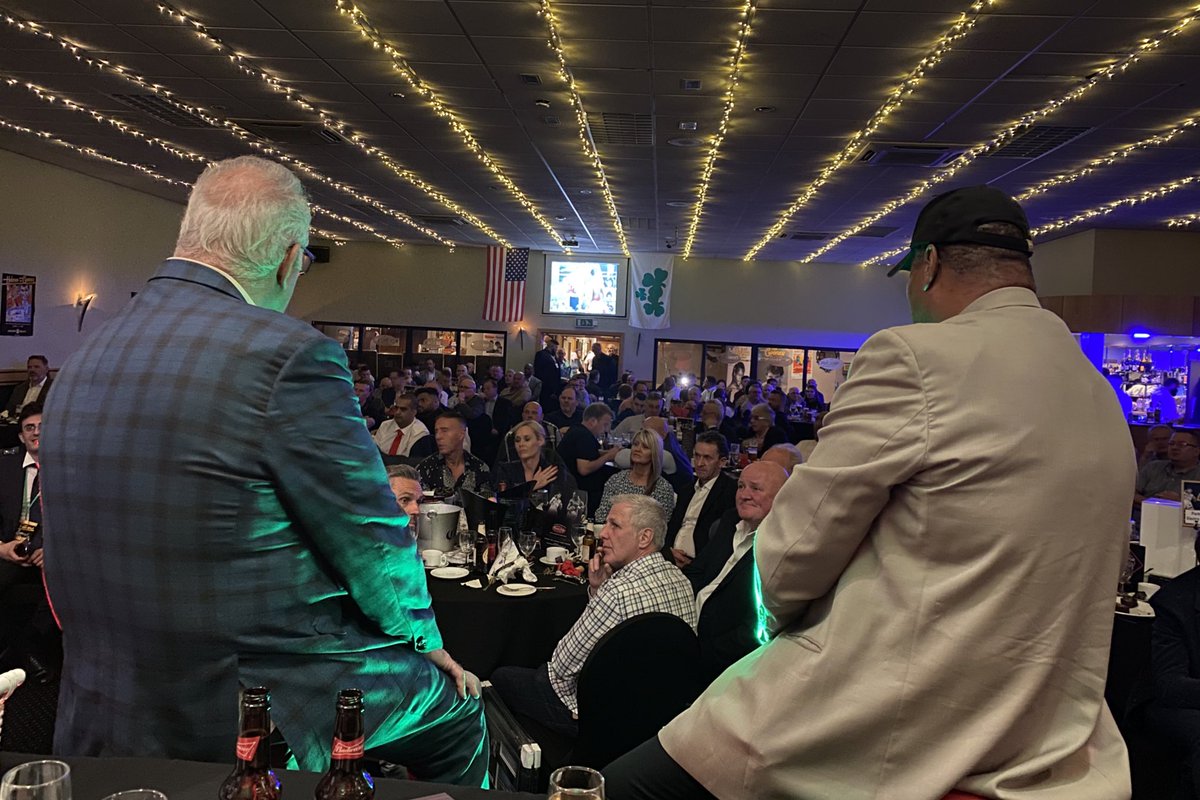 "I didn't know it at the time, I was a young kid and my managers wanted to make the big pay day. But I would've liked to have had three or four more fights before I fought Holmes, to develop and become stronger, more knowledgeable in the game and more confident in myself. I didn't get the chance to do that."
While there are clearly still elements of regret as Cooney reflects on a career that ended without a world title but a record of 28 wins and three losses – his last two fights being back-to-back defeats to Michael Spinks and George Foreman – his ongoing recovery from addiction has been his biggest success.
"Today's a different story," he says with a big toothy grin. "I've had a lot of trials; I've grown a lot. I put down the booze 34 years ago. Life has changed a lot. Back in the day when I knocked out [Ken] Norton, that night, you'd think I would've said 'you gotta get a good trainer, a nutritionist, a conditioning coach.' But I started drinking and partying that night. Why? I don't know. It hurt me bad.
"I found out after the fight with Larry that he didn't smoke, drink, or take drugs his whole career. I was drinking since I was 12!"
While Gerry had been drinking, Larry had profited from years of training and sparring with the best – including Muhammad Ali, a man he'd later reluctantly face.
"I tell you what," Larry says shaking his head, "you had to go there and work. You had to be ready for him [Ali]. When they called your name [for sparring], you knew you gotta go for it. If you didn't go for it, you got beat up!"
Both Holmes and Cooney are enjoying their time together on the road. Boxing fans are filling venues to hear all the old stories and inevitably, questions fly at the pair about past and present, the old Kings versus the new Kings – Gypsy or otherwise. Larry is more nostalgic than his friend when it comes to such matters, still believing theirs was a truly great era. For Gerry, change is good.
"Boxing is coming together now," he says enthusiastically. "We kind of lost touch with it. There were too many mismatches and MMA came along and grabbed a hold. But boxing corrected itself and now we're seeing some great fights. I'm telling you, it's unbelievable and I'm so excited."
And what of the current heavyweight champions? Gerry becomes even more animated as he rounds up the scene.
"I don't know what the hell Joshua was thinking about! When you come back after the ninth round, the trainer's supposed to say, 'forget the plan, the plan's not working! Go fight him, get on his ass! Bang his body!' Every time Joshua touched his body, he fell back. Jump on him! He didn't! You gotta change.
"If he has the stamina and trains hard enough and has the stamina to push Usyk back, make him uncomfortable and cut the ring off. Then, he can win. Fury v Usyk? You've got to give it to Fury. He just feints his way through a fight. You try and get set – he feints, and you have to reset."
Times change, but some things stay the same. Larry and Gerry are still engaging and still a huge attraction. So, firmly tongue in cheek, and in the current climate of comebacks – exhibition or otherwise - the rematch could still happen? They're only 72 and 65 respectively.
"Probably Wednesday or Thursday, we gonna go bro!!" shouts Gerry.
"I wouldn't fight Gerry now! He's in better shape than I am. But he's a good guy, man."
"Larry and I are the greatest of friends," Gerry adds. "We had a tough fight! Fortieth anniversary on June 11th? It's unbelievable. We hang around, we talk about the old times and the new times. It's great being with him. He's such a great man."