The mercurial Argentine's 1,002 goal contributions have occurred in just 853 games
11:43, 24 Feb 2020
It was another day, another record for Lionel Messi this weekend, who hit 1,000 goal contributions. 696 times the Barcelona legend has hit the back of the net and 306 times he has set up one of his team-mates to score for club and country.
Astonishingly, or perhaps not in Messi's case, he hit the milestone by scoring four times against Eibar. Having not scored in his previous four fixtures, the 32-year-old turned into the assist king, setting up those around him. The mercurial wonder writes his name into the history books almost weekly but to contribute to more than 1,000 goals just adds to his phenomenon.
The third goal of the match meant he has struck three hat-tricks already this season and a mind-boggling 54 in his career.
There is little doubt he is one of the greatest footballers of all-time but this latest record no doubt catapults him into seriously being considered the best ever. His 1,002 goal contributions have occurred in just 853 games. His potential was clear as day when he burst onto the scene in 2004 but he has absolutely smashed his talent out of the park.
What's even crazier is that Messi still has at least three more years playing at the very highest level but can no doubt go on for longer if he wishes.
Nothing to see here... just Messi being Messi. 🤪
#Bar
çaEibar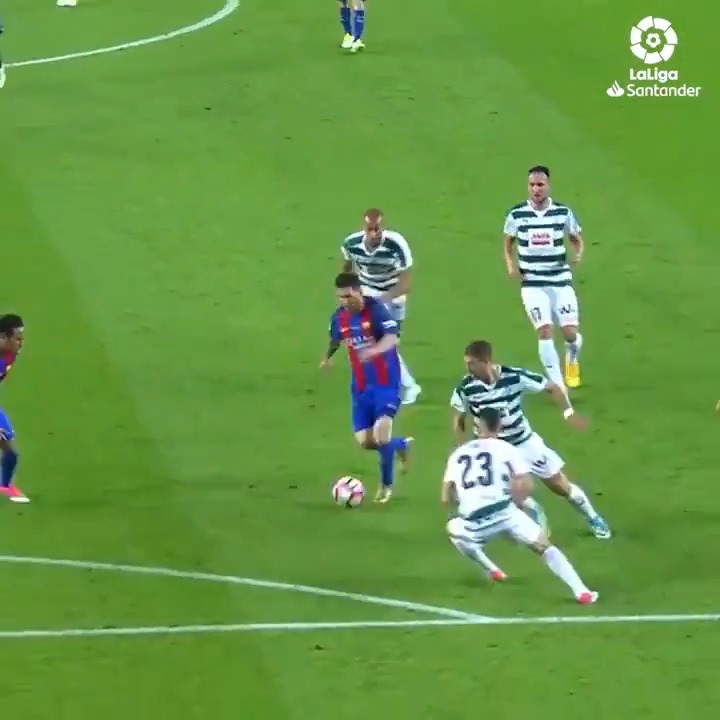 A one-club man, he has the expertise to easily break all of the LaLiga records going and it would be no surprise should he stay at Barcelona. No doubt their greatest ever player, he has time on his hands to catapult his name even higher into the stratosphere.
While he hasn't achieved all he wanted to with Argentina, it has not been for a lack of trying. Though the World Cup alludes him, his new record-breaking tally also comes from international fixtures. He is the first and only player in the history of the game to hit the goal contributions tally.
"He's a guarantee for any club and for any coach and that's what makes him the best player in the world. He can do things like today that others dream about," manager Quique Setien told AS.
Messi is on a different planet but no doubt the greatest player in the universe.