Shrewsbury will take on Neil Critchley's U23 side rather than Jurgen Klopp's first team
15:00, 04 Feb 2020
Shrewsbury Town will travel to Anfield tonight with an army of 8,000 travelling fans excited at the prospect of seeing their side take on the current Premier League leaders. However, the Shrews will be taking on Neil Critchley's U23 Liverpool team rather than Jurgen Klopp's superstars, something that has drawn criticism from the wider footballing public.
We caught up with two fans, one from either side on their way to the game tonight to hear their opinions on this unique FA Cup fourth-round replay.
Craig Hannan - The Anfield Wrap
Do you understand/agree with Klopp's decision not to manage the team?
I would really like to win the FA Cup. I want this Liverpool team to win as many trophies as they can while they're as good as they are but I understand that the first team players can only play so many games and I understand that the manager is standing up for a problem within football that is much bigger than this game.
Klopp has spoken about there being too many games, about problems around fixture congestion and the lack of planning and foresight from the FA, Premier League and governing bodies in football. This is something he spoken about since he first arrived in England. He couldn't believe we didn't have a winter break. He's finally got just that, a break that he's probably been planning for, picking teams around and suddenly there's the possibility it is taken away.
Klopp is at the forefront of everything at this football club. Andy Robertson said the players stand by whatever decision he makes and so do the fans.
Do you think Liverpool have devalued the FA Cup?
No. All of this is bigger than the FA Cup. The FA Cup isn't what it once was and that's not because Liverpool aren't playing the first team against Shrewsbury. You only have to look around the lineups from Premier League sides in each round.
How many fans do you think will be at Anfield tonight - is there any buzz about the game at all?
It'll be pretty much sold out. Shrewsbury will likely have the full Anfield Road end and that's great, but it's an opportunity for Liverpool fans to get into Anfield at a time when it's so difficult to get tickets and it's a chance for young kids to get in for £1. It might not be the Salahs and Manes on show but it's still an FA Cup tie under the lights at Anfield.
Are you looking forward to seeing the youngsters in action again?
I am! It brings an extra dimension to the game, a different kind of excitement. Curtis Jones has done brilliantly in cup competitions so far this season and 16-year-old Harvey Elliot is someone the club have big hopes for. The likes of Neco Williams have impressed too and Ki-Jana Hoever looked the business in pre-season - but it's going to be a really difficult task.
Beautiful hit.
In the dying stages of the game.
To book their place in the
#FACup
fourth round.
To face Liverpool...
SCEEEEENES
What a moment for Shrewsbury! 👏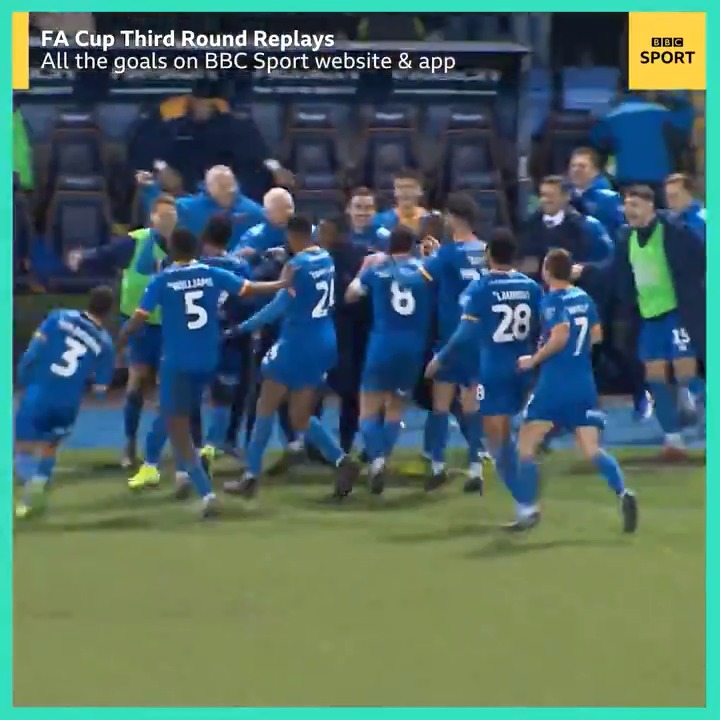 Score prediction?
It's men against boys in the literal sense, it's going to be really difficult for the young Reds but if they can keep a clean sheet who knows what might happen! Hopefully, The Reds will sneak it 1-0 but the pressure is off a team this young.
Glyn Price - Blue and Amber Fanzine
How is it going to feel to be part of an 8,000 strong away following?
Amazing, it's the most fans, apart from a play-off final game, that have followed Town since the 1980s and the way the tickets have been sold everyone will be a Salopian. A few years back we took 5.5k to Arsenal and that was an amazing night - this has the prospect to be even better.
Does the fact Liverpool are not playing their first XI slightly spoil the occasion?
It dampens it a little but it's still a sell-out and still going to be an interesting and competitive game. It also gives us a better chance to win and be one of very few teams to get a win over Liverpool at home for years. The record won't read Liverpool youth... it will read Liverpool! At the end of the day, as a Salop fan, I'm not going there to see Salah. I'm going there to see my boys try and progress and there's no reason why we can't.
If it happens it will be monumental.
"I can't believe Jurgen Klopp won't take charge of the team and the youth team will be playing. I'm really disappointed."
Jurgen Klopp and Liverpool's first team won't feature in their replay with Shrewsbury.
Thoughts?
Watch
#FACup
highlights
👉
What do you make of the reported fact that Klopp's decision has cost the Shrews £500k?
It's annoying, even very well run clubs with no debt like us could do with that money but it's just one example of the disrespect a lot of Town fans feel; no first team, no Klopp and they wouldn't let us pick up tickets from Anfield so we're using the ticket office at Everton, now they've stepped in to help.
Then they would not move the game to Wednesday for TV which is just being stubborn for the sake of it. Finally, they used our wrong badge to advertise the game which is unforgivable! Don't think anyone in Salop has a lot of time for how they have treated us, this tie or the FA cup in general.
What is the general feeling among fans heading into this game?
Part nervous anticipation and part expectation - a very odd feeling for us. We know we have been given a massive chance to win and progress to a proper showpiece game at Chelsea, but the thought of losing to a bunch of kids is a worry, particularly with our god awful league form at the moment.
Any eyes on a potential trip to Chelsea in the next round?
Yes, feels like that's where we can get the financial rewards for a good cup run. We have some FA cup history with them too over the years and it would be another great occasion for the club.
Score prediction?
I think that the kids will put up a good show but our lads will be super motivated and that might carry us through 2-1. What a night that would be!