The English manager was highly criticised at the start of his reign
10:01, 08 Dec 2019
When Steve Bruce was named as Newcastle manager this summer the criticism and scepticism poured in from fans around the country. Here was a manager who had been in charge of the Magpies' fiercest rivals, Sunderland, as well as both Birmingham and Sheffield clubs, as he looked to irritate almost every fanbase in the country.
His stock seems to be on the rise in the north-east again, although some fans are still slightly sceptical about his long-term future. We caught up with the greatest Newcastle fan of them all™, Jonny Sharples, to hear his views on the Geordie boss.
"Given that we are currently on a good run of results, there is a belief that we have to give some of the credit for that to Steve Bruce and that he has exceeded our early season expectations - but given that our expectations at the time of his appointment were so low then that isn't all that surprising. However, there's also the acknowledgement that he has achieved this on the blueprint that Rafa Benitez left behind."
With Newcastle now on a run of just one defeat in their last six Premier League games, things are looking up for the Toon, who have been just the right blend of functional and creative over the past month. However, Sharples hasn't seen too much difference between last season and this one.
"It very much feels the same as it was in terms of the style and excitement except for the addition of Allan Saint-Maximin, who is obviously a very exciting player. However, eight of our 15 goals this season have still been scored by defenders and Saint-Maximin, Miguel Almirón and Joelinton have yet to really click. Perhaps, when that does happen, we'll have some excitement."
When Bruce took the job, he was defiant in his positivity, despite being one of the favourites to be sacked.
"There is a huge challenge ahead of us, but it's one that my staff and I are ready for," said Bruce. "This is my boyhood club and it was my dad's club, so this is a very special moment for me and my family."
Good morning! ⚫️⚪️
#NUFC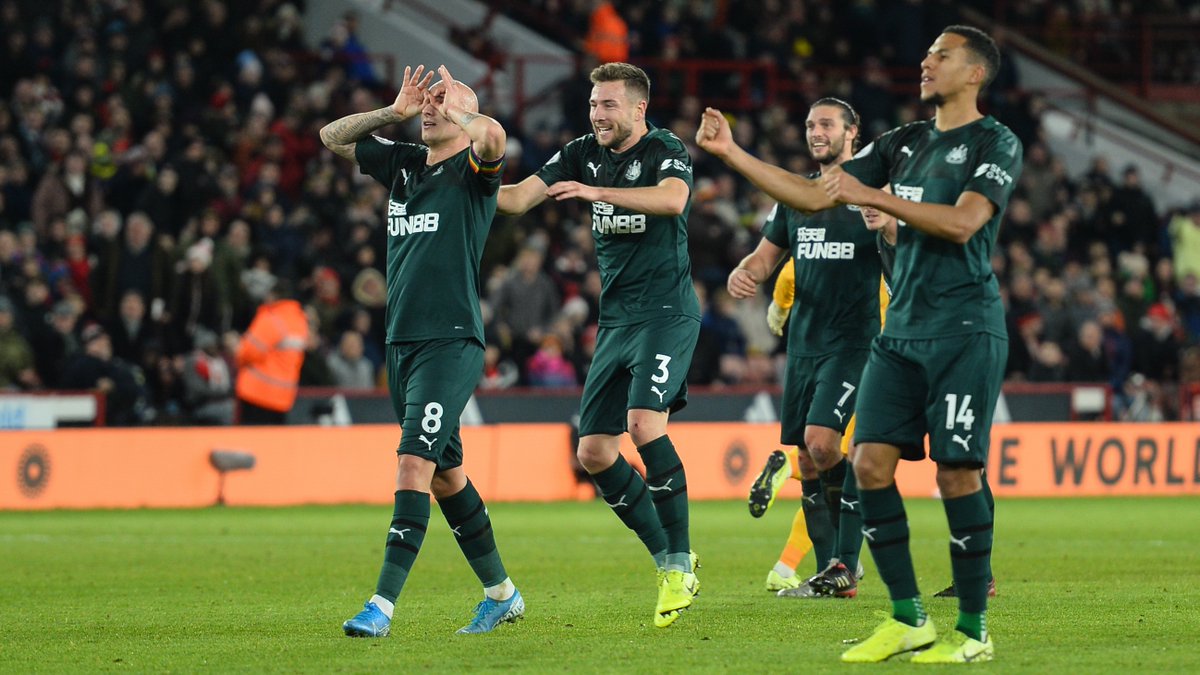 However, Sharples reckons the bookies hadn't taken into account the stingy nature of Mike Ashley when compiling their pre-season odds: "I don't think he would ever really be the first manager to get sacked, for the same reason that he will potentially be here long-term."
Sharples continued. "Mike Ashley simply wouldn't sack him, even if he was deeply unpopular with the fans as we saw with Alan Pardew. Steve McClaren was sacked because he became a threat to our Premier League status (and Mike Ashley's profits) and a manager of the calibre of Rafa Benitez was available and interested - I don't think any manager of that level, and would be a serious upgrade on Steve Bruce, would come in the foreseeable future.
"But I do think Steve Bruce is winning fans around, slowly, but he is winning matches and getting results and the players seem to like him and appreciate what him and his coaching staff are doing. Those things win supporters over."
Now with Bruce's side in 11th place, just four points off fifth position, it may be easy for Newcastle fans to start looking upward for the remainder of the season. With it now over a decade since their last form of silverware, a cup run away from the Premier League would also go down a treat with those on Tyneside:
"It's a defeatist attitude, but also a realistic one, to say that retaining our Premier League status would be a success given the upheaval of the summer and our two top scorers from the last campaign both leaving, anything more than that would be a bonus.
"As for the FA Cup, we have had a good draw in the third round so it all depends on who we end up drawing if we progress from there. A run to the semi-finals and potentially beyond would be great as a fan, but I'm sure for Steve Bruce's job security and Mike Ashley's pockets, Premier League safety would take priority."
The final question put to our man Jonny Sharples was simply, 'if there was a magic switch you could press which would make Rafa Benitez your manager right now rather than Steve Bruce, would you press it?'
"Absolutely, especially with a squad that has added the likes of Saint-Maximin and Jetro Willems" he responded emphatically. "I would still have much more trust in Benitez going forward than I do in Bruce, although the latter has obviously made a good start."
It has been a flying start for Steve Bruce, an unfashionable manager who has certainly won round a lot of his critics, yet for Newcastle fans, there is a still a long way to go before they completely stop pining for their former Spanish manager.