The two clubs from the Midlands go head-to-head in the League Cup semi-final tonight
13:04, 08 Jan 2020
Tuesday's Carabao Cup action was all about Manchester but Wednesday is all about the Midlands as Leicester City host Aston Villa.
While both clubs will be desperate for a day out at Wembley and the chance to lift silverware, the Foxes are hunting down the Champions League while the Villans are looking to avoid the Championship.
So, just how big a game is this match-up for both sides?
We spoke to the fans to get the lowdown…
Jamie Thorpe, host of the FIRST4LCFC podcast
You're going for the Champions League - is this cup run a hindrance at all?
[Brendan] Rodgers would probably rather keep his squad fully fit with regards to chasing those sought-after Champions League places, but from a fans' perspective, absolutely not.
It's a fantastic position to be in, to have to choose between prioritising a trip to Wembley or Champions League qualification, but I think that Rodgers has demonstrated that he has the man-management skills required to ensure that we have a fantastic chance of not having to choose between one or the other and actually achieving both outcomes.
I hope that we approach the semi-finals with our strongest line up available.
Aston Villa. Is this the tie you were hoping for compared to facing one of the Manchester clubs?
I don't think it's disrespectful towards Villa to say that they were the preferable draw out of the three available. Everyone knows that Man City are a top-class side, and Man Utd, whilst inconsistent, do have the players to potentially get a result against anyone and so facing our Midlands neighbours gives us the best chance to progress into the final.
That is of course not to say that this is going to be a formality by any stretch, Villa have shown in flashes that they are capable of mixing it in the Premier League and they certainly do have match-winners in their squad, Jack Grealish being the obvious danger man, so we will need to play well to beat them.
Leicester have been brilliant this season. Do you fancy your chances of winning the Carabao Cup?
Why not! We have performed magnificently for the vast majority of the season, and have given ourselves a great chance of winning this year's competition.
Obviously, we have three matches to navigate, and a lot will depend on who we face in the final should we get there, but this Leicester side are extremely capable and have individuals in the squad who can win games by themselves, so it would be foolish to write us off completely.
You won the title in 2016 but how important would this trophy be for the Brendan Rodgers era?
Any trophy carries significance, but the impact of this could potentially be huge.
The title winners of 2016 have largely moved on, and have been replaced with a young, talented and hungry squad. Success breeds success and would likely further bond the team together and to the club.
It would be a clear marker of the progress made under Rodgers so far as well, and I think he will be desperate to pick up a trophy so soon after his return to English football as well.
Are there similarities between this team and Martin O'Neill's side who won the League Cup in 1997 and 2000?
Under O'Neill, the style of football was quite different to how it is now, and the overall quality of player is certainly improved in this current side. However, there are similarities in the ethic and togetherness that the squads display.
O'Neill had cultivated an incredibly hard-working side which possessed players with a real quality that could make a difference. Muzzy Izzet, for example, was a joy to watch but could conjure magic from nowhere, and this current side also have that with the likes of James Maddison.
What have you made of the season so far?
It has been extremely enjoyable to be a part of. The results are fantastic of course but the manner of our performances has been most pleasing, as at times we have simply blown teams away. I mean, we beat a team 9-0, (NINE NIL!), and frankly it could have been double figures.
Then you look at the games against Newcastle, Spurs, Arsenal, Villa etc, which demonstrate the consistency in our play – we had not simply performed beyond ourselves; this was a team playing attractive, attacking football and executing it to perfection.
We completely deserve our lofty position and have to take great encouragement from muscling in between two world-class sides, but these games could potentially make the difference between a great season and an unforgettable one.
And how big an impact has Brendan Rodgers had?
The worry was that the momentum of last season would not be carried forward, but these fears were quickly allayed as we hit the ground running and seemingly picked up exactly where we left off.
Our style of play continues to develop, and Rodgers seems to have a Plan A, B, C & D. We can play with patience, a lightning-fast counter, with 5 at the back, in a diamond, and largely do it all successfully. This is a far cry from Leicester under his predecessor Claude Puel who struggled to impose even one style of play.
You feel that under Rodgers we have a clear identity and that the players have bought into it. The bond between the squad seems stronger than ever and the respect for Rodgers is clear to see.
A Midlands derby with a place at Wembley up for grabs.
Let's do this!
#EFL
|
#CarabaoCup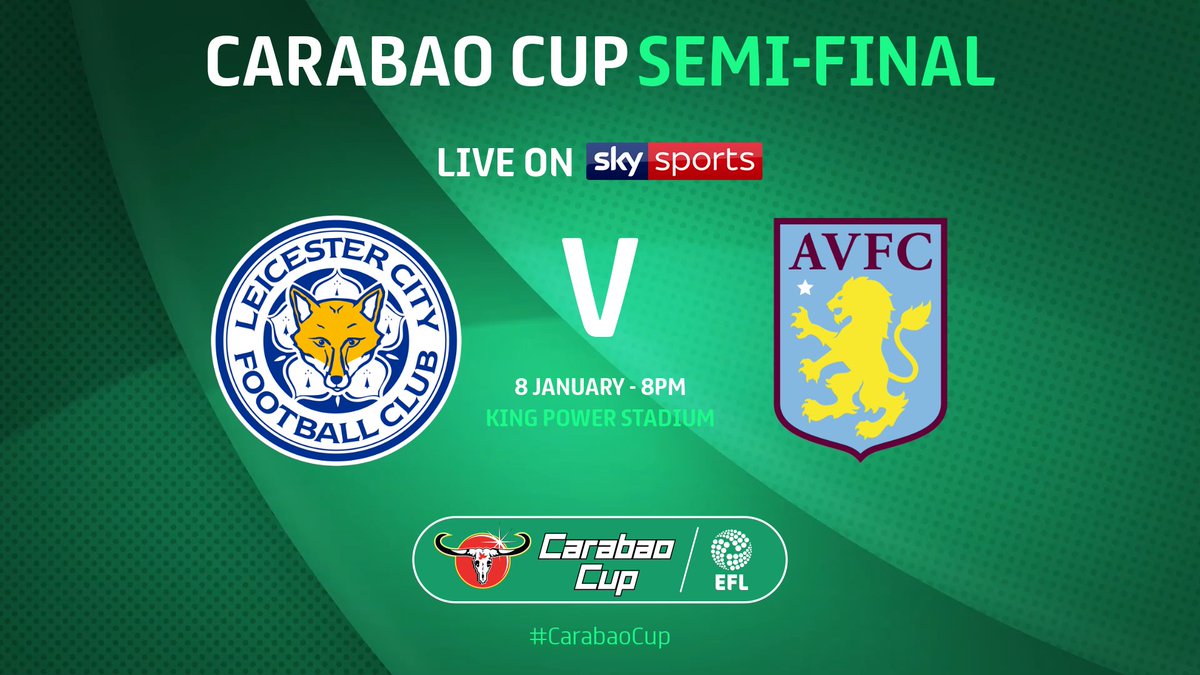 Tom Julian, host of The Villa View
This is your first season back in the Premier League and survival is key - is this cup run a hindrance at all?
Not so far! Earlier on in the season, we had a full squad and were playing reasonably well, if not always getting the results.
The cup games were also an opportunity to blood fringe players, which was important after a lot of new faces joined the club in August. However, January is a really busy month and we are now missing a few key players.
I think you could view it potentially as a couple of games we don't need, but we are so close to another trip to Wembley, and I expect Dean Smith to go for it.
Leicester. Is this the tie you were hoping for compared to facing one of the Manchester clubs?
I would have preferred Manchester United. We have a stinking record against them but could have won earlier in the season.
Leicester are having a brilliant campaign and, like Villa, will see this as a great opportunity for silverware.
Do you fancy your chances of winning the Carabao Cup?
We're the underdogs, no doubt about that! I don't expect us to win, but anything can happen with only a few games left.
On our day, we can compete with anyone - we just need to approach the game with the right mindset and give it our all.
How important would a trophy be for the Dean Smith era?
Not as important as Premier League survival, in my opinion.
Everyone knows Smith is a Villa fan and it would be a wonderful legacy for him to lift the cup, particularly with fellow boyhood Villan Jack Grealish as captain. But staying up is the priority.
Villa reached the FA Cup final in 2015 and also won the play-off final so have experience of the new Wembley? Do you think that will stand you in good stead, that big-game experience?
Well, we got battered in the FA Cup and also lost to Fulham in the playoffs a couple of years ago, so it's a mixed bag!
I think it's the experience of our leaders in the changing room, rather than any stadium, that will be the most important factor if we are to get to Wembley.
What have you made of the season so far?
It has been frustrating. We've been in some close games with big teams where we haven't been able to take all three points, and now a poor Christmas run and injuries have dampened the mood.
Having said that, we enjoyed a great away win against Burnley last week and are currently out of the relegation zone - I would have taken that at the start of the season.
The January transfer market will be massive for us - bringing in a striker that hits the ground running will define our season.
How big an impact has Dean Smith had? As a Villa fan, he knows the size of the club… do you expect him to field a full-strength side in a bid to win silverware?
Having a Villa fan as manager has been a massive lift, there is a togetherness around the club which is wonderful and was severely lacking last time we were in the Prem.
I think Smith will play a strong team - we haven't won a major trophy since 1996 (the League Cup) and we're so close to the final.
Having said that, if it goes wrong tonight, I don't expect a full-strength side for the second leg!