We spoke to Paul Machin of The Redmen TV to get the verdict on Henderson's tenure at Anfield
16:05, 23 Jan 2020
This is Jordan Henderson's time.
Captain of Liverpool during a record-breaking campaign which will very likely end with the Premier League trophy going to Anfield, he is bossing it right now.
Also named England Player of the Year having won the Champions League in June, it's been a stellar two seasons for the Reds captain.
However, it's not always been like this. Dismissed, under-rated and doubted, it feels that it is only now Henderson is getting the credit he deserves.
Liverpool supporters got the conclusion he is the real deal far quicker than the general football fan, it seems, but have they always known and appreciated just what a quality player he is?
The Sportsman spoke to Paul Machin of The Redmen TV to get the verdict.
Just how good has Jordan Henderson always been at Liverpool?
I think Jordan Henderson, at his very worst as a Liverpool player, has always been fine.
I never understood the notion that he was rubbish or terrible. I think people in football, we're pro-hyperbole - it's very easy for people to be amazing, world-class or they're absolutely s**** and I think a lot of people have tended to air towards the negative on Henderson.
He's never been anything less than a perfect, model professional who has got an incredible commitment to the cause and what he's done, having that, he's added just a whole lot of facets to his game along the way.
Watching him live at Anfield every week, what is it about him that really stands out?
It would be very easy for me to say 'He runs all day for you and he'll run through brick walls with heart, desire and passion' and I think that feels you're damning him with faint praise, somehow, because we're in an era that marvels at the technique of these world superstars and what have you but Jordan Henderson's got loads of that as well.
He's got a fantastic range of passing, his reading of the game is great, his all-round understanding… he's the perfect captain for this Liverpool team.
They're the qualities that get underestimated. We've come off the back of the Gerrard era, where everyone presumes your captain's got to be your best player. That's not always the case in really, really good teams you just have to get the best fit for the job and Jordan Henderson absolutely is.
Jordan Henderson vs. Man United
75% Pass accuracy
3/5 Accurate long passes
1 Chance created
1/2 Shots on target
2/2 Dribbles completed
7/8 Ground duels won
2/3 Aerial duels won
5/6 Tackles won
Literally, currently, among the best centre mids in the world. Jordan Henderson. Wow.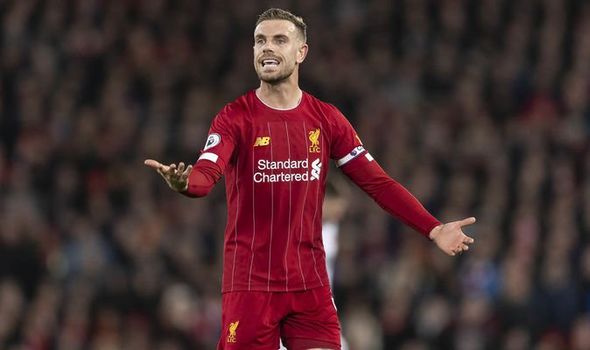 You mentioned criticism of Henderson in the past has been baffling - what do you think it's been down to?
I think he lacks 'Match of the Day' moments. It's funny because I think he has got the capability in him. He was two inches and a fingertip save from David De Gea away from scoring a worldie against Manchester United.
He can do it. I think he plays a bit within himself around the 18-yard box at times because, often, he's been playing in the six and if you're the guy who loses the ball, you're the guy who's pivotal to stopping the counter attacks as well.
The criticism comes because I just think he's not a very 'trendy' player, not a 'fashionable' player. He's come through from Sunderland and having a middle name of 'Brian' while getting lumped in with a bunch of players, in the FIFA era, when I think James McCarthy was rated higher than him, he was thrown in with the Tom Cleverleys and McCarthys of this world but look at him and what's he's been able to achieve.
It's not an accident that he's been a regular and a major mainstay of this Liverpool team. He was a mainstay under Brendan Rodgers, a very good Liverpool side, given the captain's armband, he was a mainstay under Kenny Dalglish and he's been a mainstay in the England team, so there's clearly something good about Jordan Henderson.
Jurgen Klopp said that winning the Champions League has taken him to that next level, do you agree?
Absolutely. I think Jordan Henderson is one of those players that is maybe famed for how he's perceived.
I think maybe he does read his own press a little too much; when I say press he maybe lets the negative reactions get in a little bit and it must be hard because, whether maybe he's been guilty of a bit of imposter syndrome, being at a big football club, you're tarred… until Liverpool won the European Cup, and Klopp maybe suffered this too as it's easy to say but 'You're nearly merchants', always the bridesmaid, never the bride.
That responsibility falls on the captain's shoulders sometimes because when you're used to your captain being Gerrard, who is winning trophies for you almost single-handedly at times, it's easier for him to feel that he's not at that level but all of a sudden, you're a European Cup winner with Liverpool that he can rightly stand shoulder to shoulder with some of the greats.
Sir Alex Ferguson in 2013: "We looked at Jordan Henderson a lot. But we noticed that Henderson runs from his knees, with a straight back. The modern footballer runs from his hips, and we thought this gait might cause him problems later in his career." 💉

What do you think Henderson's best leadership qualities are?
It's his tactical understanding. It's his understanding of where everyone's meant to be and what everyone's meant to do.
It's a thing that's very hard to pick up on but if you watch Henderson, he orchestrates the team around him in really subtle ways: geeing people up, cajoling them, when they're down he's picking them up.
The amount of times he launches verbals at players for doing the wrong thing and you can see the contrition in their response, they know if Jordan Henderson tells you to do something then you do it because you know he's right.
He commands the respect of arguably one of the most talented dressing rooms in football.
Aside from that, he's just a very, very good all-round footballer and it wouldn't shock me if he ends up retiring at Liverpool. He can go into his thirties and still be putting in useful shifts in all kinds of positions.
This Liverpool team are famed for their front three and Virgil van Dijk at the back but how big a miss is Henderson when he's not on the teamsheet?
It shouldn't be underestimated because I think Liverpool have brought in Fabinho, Oxlade-Chamberlain and Naby Keita, spending the best part of £120m improving that midfield three and Henderson is still in that team every single week
There's no sign that any of those lads (are going to get in ahead of him), Fabinho's maybe ousted him from the six but Henderson's gone back and played the eight role, the box-to-box role and has been our best player in that position.
He's gone back to that six in the absence of Fabinho and it's no coincidence Liverpool haven't conceded in their last seven games. He's anchored the midfield for those games. He is essential to this Liverpool side in his current form. If Fabinho doesn't get straight back in it wouldn't be a shock.
How pleased are you for Henderson that he seems to have everyone's respect at last?
Absolutely delighted, he's a really good guy.
My interactions with him, he's a brilliant fella, very committed and tireless in the efforts he puts in, on and off the pitch. He's a great captain, a great ambassador for the club and an example for kids growing up wanting to be professional footballers.
I think Jordan Henderson is tremendous and deserves every success that comes to him.