We spoke to fans of Ajax and Man United to get the lowdown on the Dutch manager's potential move to Old Trafford
19:00, 06 Apr 2022
Heavily courted by Manchester United fans, adored by Ajax supporters, and splitting opinions of club executives and pundits, Erik ten Hag is the most spoken about name in world football at the moment.
Many skeptics appear doubtful over his ability to move from the Eredivisie to the Premier League, should Old Trafford be his next destination, but you cannot argue with his output during his time at Ajax. This season he boasts a win percentage of 78%, averaging three goals a game and 2.44 points per game across all competitions.
In Europe's toughest competition, kicking it with some of the biggest names across the continent, his Champions League record stands firm. In four seasons his Ajax side have gone unbeaten in the group stage on two occasions and have never lost a game by more than one goal. They famously dismantled Real Madrid at the Bernabeu and knocked out Juventus before suffering that heartbreaking loss to Tottenham in the semi-finals. All things considered, his track record is solid and bodes well for whatever club he finds himself at next.
But for today, Erik ten Hag is en route to Manchester United. To get a better idea of how the fans perceive the current situation, we've teamed up with TheEuropeanLad and UtdPlug to get some answers.
To get a feel for ten Hag and who he is as a manager, we asked TheEuropeanLad about his playing style, strengths/weaknesses and whether they feel he's ready for the next step in his career...
1) ETH has been in charge for four seasons now, what style of play have you seen and whats his personality been like over that time period?
At the start he was awkward and unconfident, he was even made fun of. After the first year that already went a lot better also because people gained much respect for his achievements. His style is possession-based, dominant, and attacking football.
2) What would you say his strengths are?
His strengths are to always have a proper game plan and to always let his team dominate no matter what. Doesn't matter if it's Waalwijk at home or Real Madrid away.
3) Have you had any concerns or doubts at any point during his tenure?
No not really. More in the squad not in the manager.
4) Do you believe he's ready for the next step in his career and, if so, do you think United is a suitable destination?
Yes I think he is ready for sure,. He has the qualities but is United a suitable club? I don't think so. It's a mess, with not a lot of structure but that doesn't take away the fact that he is capable of managing their squad. If he does that well it can still turn out well.
5) Finally, how would you feel to see him leave Ajax and who would you like to see replace him?
I already count on him leaving so it would not come to me as a surprise, which makes it easier to deal with. I don't know who will replace him as of yet.
🚨 - Ten Hag: "For me it's important that a club comes with a concrete plan, with an idea behind it. What's the objective of the club? Why do they want me as their manager? If everything fits together.. then we can find each other." [@SPORT1]
When asking Manchester United fan page, UtdPlug, about what they know about ten Hag already, what they expect, and who would they like to see him sign, here's what they had to say…
1. Who do you want as the next United manager and why?
Erik ten Hag, I know he's the current 'popular choice' but I feel it's because this club needs a wake-up call and the fans realise that. It's a different style of management where coaching is paramount and he's a world-class coach.
2. What do you know about ten Hag's style of football and how well do you think he'll fit in at Old Trafford?
To be honest, I love his style of football, I've watched quite a bit of it, he's very adaptable as a whole. He's gone through two Ajax teams with almost three different styles (same philosophy) - I do think football wise he'll be a great fit at United.
3. Do you think Ralf Rangnick will be a good addition upstairs at Old Trafford?
Ralf will be a great addition upstairs if he is allowed to do what he does well. United higher-ups seem to have this fascination with having power.
4. What are your expectations next season with ten Hag in the hot seat if he gets the job?
Top four. I think that's always going to be the minimum but there is obviously give and take. This isn't a United that's three signings away anymore, this is now a reconstruction of a whole new club.
5. What three players do you want to see come in at United next season and why?
First of all, I'd like to see Antony join the club. He's a young, exciting winger who is highly rated by Erik, he has a huge ability to impact the game and I think he could really slot in well with Sancho on the far side. Second on the list would be Jurrien Timber. I know he's not your household name but he's a centre-back with a lot of potential, he seems to perfectly suit ten Hag's style of play and really is a no-brainer to me. Finally, I'd like us to sign Darwin Nunez, who is a very raw but highly talented striker and someone United needs desperately and why not learn from Cristiano Ronaldo (the GOAT).
Edinson Cavani's debut
#UCL
campaign (11/12):
⏱ 701 minutes
⚽️ 5 goals
Darwin Nunez's debut
#UCL
campaign so far (21/22):
⏱ 483 minutes
⚽️ 5 goals
An
#MUFC
successor in waiting? 👀🇺🇾🇺🇾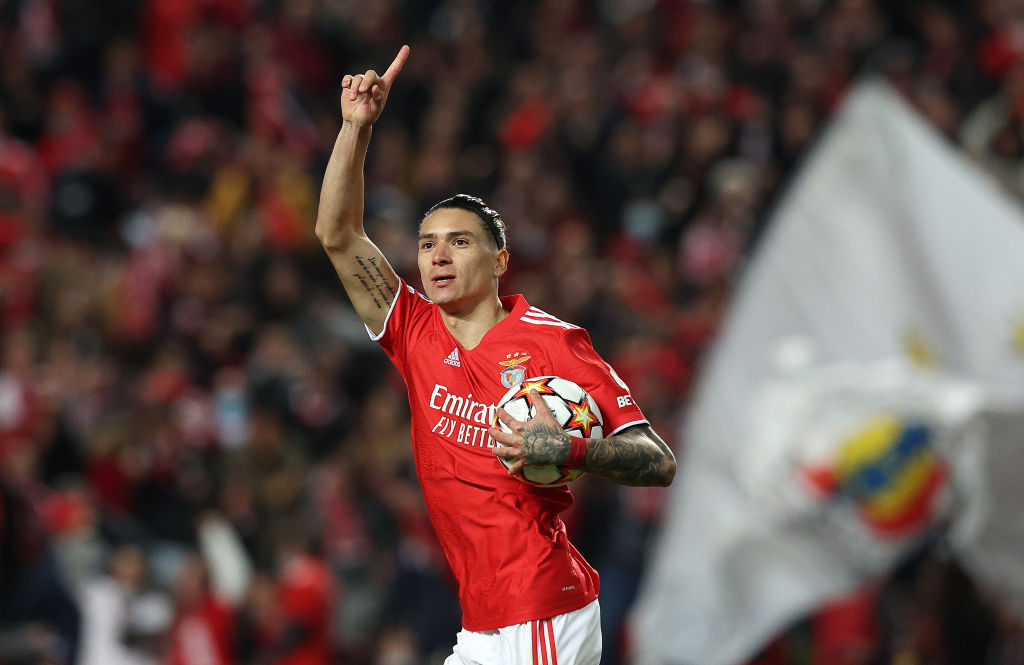 So there you have it. TheEuropeanLad confirms Erik ten Hag's quality and the UtdPlug share their expectations for the arrival of one of Europe's hottest managerial talents. As the season draws to a close, the anticipation will only increase and, if the reports are to be believed, we'll be seeing Erik ten Hag in the Old Trafford dugout next season.