We caught up with one Saints fan to find out what's happened at St Mary's since that 9-0 mauling to Leicester
16:01, 22 Jan 2020
Southampton looked dead and buried. Mauled, humiliated and embarrassed 9-0 at home to Leicester, dark clouds circled St Mary's - how could the team bounce back from such a horror show, and how could manager Ralph Hassenhuttl recover?
"The performance was a disaster today and I have to apologise and take 100% responsibility," he told BBC Sport after October's match.
"I've never seen a team act like this, there was no fight for anything."
"It was horrible to watch and everyone who stayed to watch is really a fan of this football club. Leicester were in every part of the game better than us.
"I'm a proud man but the way we play today is not the way I want to see my team play. We must get our heads up and that is my job in the next few days.
"I said we must play to the last minute but I can understand why the fans that left. We all must to do everything to pull this back."
However, fast forward two months and they've avenged the defeat to the Foxes with a 2-1 victory at the King Power and kicked on further than they could have imagined.
Losing twice to Manchester City and again at home to Everton in the immediate aftermath of that close-to-double figures defeat, they've won eight of their last 13 fixtures in all competitions.
Now, they are just three points off Manchester United in fifth. That's some turnaround.
We spoke to Dan Hargreaves, founder of YouTube channel @TheSaintsView about that torrid night and the team's brilliant form since.
The 9-0 defeat by Leicester was a serious low point - how did the fans react to the team and manager?
The fanbase was mixed. A good few wanted to see Ralph sacked but the problem was clearly with the players and thus some who played that night haven't played since.
Did you really worry for the club at that point of the season and fear relegation after such a mauling?
Absolutely. It was looking incredibly bleak. That defeat to Everton was a huge blow.
Rewarding our faithful ❤️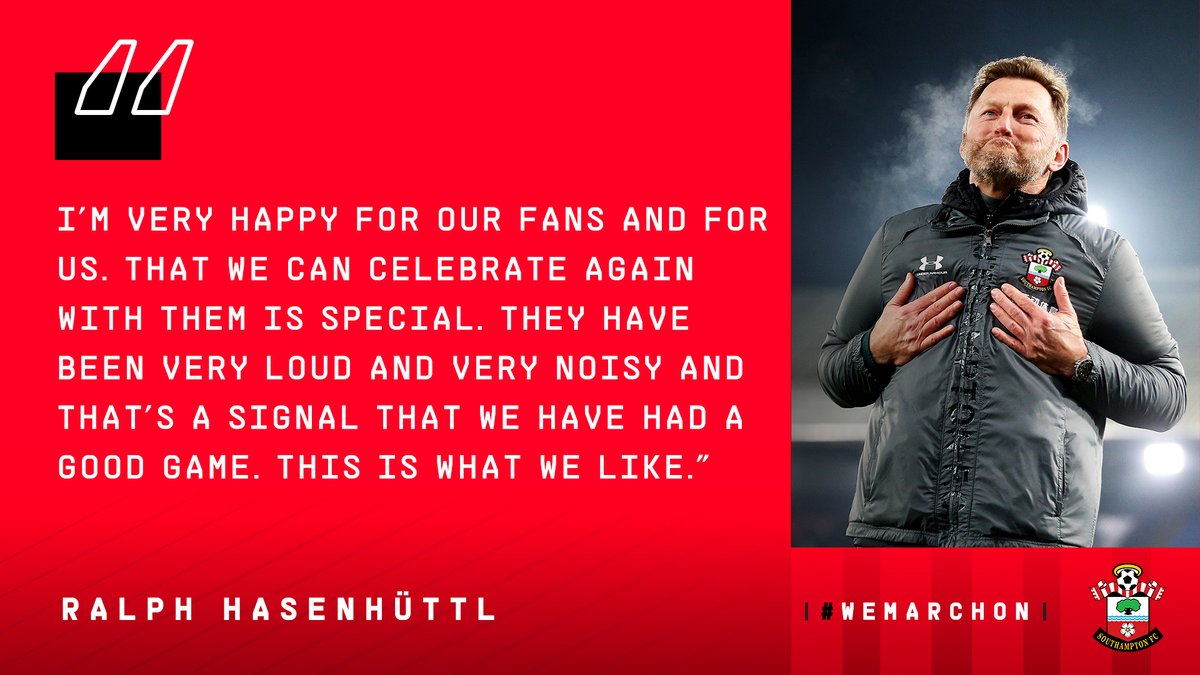 Were fans confident Hassenhuttl could turn things around?
To some extent, however it seemed pretty impossible. He's clearly a fantastic manager but with the place the squad was in it looked unlikely.
What did you make of the club's decision to stick with him and back him?
It was absolutely the right decision in my opinion. He's the best manager we've had since [Ronald] Koeman and if anybody could propel us up the table it was him
When did things start to change and fans begin to believe again?
The Chelsea win was particularly special. We'd just beaten Villa and had beaten Watford and Norwich a few weeks prior. That was when we felt there was a chance.
Who have been the standout performers?
The obvious choice is Danny Ings. 14 Premier League goals is absolutely nuts for a Saints player. However, special plaudits towards Nathan Redmond, Stuart Armstrong, James Ward Prowse and Jack Stephens are fully deserved.
And who have been the leaders, dragging the club forward?
Again, Ings has led us to success with his goals but James Ward-Prowse has emerged as a competitor with Pierre Emille Hojbjerg for the captain's armband.
Where can Southampton finish this season?
Simply put... anywhere! I'd snap your hand off right now for 9th but with the so-called top 6 looking unlikely to finish in the usual manner, why can't Saints push for Europe?
Of course, we shouldn't get too ahead of ourselves so anywhere between 9th and 12th would be a solid season in my eyes!
Southampton's next test comes on Saturday afternoon when they host Jose Mourinho's Tottenham Hotspur in the FA Cup Fourth Round at St Mary's.