The undefeated boxing legend has voiced his interest in purchasing the Toon
11:42, 10 Mar 2020
Floyd 'Money' Mayweather is interested in buying Premier League side Newcastle United, according to the man himself during "An Evening With...' talk in the city this weekend.
"In the US, we call it soccer, but the Newcastle football team is an unbelievable team, a hell of a team. If the people want me to buy the Newcastle team, let me know."
The Magpies have been desperate to be relinquished from the sweaty grasp of Mike Ashley for several years now and perhaps an unlikely source from the world of boxing will become their saviour. We caught up with Steve Wraith, the man who asked the questions to Floyd and a former member of the NUFC Supporter's Trust.
What was your initial reaction to Mayweather's comments and the reaction of the fanbase as a whole?
It was a unique opportunity for me to ask Floyd if his comments in 2018 about buying the club were serious and genuine. His answer did not surprise me. He has the money to invest in the club and he loves the city. Do I think it will happen? No, not at all. We have an owner who does not want to sell. It is a non-starter.
Do you think fans would be open to Mayweather purchasing the club?
Fans would be open to Mike Ashley selling up and putting us out of our misery. The last 13 years have been akin to football purgatory and the time is right for him to sell up to somebody who wants to take the club to the next level. Mayweather is a businessman who has money that would certainly make a difference. Would fans want him to take over? I think fans would prefer to see Floyd get Mike Ashley in the ring for a bare-knuckle bout for charity.
Obviously he has a huge sports background, great connections and a winning mentality to boot?
He is unbeaten in his chosen sport so yes he has a winning mentality. His connections include Connor Magregor so maybe they could team up to form a knockout partnership.
Imagine Floyd Mayweather owning
@NUFC
😱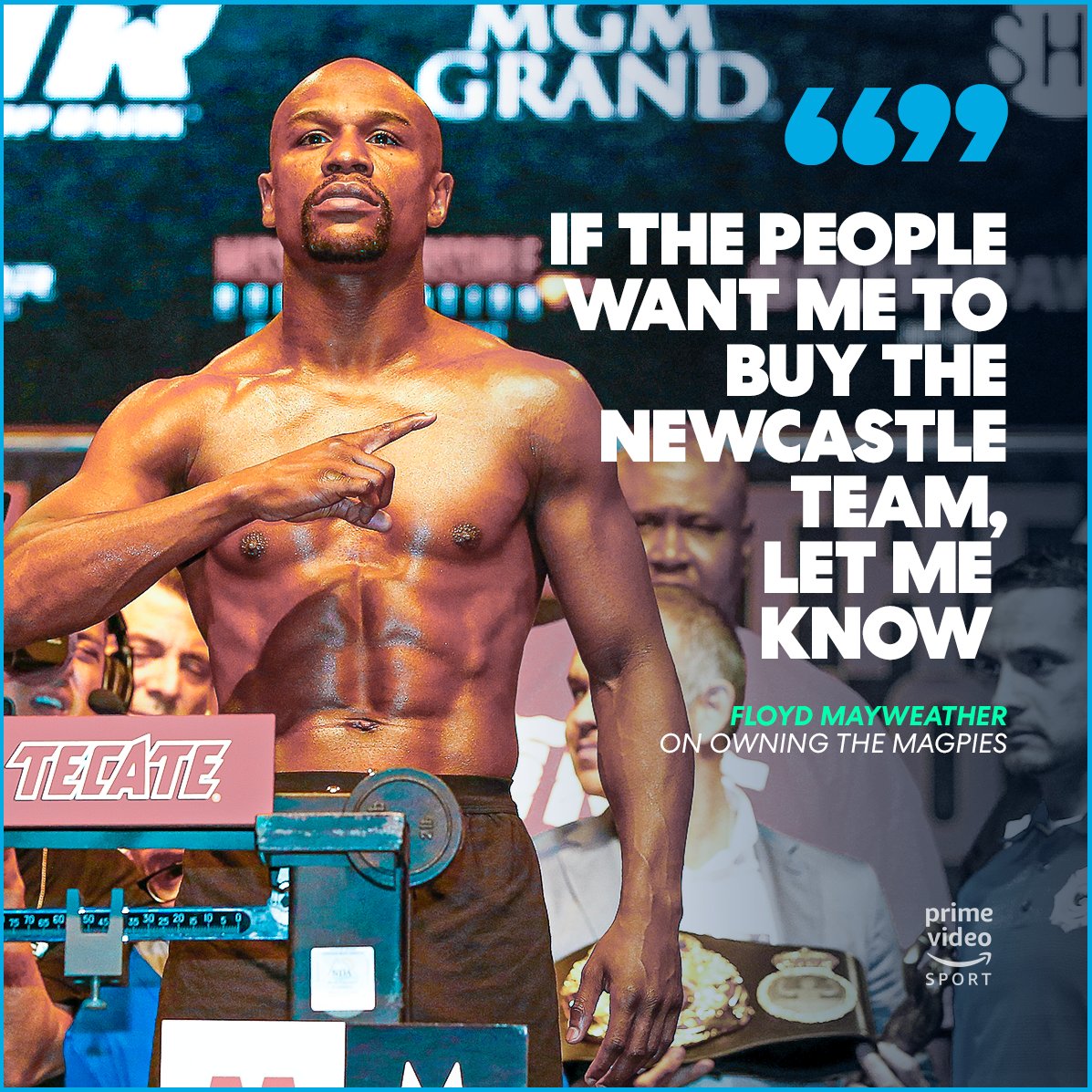 How do you think he would be received in the Premier League?
I think the Premier League would receive him well. I think we would turn a few heads with him as owner. I think the strips would be a lot better as Floyd thinks a lot about his image and he would bring back entertaining players and encourage players to entertain and attack.
He would have to get the right people in with knowledge?
Yes of course. He would bring in people from the football world who were respected at the club. Keegan and Shearer should be first on any new owners list.
Could it at all happen?
In my dreams, a takeover happens every night. In reality, we are going to have to live this nightmare for a lot longer I fear. Ashley is not going anywhere. He has had good offers and decided not to take them. He is happy with the money the club earns him each season and continues to promote his brands globally off the back of our once proud club. He is driving thousands of fans away with this way of running the club and affecting the long term future of our support as thousands of local youngsters choose to support the likes of Liverpool and Man City now.
How badly does Ashley need to sell the club in your opinion?
He does not need to sell it sadly. He is making millions without having to do anything at the club. It is just another business to him. The club will never progress under his stewardship and will only decline.
Get out of our club Mike, for all our sakes.