Behind the Medals: Bianca Walkden's Year To Remember
12:30, 24 Dec 2017
A two-time world champion, an Olympic bronze medallist, a record-breaking Taekwondo practitioner and now a Sports Personality of the Year nominee. It's not been a quiet career for Liverpool's 26-year-old star Bianca Walkden!
"I started off at 11 years old with my friend at a local club in Liverpool. Everyone was screaming and kicking each other in the head, doing these fancy spins and I just fell in love with it!" Bianca told The Sportsman.
Taekwondo has rose to prominence in recent years with the success of Walkden and compatriot Jade Jones who captured back-to-back Olympic gold medals in 2012 and 2016. The rise of mixed martial arts has also contributed to the growth of the sport with participation levels rising in recent years.
Walkden said: "It was so different to other sports. All the fancy spins and techniques make it so unique. It made me want to do it even more to be so different to everyone else!". The Liverpudlian continued "The likes of Conor McGregor have helped all martial arts by giving it a huge platform on TV. When people get into taekwondo, it is such a great sport!"
The first set back in Bianca's career came before the 2012 Olympics in London. She ruptured her ACL (anterior cruciate ligament) in her left knee, ending her chances of competing on the biggest platform.
Walkden recalled the heartbreak, saying "I was absolutely heartbroken. I didn't even realise this could happen to me. It was that serious that I couldn't just strap my knee. Letting that opportunity go was devastating."
Much is made of mental toughness in combat sports and Walkden couldn't rely on her sheer ability to bounce back from her heartbreak. "The mental challenges I went through were tough. I had screws in my knee, had to learn to walk again and it toughened me up!"
Two years on from the devastation of missing the London Olympics, the Brit secured her first European Crown, but injury was to strike her down again, with her left knee also succumbing to an ACL tear.
"For it to happen again and to think I would miss Rio was tough. But that second one really made me the person I am. I realised there was nothing I could do about it and I just had to get on with my life. My dad constantly pushed me to keep me going and I became the best person I could be" Bianca said.
The recovery from an anterior cruciate ligament is a complicated one. Many have operations and the time out of action can vary from several months to years. Bianca had to learn to walk again, not ideal for someone competing in taekwondo!
Bianca recalled the memory: "It was like being a white belt all over again! I had to teach myself how to be a better athlete and since then, I've won a lot more! It forces you to believe in other areas of your game. I thought you just had to be the best at kicking to win, but then I realised that tactically and mentally I could develop to a higher level."
Less than a year after her second major injury, Walkden stormed her way to her first World Championships gold medal, defeating former two-time world champion Gwladys Epangue in the final in Chelyabinsk, Russia.
"To win it after coming back from my knee injury was incredible. I lost my grandad on the day of the event, which I didn't know about until I phoned home." Bianca said on her victory.
Her opportunity for redemption came in the form of the Olympic Games in 2016 in Rio de Janeiro. At just 24 she was seeded third in the tournament and opened with two completely dominant victories. She then lost out to China's Zheng Shuyin in the semi-final on sudden death.
"It was always going to be me or her to win the medal. I knew I was always going to come home with bronze or gold as we were going to meet in semi-final. Losing in sudden death was hard, but that's what makes the sport entertaining" Walkden said.
After the heartache of losing so dramatically, Walkden had to fight again in a bronze medal match. "I didn't want to fight, I just wanted to win the whole thing. It was hard but my coach told me that I'd regret coming away with nothing. I walked out and saw my family in the crowd. My little brother's face just got me so motivated and after a rusty start, I just kicked her in the face! I thought I've come back from two injuries… I can come back from a bronze medal!"
Walkden and Shuyin have since begun a bit of a rivalry as two of the best heavyweights in taekwondo. Walkden spoke of the competition "I have a little rivalry with Shuyin as I know I can beat her and she's got that Olympic gold medal! I respect her as fighter but when we're competing, I just want to beat her!"
She brushed off any trash talking comparisons saying "It's not like Conor McGregor and Floyd Mayweather but if it did, I'd probably get a few jokes in but end up crying!"
Since losing that semi-final bout in August 2016, the Liverpudlian has tasted defeat just once, in controversial circumstances! Walkden recalled "I should have won I was fuming! I scored in the final seconds to win 8-7 and they took it off me!"
She has since captured five consecutive grand prix gold medals, including all four events this year, becoming the first ever taekwondo competitor to complete the 'grand slam'. No male or female has ever achieved that feat in the sport.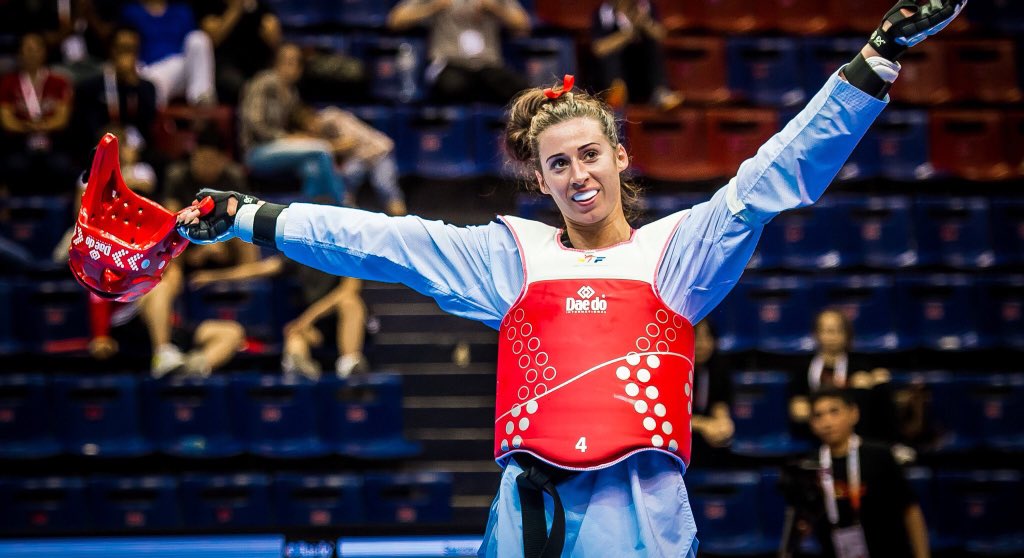 Comparing it to other sports, Bianca said "It's like someone going into tennis and winning all four grand slams! I think when you sit back and realise the magnitude of what you've achieved it's quite incredible"
A second World Championships gold followed in Muju, South Korea in June 2017 with Walkden completely dominating her opposition, picking up a total of 79 points to just 18 conceded.
The heavyweight champion said: "To retain the championship just proved that the first was no fluke. It proved that I was the best in the world yet again!"
Walkden's partner Aaron Cook is also a taekwondo practitioner and a three-time European champion. Cook had previously competed for Great Britain at the Olympic, coming fourth in Beijing before controversially being left out of the 2012 games. Cook switched his allegiances first to the Isle of Man and most recently to represent Moldova.
Bianca spoke of their partnership "It's nice to share the journey together. It's tough for Aaron as he has no training camp or sponsors, so when I've finished my Team GB training, I go and train with him to help him out. I hope myself, Aaron and Jade Jones can achieve gold in Tokyo."
Setting records is what Walkden does best. She became the first taekwondo practitioner to be nominated for the prestigious Sports Personality of the Year award just last week, joining a list of British stars such as Anthony Joshua, Harry Kane and Mo Farah.
Speaking of finding out she'd made the shortlist, Bianca said: "I couldn't believe it! I was screaming down the phone as something like that is amazing for myself and the sport. We've never had a nominee, despite Jade Jones winning consecutive Olympic golds. It was amazing to see the sport recognised, especially in a non-Olympic year."
Fittingly Liverpool played host to the ceremony last weekend as the stars of sport descended on the ECHO Arena, with Walkden being celebrated as one of the stars of the show.
Thank you for everyone that supported & voted for me!! Couldn't of asked for a better night..LIVERPOOL was unbelievable as always 😘
#SPOTY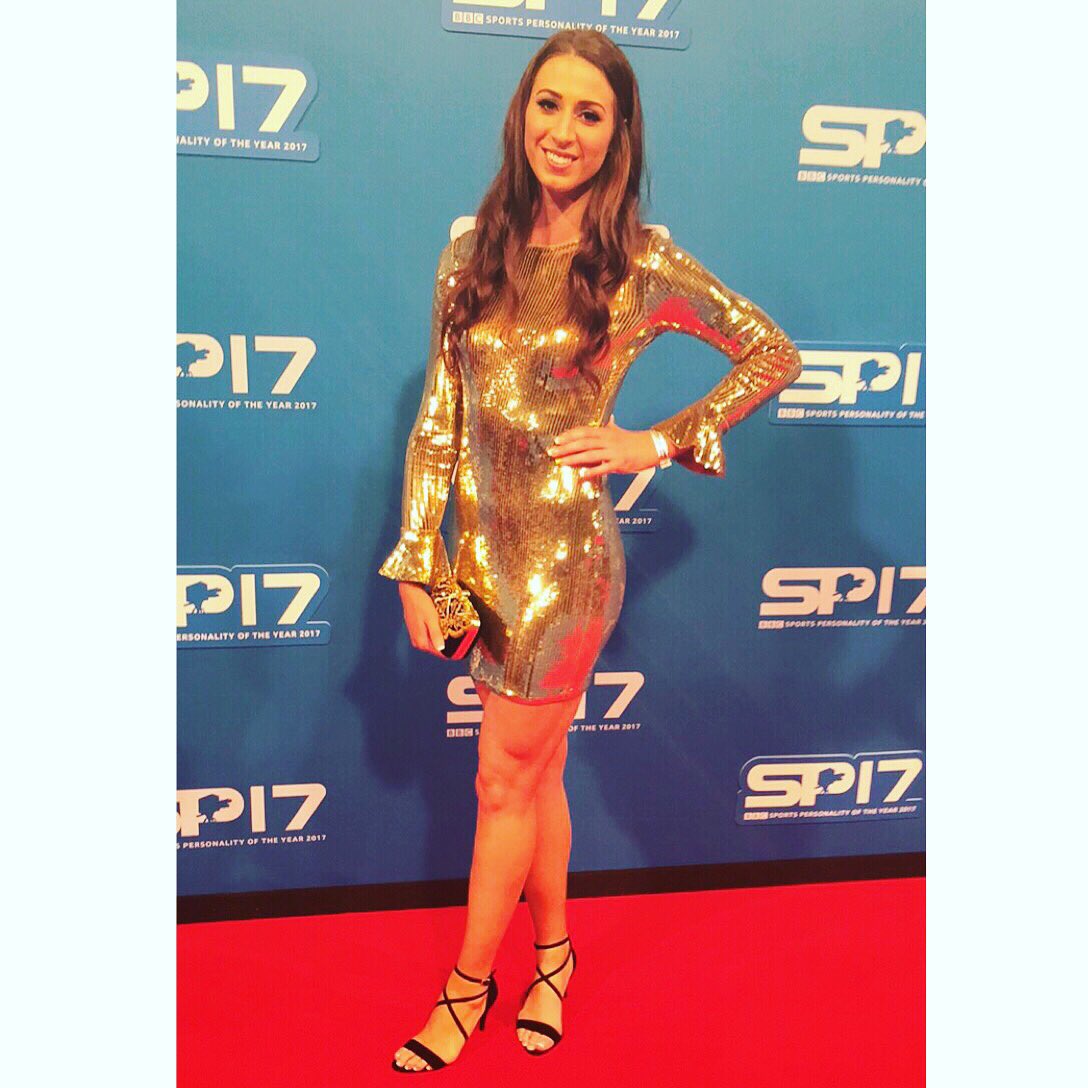 She said: "I got to walk with superstars like Anthony Joshua, like it was just a normal night! I thought this is my kind of life! The fact it was in Liverpool and with my family being there just 10 minutes from home was incredible."
What's for the future for Bianca Walkden? An Olympic gold medal is the only thing that has eluded her illustrious young career and her sights are set on Tokyo in 2020 to make her dream a reality.
"I've won everything except for that Olympic gold. As long as I win it before I retire I'll be happy! If I can pick up as many World and European titles as well as Grand Prix's along the way, I'll be happy when I leave the sport"
The future is bright for Bianca, but would she consider stepping into the octagon? She told us "If I get a good amount of money to fight a top fighter I'll be up for it! A fight is a fight… and I'm always up for a scrap!"