Football /
Beware The Caretaker Manager - 5 Reasons Why Manchester United Should NOT Appoint Ole Gunnar Solskjaer Permanently
Is Ole Gunnar Solskjaer Really The Right Manager For Manchester United?
Manchester United's interim manager Ole Gunnar Solskjaer is making an overwhelming case for the club to give him the gig on a full-time basis in the summer, although recent Premier League history has shown us that giving a caretaker boss a full-time position can end in disaster.
In general, it has mostly been struggling, relegation-threatened teams that have regretted their decision to let a temporary manager stay longer than originally planned, which ensures serious questions still need to be asked of the Manchester United board - how is a team of their stature in a position where they are borrowing Molde's manager halfway through a season?
While you ponder that question, we take a look at five interim managers who outstayed their welcome...
Kenny Dalglish (Liverpool)
A fallen giant of English football appointed a former club legend in a bid to restore the glories of old - sound familiar? Kenny Dalglish was brought in to reinvigorate Anfield in January 2011 after the dreadful reign of Roy Hodgson had cast a cloud of antipathy over the red half of Merseyside. Again, sound familiar United fans?
Dalglish's initial effect was impressive as he dragged Liverpool from twelfth in the table to fifth by the end of the campaign and he was duly handed a three-year contract at the end of the season. The Scot followed up by winning the League Cup in 2012 - it remains Liverpool's most recent piece of silverware - but the club finished eighth in the Premier League table and Dalglish was duly ushered out of the door.
Roberto Di Matteo (Chelsea)
Roberto Di Matteo was appointed caretaker of Chelsea in 2012 and he enjoyed remarkable success as he lost just three of 21 games in all competitions, winning fourteen and drawing four, en route to winning the Champions League!
Chelsea owner, Roman Abramovich, reluctantly gave the former Blues midfielder a permanent contract as manager in the summer. Di Matteo was sacked in November of that year as Chelsea won 11 of 21 games and the reigning European champions failed to qualify from their Champions League group. The Blues dropped into the Europa League and duly won that competition under another caretaker, Rafa Benitez.
The Blues love a caretaker as Guus Hiddink has taken 34 points across two spells as interim manager at Chelsea, replacing 'Big Phil' Scolari in 2009 before starting his second reign with a twelve-match unbeaten run when replacing Jose Mourinho during the 2014/15 season.
Unlike many interim bosses, the Dutchman was a proven manager, winning six Eredivisie titles and a European Cup with PSV Eindhoven, and there is an argument that the Dutchman is best suited to short-term roles as he has enjoyed great success on the international stage after guiding Netherlands, Russia and South Korea to the semi-finals of various World Cups, as well as Australia to the second round.
Tim Sherwood (Aston Villa)
'Tactics Tim' was still smarting from being given the boot by Tottenham following a relatively successful spell at White Hart Lane before he took over at Aston Villa in February 2015. Sherwood replaced the beleaguered Paul Lambert and duly guided Villa away from relegation with five wins from 13 games thanks to the time-honoured 'new manager bounce'. Sherwood also took Villa to the FA Cup final, which they duly lost 4-0 to Arsenal.
There had been warning signs during Sherwood's temporary tenure, including a 6-1 defeat at Southampton, but Villa still gave him a permanent contract. Sherwood lasted just ten league games of the following season, winning one, and the Villans would go on to be relegated during a tumultuous campaign.
🤦‍♂️ Tim Sherwood last week...
"I'm not sure we're gonna see any sackings this season"
Tim Sherwood on The Debate last night...
"I'm not shocked that Jokanovic was the first to get sacked"
Never change Tim, never change...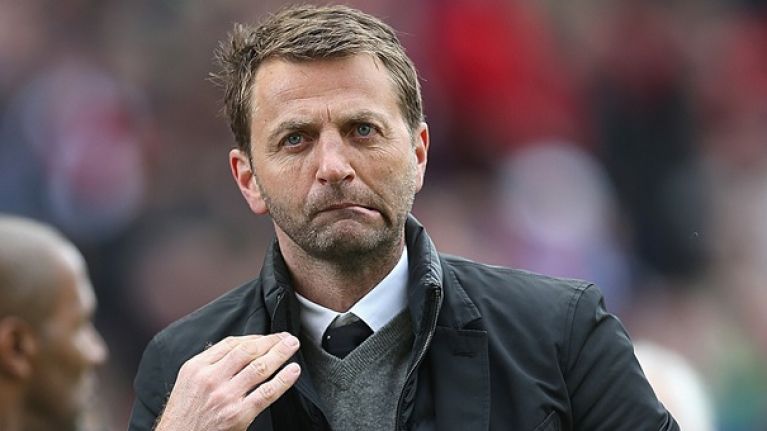 Dick Advocaat (Sunderland)
Like Sherwood, Dick Advocaat performed a rescue act during the 2014/15 season as he made sure Sunderland finished 17th. The Dutchman was convinced to stay on and he was left to rue the decision as he lasted eight winless games of the following campaign.
Garry Monk (Swansea)
Garry Monk replaced Michael Laudrup as Swansea manager in February 2014 and saved the Welsh side from relegation with a game to spare. Monk was duly handed a three-year deal and helped the team finish eighth the following season. All was looking rosy until Monk was sacked in December 2015, ending a twelve-year association with the club for the former Swansea player.
Other notable caretaker managers who flopped after taking jobs full-time include Mike Phelan (Hull), Craig Shakespeare (Leicester), Steve Kean (Blackburn), Paul Hart (Portsmouth) and Tony Adams (Portsmouth). Let their woes serve as a warning sign for clubs that get carried away by the short-term boost of a caretaker manager...