On this day in 2000, Belichick sensationally left his role as head coach of the New York Jets
18:02, 04 Jan 2022
Anyone who associates themselves with American Football will understand that Bill Belichick is one of the greatest coaches to ever be involved in the sport. Despite his legacy being firmly cemented in the history books, he's in his 47th season and shows no signs of slowing down as he continues to lead the New England Patriots to the post-season playoffs. The Patriots also remain in the battle for the number one spot in the AFC east as we approach week 18 of this NFL season. All of this, as well as the legacy of one of the greatest players to ever play the sport, could have been very different.

On January 4th, 2000, Bill Belichick resigned as Head Coach of the New York Jets. His announcement stunned the NFL and nobody more so than the Jets organisation themselves. He walked into the press conference with reporters expecting to hear a speech of gratitude, preparedness and fighting talk but what they were met with was an apologetic, sincere and self-assured Bill Belichick.
During his press conference, Belichick cited the Jets being a team in transition and entering a period of new ownership as one of the reasons behind his apparently sudden departure. Having experienced a team in transition during his time at the Cleveland Browns, he wasn't ready to do that again. The finer print would tell you that he didn't want to work with either of the reported to be new owners, Woody Johnson or Charles Dolan. Nobody could quite believe what they had just heard, it caught them by surprise, not only the reporters but also Steve Gutman (Former President of NYJ), whose comments after Belichick stepped aside and left the room were layered in anger and disappointment.
"We should have some feelings of sorrow and regret for him and his family. He obviously has some inner turmoil."
Then, just 23 days later, Belichick was announced as the new Head Coach of the New England Patriots. The Patriots, who were and still are owned by Robert Kraft, weren't a team in transition but rather a team who just needed better coaching. Belichick duly obliged. He helped turn the team around from a record of disappointing 5-11 to respectable 11-5 in the space of 12 months.
This winning season would be the first of 19 consecutive winning seasons for the Tennessee native, a streak only bettered by Tom Landry, formerly of the Dallas Cowboys who managed 20. The incredible streak coming to an end coincided with the departure of Tom Brady, as he left to pursue a new challenge down in Tampa Bay, Florida. Belichick worked well with Brady and together they formed a formidable partnership that dominated the NFL for nearly two decades, winning six Super Bowls, nine conference titles and 17 division titles. This period will ultimately be the time everyone refers to when thinking about Belichick, and rightly so. But he's still coaching, he's still winning and most importantly, he's still determined.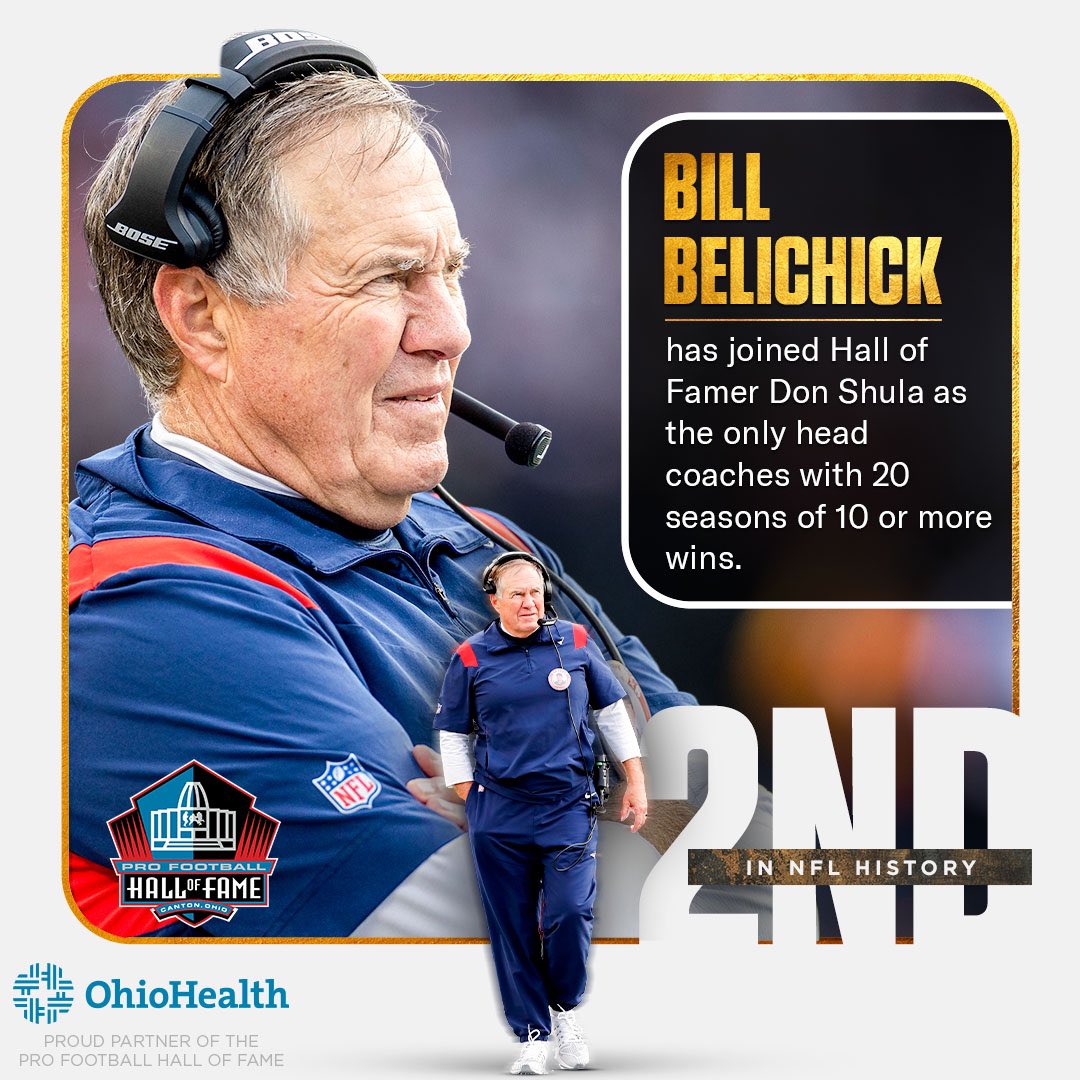 Belichick wasn't going to have his career and all his success pinned to a 199th draft pick quarterback from Michigan and unsurprisingly he's out here proving people wrong yet again. The Patriots have bounced back from a losing season last year to a record of 10-6 with one game left to play this season.
He has moulded rookie QB Mac Jones to look right at home within a system designed by one of the greatest in the game. No coach has ever won a Super Bowl with a rookie quarterback but if anyone was going to do it, you'd bet your last dollar it would be Bill Belichick.
*Odds courtesy of Betfred | 18+ | BeGambleAware