Seven years after the midfielder left Rangers, he's in the Scotland squad
08:10, 05 Oct 2019
He was Scotland's Wayne Rooney. Or at least, he was meant to be. Not for a generation had a young footballer been hyped up north of the border like John Fleck was as a teenager at Rangers. Like so many wonderkids, though, Fleck's spark failed to rage into a full fire. He made 41 appearances for the Ibrox club, but few of them saw him catch the eye. The only headlines he made was over a reported bust-up with Ally McCoist in 2009.
In stark contrast to the way he burst on to the scene, Fleck left Rangers for Coventry in the summer of 2012 without barely anyone noticing, although, during his time with the Sky Blues, ex-boss Tony Mowbray described him as "the oil in the machine."
Now, seven years after the midfielder left Scotland, he is in the national team squad, with Steve Clarke selecting him for the upcoming Euro 2020 qualifiers against Russia and San Marino.
Fleck deserves his place in the Scotland squad. The 28-year-old has forged quite the career for himself down south, becoming an important cog in the Sheffield United side making their mark in the Premier League this season. It's taken him a lot longer than was initially expected, but Fleck is finally making good on the promise he showed as a youngster.
This isn't the first time Fleck has been called up to the national team, with Alex McLeish handing him a place in the squad for last year's Nations League match against Israel. Clarke had also hoped to call up the midfielder for the Euro qualifiers against Cyprus and Belgium in May, but Fleck had to pass due to the fixtures clashing with his wedding.
"I'm gutted to be missing out on the chance to play for my country but there was nothing I could do about the timing.
"There was no chance I could have postponed the wedding - Lauren would have killed me," he told Press Association Sport at the time.
Fleck could finally make his international debut this month, though, with Clarke seemingly keen to try out different options ahead of next year's Euro 2020 play-off earned through the Nations League. The Sheffield United man could be one of those different options, although competition is stiff for places in the Scotland midfield right now.
The 28-year-old offers drive through midfield and is capable of playing on the left or right of a midfield three. He demonstrated this with an impressive display against Liverpool on Saturday. Fleck must still work on providing more in the way of goal threat, but it's easy to see why Clarke wants him in the national team squad.
ICYMI | Steve Clarke announced his Scotland squad for our matches against Russia & San Marino.
Russia v 🏴󠁧󠁢󠁳󠁣󠁴󠁿: Thursday, 10 October
🏴󠁧󠁢󠁳󠁣󠁴󠁿 v San Marino: Sunday, 13 October
➡️ Get your Scotland v San Marino tickets here: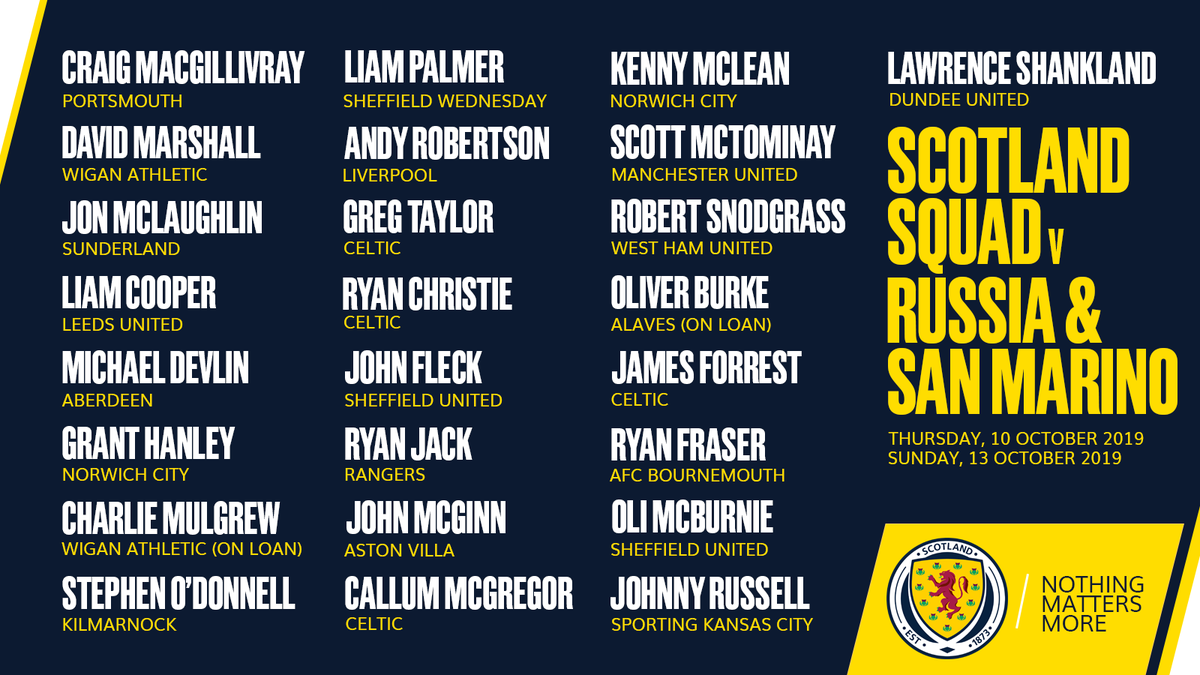 Wilder, who isn't the easiest man to please, is a fan of Fleck. "He's been voted as one of the EFL top three players," the Blades boss said towards the end of last season as his side prepared for promotion to the top flight. "Every team that you come up against, they will always talk about John. Other players will always talk about John and, in that dressing room, his own team mates think a lot of him too."
The career trajectory of Fleck to date certainly hasn't been the most orthodox. It's somewhat unexplainable that having been the subject of so much interest as a teenager he has flown under the radar as he reached maturity in the English Championship and now the Premier League. Nonetheless, he is becoming the player so many believed he always would be