How AJ's childhood in Nigeria moulded him into the champion he is today
12:02, 04 Mar 2020
2019 was arguably the most formative of Anthony Joshua's career.
The first professional loss for the British boxer arrived with a shock defeat to the 15/1 underdog Andy Ruiz Jr, the British heavyweight stunned at Madison Square Garden in June. Bruised and humiliated, Anthony Joshua picked himself up to once again face the man who had taken his belts, producing a comprehensive performance in Saudi Arabia in December to reclaim his titles from the Mexican-American and became a two-time heavyweight champion of the world in the process.
Enter 2020, and whilst Deontay Wilder and Tyson Fury were entertaining in Las Vegas, the two pugilists contesting the WBC heavyweight title, the newly-recrowned Anthony Joshua, 30 years old, was instead going back to his roots.
Choosing to step away from the circus, and ahead of announcing his next fight with Kubrat Pulev (due to take place this June at the Tottenham Hotspur Stadium), Joshua was in Nigeria, the homeland of his mother.
It was, as Anthony Joshua himself has now described, learning 'the hustle and bustle of Nigeria' during an early part of his childhood that has ultimately helped him to mount the boxing pedestal and sit atop the world, belts and titles in hand.
Around the time of Wilder/ Fury Part II, Joshua's Instagram was adorned with photographs of his recent expedition to the country of his heritage, from reuniting with his family, to greeting locals in the shantytown of Makoko on the coast of mainland Lagos.
His dad Jonathan was born to a Nigerian father from Sagamu, a town located in Ogun State south-west of the country, and an Irish mother. Jonathan returned to Sagamu to marry Yetunde, Anthony Joshua's mother. They divorced when Anthony was 12.
Anthony is a direct descendant of Omo-Oba Daniel Adebambo Joshua, an immensely powerful man in 19th Century Sagamu, and still considered something akin to royalty in the province. The Yoruba word 'Omo-Oba' translates as 'prince' or 'ruler', with the family name of 'Joshua' still revered. Anthony's grandfather Olasheni Joshua was the direct son of Adebambo Joshua and the father of Jonathan (Pulse).
IT'S HAPPENING! 🥊@anthonyfjoshua defends his World Heavyweight Titles vs mandatory challenger
@KubratPulev
🗓: June 20
📍: TOTTENHAM HOTSPUR STADIUM
🎟: Details soon
#JoshuaPulev
@MatchroomBoxing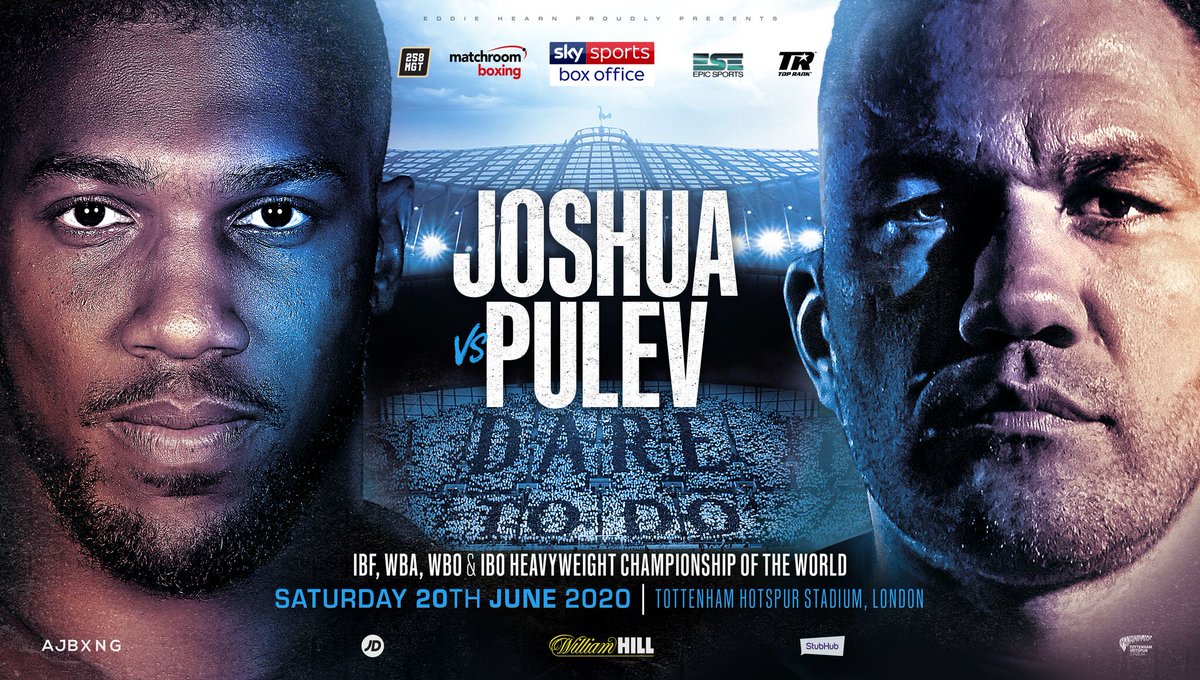 Somewhat acknowledging the weight and prestige of this descendancy, in an interview with GQ in 2018 AJ talked about the chances of his own son - the now four-year-old Joseph 'JJ' Joshua - following in his footsteps, and though he was intent on dissuading his offspring from entering the ring, admitted that he "has the bloodline for it, there's no doubt about that..."
In a new, revealing autobiographical first-hand account with The Players' Tribune, AJ illuminates on his own development life, and specifically focuses on that early opportunity to imbibe Nigerian culture that eventually toughened him for the life of a professional boxer, and helped develop him into the unified heavyweight champion of the world.
Born in Watford, UK, as a child Joshua moved to Nigeria with his mother where he was subsequently enrolled in a boarding school called 'The Bells' - the young AJ indoctrinated into a regime in which he conceded "the discipline is on another level".
"At five in the morning the staff would walk around ringing these bells to wake us up," Joshua described, "If you did not get up on time, you knew you were going to be in serious trouble.
"Everything was about structure.
"We would iron our clothes in the morning and wash them at night. We had to respect our elders. Always. Every morning we'd have to fetch our own water, but an older kid in the class might just take your water and there would be nothing you could do about it. So you'd have to get smart. Adapt. Maybe get a friend among the older guys, you know?
"I learned so many things in Nigeria. It was warm, so I spent time outside, talking to people, figuring out how they work, how I could get stuff from them, how I could help them. I tried to pick up the language, the dialect, the expressions.
"I learned how to protect myself."
Joshua subsequently recounted how upon his return to the United Kingdom, aged 12, he asked his cousin to punch him in the stomach and when he obliged - "He gave it all he got. Boom!" - the 12-year-old AJ was able to take it: "I had come back from Nigeria so much stronger."
Joshua's hardships in between his schooling and announcing himself on the world stage at the London 2012 Olympics as a 22-year-old have been well-documented, but from holding the Union Jack aloft after winning super-heavyweight Gold, the prominence of the tattoo on his right shoulder of the continent of Africa with Nigeria highlighted, to even holding his next fight just 20km away from his hometown, there is obvious pride in Joshua's own trajectory and that dual-nation narrative.
"My heart is with Nigeria, my heart is with Britain, I'm a Nigerian man by blood," Joshua has previously proclaimed (The Guardian).
In that recent Las Vegas showdown, Tyson Fury caused attention by selecting a gumshield labelled with the word 'Nigeria' across it. An attempt to bait a potential opponent by invoking a country that has imbued Anthony Joshua with the strength and discipline to become a world-beater may not be his wisest idea.