Brazil Must Start Manchester City's Fernandinho Over Barcelona's Paulinho If They Are To Beat Mexico
10:03, 02 Jul 2018
The 2018 World Cup has been so brilliant, so dramatic, that it threatens to become a little dull once we reach the latter stages. Germany, Argentina, and Spain have all fallen, leaving few of the traditional big nations into he competition. The quality of football won't be as high in the semis now - not that England fans will care. Or Brazil, who are now clear favourites despite their own issues in th group stages.
The World Cup resets once the knockouts begin, not just for psychological reasons but because favourites tend to find more space, more freedom, when facing similarly strong opposition. In 2014 Germany drew 2-2-2 with Ghana in the group stage; in 2010 Spain lost their opening match to Switzerland; and in 2006 Italy were held by USA. Brazil, then, shouldn't be too worried about their 1-1 draw with Switzerland or the angst-ridden, last-gasp win against Costa Rica.
Brazil can start afresh on Monday with a statement performance, but to do so will require one major change in personnel; if Tite's defensive, conservative side are to lift the trophy they need to add a more dynamic defensive midfielder to the starting lineup. Luckily, it just so happens they have the best such player in the world warming their bench.
Mexico will not be easy opponents. Their 1-0 victory over Germany was defined by incisive counter-attacks through the middle of the pitch as Juan Carlos Osorio's side boldly left two or three players in attack at all times. They will no doubt repeat this template against Brazil, whose possession dominance and attack-minded full-backs makes them vulnerable to the threat of Javier Hernandez, Hirving Lozano, and Carlos Vela.
But the biggest reason Mexico will feel optimistic is the holes in the Brazil midfield. Philippe Coutinho is expected to maraud into the number ten space just as he did as a false-eight at Liverpool, while Paulinho acts as the linchpin in possession. Their frailties haven't been openly exposed in Russia yet, but Mexico will be licking their lips at the prospect of running at Casemiro - all alone at the base of midfield.
Half way there...
Two quarter-finals decided, two to go, with this confirmed tonight 👇
Sat 7 July, 21:00
Russia vs Croatia 🇷🇺🇭🇷
Sochi
#RUSCRO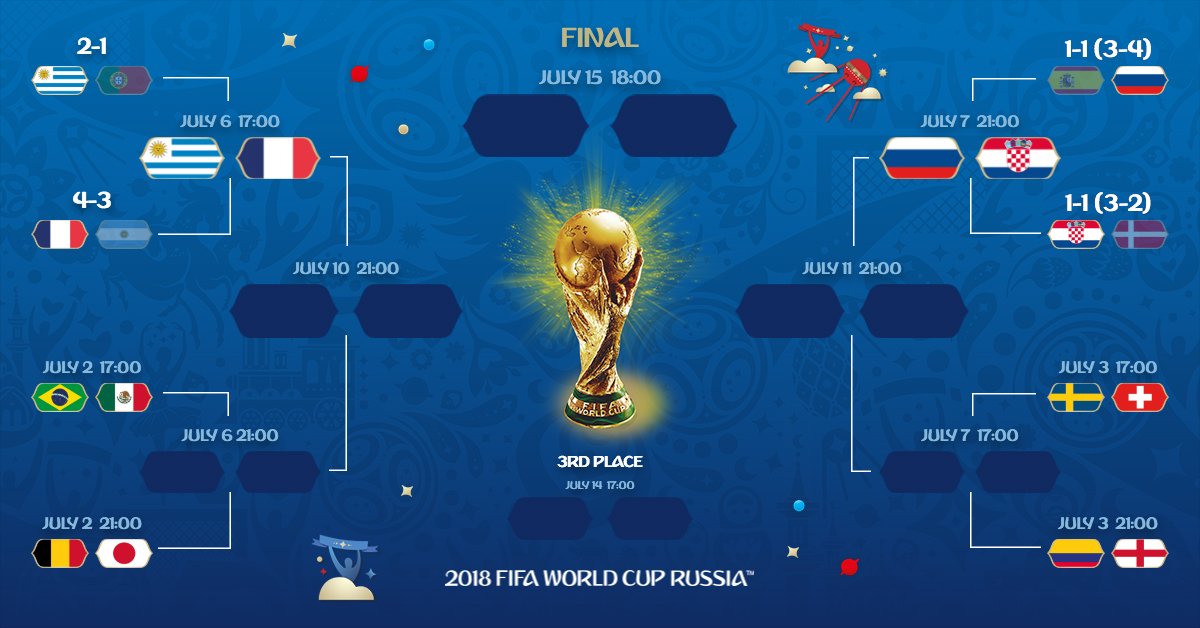 For Brazil to progress, then, they must bring Manchester City's Fernandinho into the starting lineup ahead of Paulinho.
After two years of tutelage under Pep Guardiola there is nobody in world football better at stamping out counter-attacks than Fernandinho. Flitting constantly between multiple positions (he simultaneously drops into the back three, anchors the midfield, and presses high onto the first point of the counter), the City midfielder's intelligence would surely suffocate Lozano and Vela.
Casemiro will need help in the middle, and Fernandinho is the perfect partner. The Real Madrid man is a simpler footballer, sitting just in front of the back four to mop things up, which is why a dynamic, pressing team-mate would compliment the side perfectly. If Paulinho is in the side, roaming ahead of Casemiro, then Mexico will find space to burst into - building up enough speed to make Casemiro helpless from such a deep starting position.
Leaving Fernandinho out of any starting lineup is frankly madness. But as the knockout stages begin and the opposition threat increases, it might just be suicidal for Tite to deploy Barcelona's Paulinho instead. Osorio and his players will certainly know who they would prefer to play against.