The events get underway on Thursday in Ayo's home town
11:05, 27 Jul 2022
The Commonwealth Games returns to British soil this week, with a 10-day celebration of athletic achievement and culture set to take place in Birmingham from Thursday. And Ayo Akinwolere will be the face of the TV coverage for UK audiences.
The former Blue Peter front man will be one of the faces of the BBC presentation, a fitting selection given Ayo's Birmingham roots and sporting background. And he has revealed to The Sportsman that he had heart set on being a part of the Commonwealth Games, describing it as one of his main ambitions for 2022.
"I basically pitched myself for the BBC and I'm like, I grew up in Nigeria, a Commonwealth country, I moved to Birmingham, the city that's hosting the Commonwealth Games, FYI this is my job," he explains. "And for some reason they've given me my own show on BBC Three, which is insane. So this is a dream come true.
READ MORE:
"It's a real special moment for me. To come back and do what I love in the city that I love, the city I grew up in, and it's a global sporting event - it's massive for me and I just hope we can do it justice."
Like many from England's second city and the West Midlands, Akinwolere is looking forward to people seeing first hand the culture and diversity the city has to offer. And, like his fellow Brummies, Ayo believes a major sporting event in the city has been a long time coming.
"It's such a special moment for Birmingham, it's a long time overdue," he adds.
"I feel Birmingham has always been sort of under the radar a lot. But now we're here, now we've got a global event in Birmingham, it is an absolute joy and I'm hoping people can now see the city I grew up in and we can celebrate it with true authenticity."
And he hopes that all the financial resources that have been poured into the region for the Commonwealth Games can lead to a strong sporting legacy, something that didn't quite happen after the London Olympics a decade ago.
"I was literally having a meeting about that recently and we were talking to a guy called Mark England who basically looks after all of the athletes. And he's saying to me that the idea of this is to have a legacy for local sport, to try and encourage Birmingham to be more of a sporting hub in the UK.
"There was a big legacy plan for London 2012 around sport and I think that it's actually been proven that in Newham, the area where the Olympics was on, there was actually less sport over time. So I'm hoping that [Birmingham 2022] is a flip from that because I know for certain it has such a diverse environment, Birmingham has such a rich berth of sporting prowess, from tennis to cricket to football, the list goes on.
"We're very lucky that we've got it all in one city in a really accessible way and I definitely know that something that the Commonwealth Games are looking to do is to build a sporting legacy, as well as an infrastructure legacy, but a proper sporting legacy - and I'm all for it."
ALEXANDER STADIUM HAS RECEIVED AN EXTENSIVE RENOVATION
As part of getting Birmingham ready to welcome some of the world's greatest athletes, the Alexander Stadium, the home of athletics in the city, received a £72m renovation, looking very different to the venue where Ayo once participated as a schoolkid in rather unorthodox footwear.
"I used to do my school sports day at Alexander Stadium. There was a moment, we didn't have much money growing up, and my dad was like 'I'm not buying you more than one spare pair of sports shoes,' so I actually ran the 100 metres in my basketball boots on the track at the Alexander Stadium!"
Following all the recent talk of relocating the home of UK Athletics away from the London Stadium, the Alexander Stadium is a potential option to be its new base, and Ayo thinks it would be great for Birmingham to take the mantle.
"There are so many athletes that have come from Birmingham and to have that as the athletics hub potentially would be so superb. The redevelopment is timely, it redevelops the area and it also gives a spotlight to a sport that still struggles for an identity over football, cricket and other sports in the UK. Considering the diversity that there is in the Midlands, if that was the athletics hub, this would be superb.
"It's a really international city and it lends from so many parts of the world based on its cultural diversity. And to have such an internationally-renowned sport like athletics, that's literally about ability and ethnicity combined, it'd be absolutely insane."
🚨BIG NEWS 🚨 Back home to where it all started! Delighted to say ill be joining this bunch of heavyweights as part of the presenting team for
@birminghamcg22
BBC SPORT coverage, with my own show on BBC THREE
Bout time Birmingham got pinned back on the map!
Bosting!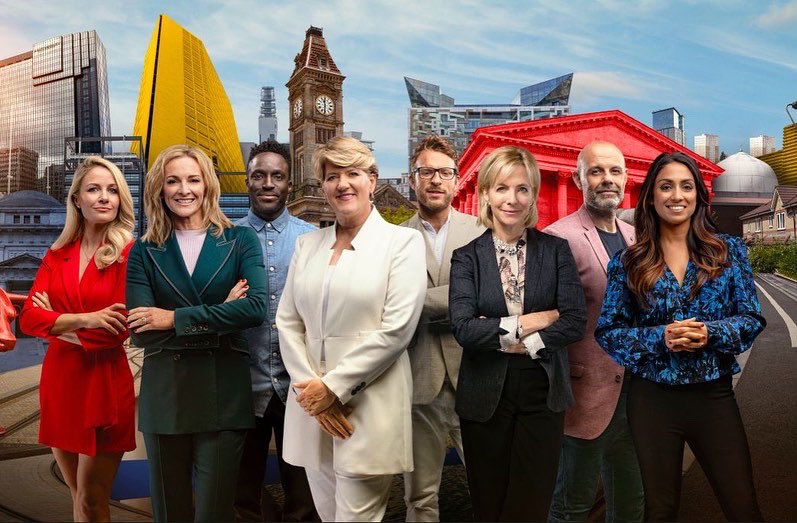 Ayo rose to prominence in broadcasting when he became a presenter on famed BBC kids show Blue Peter in 2006. During his five years on the show he took part in many different challenges, including a double world record five-mile swim across the Palau Trench. The broadcaster revealed that there was more to him doing these challenges than just for the sake of making good television.
"I haven't really spoken to anyone about this, but the bigger mission for Blue Peter was I'd just never really seen any black person doing the stuff that we saw a lot of these presenters do," he reveals.
"You don't see many black people swimming, jumping out of aeroplanes, you don't see many black people as world travellers. So I saw Blue Peter as a really good opportunity to flip the script a little bit on how we see people of colour in Britain and it was just an amazing platform.
"With all the challenges I did I must've seen over 118 different cities around the world and connected with so many people on a global level, and I just wanted to flip it around a little bit. I'm this kid who grew up in inner city Birmingham, in Selly Oak, a really deprived part of the country, and I'm on the biggest kids show ever in the world. I'm just grateful I did it. I really wanted to use that time just to set a real example and to show people that you can do things a bit differently."
The 39-year-old now joins a star-studded list of presenters for the Games, including Gabby Logan, Clare Balding and Jason Mohammad, all of whom he has great respect for having watched them from the other side over the years.
"I love watching these guys, they're incredible broadcasters. Gabby and Clare… any major event right now, I couldn't think of a safer pair of hands. So for me to know that I'm part of that group, for me it's like 'you've done all right, son.'
"Obviously I've learned and watched these guys over the years, but for me the last few years has been to try to cultivate my style of presenting, which is hopefully as authentic to me, where I grew up and also [be able to] show sport in a very different light. I want to have conversations with interesting people about breaking boundaries and I want to celebrate it."
DINA ASHER-SMITH IS AMONG THE BIG NAMES FOR TEAM ENGLAND
The presenter has been an advocate for getting people of colour into swimming and he created the Swim Challenge in 2015 which was a roaring success. He helped teach people to swim over 10 weeks and then complete the Great North and Great London swims. Ayo was proud to see what the participants achieved and what it could open up in the future.
"I actually modelled the Swim Challenge on me learning to swim in 10 weeks and we did it," he says. "In 10 weeks we taught people how to swim and then they went off to do something extraordinary that the world had never thought about. Hopefully that can open up a catalyst for a host of other stuff for them to do."
So when he saw fellow Brummie Alice Dearing become the first black British female to represent Team GB in swimming at last summer's Tokyo Olympics, Ayo was delighted to see that progress was being made.
"It was a long time coming. She's a real example, not just for black people but for young black girls who want to give it a go. Especially open water swimming, that's hard, that takes a lot of mental strength and she's able to show that on the world stage - it's insane."
Looking ahead to the action-packed 10 days of sport, he reveals that he is looking forward to watching the three-on-three basketball and hopes that it can spark a resurgence of players from the area.
"I think three-on-three basketball will be really good because it's something that a lot of people will see as accessible as you just need a ball and a few mates and you can play," he says.
"There are so many street courts in Birmingham, I hope it kicks off a sort of resurgence of basketball players."
Beyond that, Ayo can't wait to see England's best take on the rest of the Commonwealth.
He reveals: "Dina Asher-Smith, I'm glad she's doing it. Yes, we've got a sporting superstar, one of the faces of global athletics is going to be in Birmingham, tick. Adam Peaty, Midland boy, if he's injury free, amen to that.
"And also someone not many people look at, but I have been a fan of for years, is Adam Gemili, he's a sprinter. And touch wood, if he can walk away with a medal from the Commonwealth Games I think that would be so insane for his career. He's always been on the periphery because there are some much bigger stars that he runs against in European Championships or when he gets to that world stage."
18+ | BeGambleAware