Can Harry Kane Break Wayne Rooney's England Goalscoring Record?
09:52, 23 Mar 2019
Raheem Sterling was England's star of the show on Friday night in the 5-0 hammering of the Czech Republic, but that man Harry Kane once again got his name on the scoresheet for his country.
The 2018 World Cup Golden Boot winner fired home from the penalty spot to propel his England tally to 21 goals, as he drew level with Steven Gerrard, Kevin Keegan, and Mick Channon.
If the Tottenham superstar scores against Montenegro on Monday then he will jump up to joint 16th in the list of England's top goalscorers, alongside Peter Crouch and Tommy Lawton on 22 goals.
A brace would but the England skipper level with Stan Mortensen (23), while a second hat-trick - his first was against Panama last summer - would propel the striker up to 14th spot, which is currently occupied by the legendary Geoff Hurst (24 goals).
Kane still has some way to go in order to break into the top-five (Michael Owen is 5th on 40 goals), while Wayne Rooney ended his international career top of the pile on 53 goals from 120 caps, at a rate of 0.44 goals a game.
Kane's current average is 0.58, which is superior to many of the players above him in the rankings, including Rooney, Bobby Charlton, Owen, and Alan Shearer. Although it's difficult to envision anyone ever topping Vivian Woodward's ratio (1.26) who hammered home 29 goals in 23 games between 1903 and 1911.

"I look forward to presenting him with the trophy," Rooney told Radio 5 live in November when he was asked if he thinks Kane will break his record.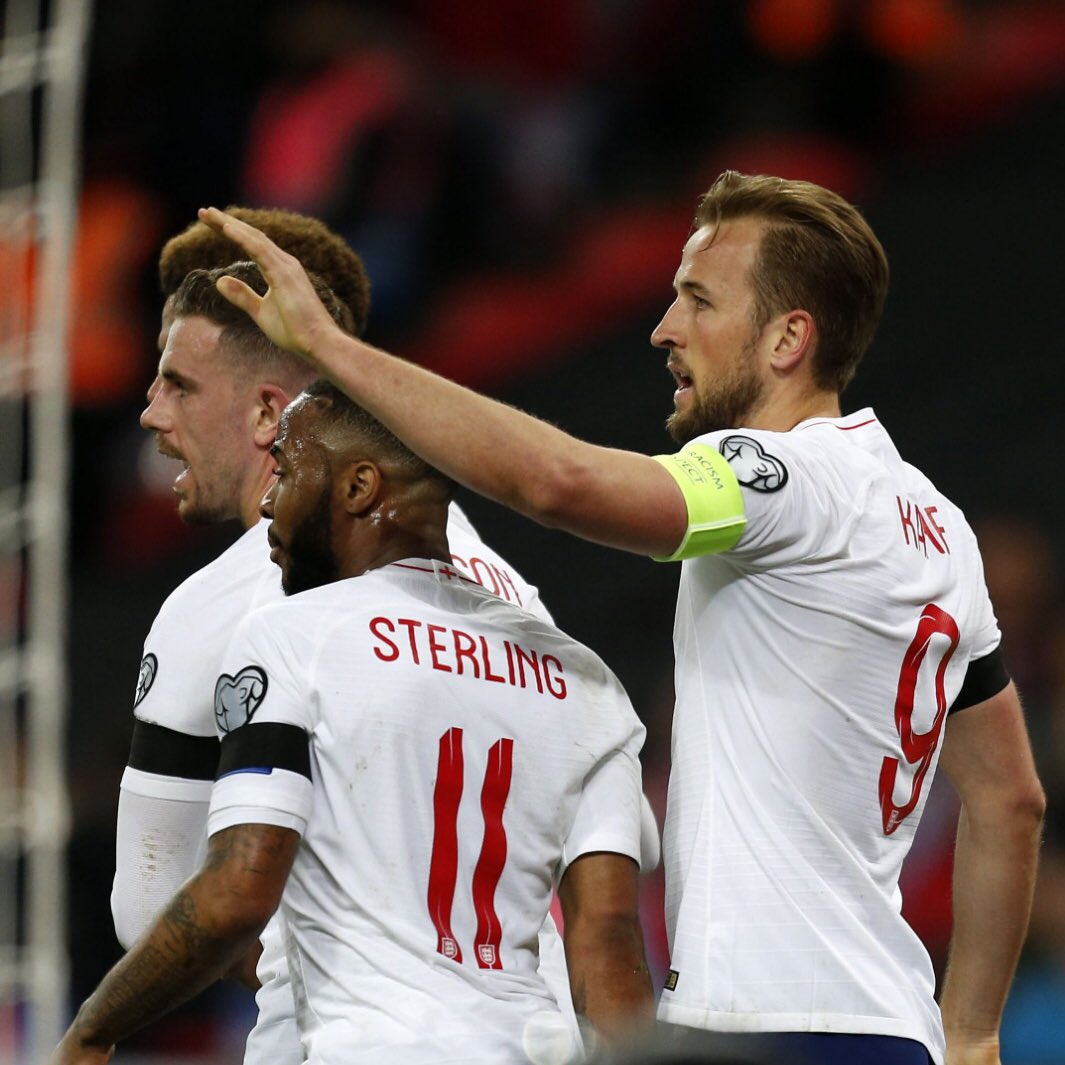 Time is certainly on Kane's side.
At 25 years of age he's only just reaching his peak. In the summer he has the chance to lead England to Nations League glory, while you'd expect him to be the focal point of England's attack for years to come.
It was only four years ago that Kane made his England debut against Lithuania - he replaced Rooney - and within 79 seconds he'd marked his debut with a goal in a 4-0 win. The Tottenham man would go on to grab two more goals for his country that year, a further two in 2016, seven in 2017, and a career-high nine last year.
Kane took his tally to 21 last night, and will no doubt take to the field on Monday away to Montenegro. He'll then target goals in the two Nations League Finals games this summer, while England play their remaining six Euro 2020 qualifiers before the year is out.
In the last two calendar years Kane has averaged seven goals per year for his country. So if he was to notch another six goals in 2019 that would take his tally to 27. Obviously, this is dependent on form and fitness, but if he was to average seven goals a year in 2020, 2021, and 2022 that would draw Kane to within a goal of Charlton (2nd, 49 goals).
Going by this - admittedly dubious prediction method - 2023 could well prove to be the year that Kane replaces Rooney as England's top goalscorer.
"It is definitely possible," Kane said back in November (The Independent)
"It is still a fair bit away. I don't like to set my targets that far ahead in the future because a lot can happen.
"We will see over the years how many goals I have got. Hopefully I will still be fit and healthy and getting selected by the manager.
"It is achievable but not something I'm thinking about too much right now."
England's All Time Top-5 Goalscorers

1. Wayne Rooney: 53

2. Bobby Charlton: 49

3. Gary Lineker: 48

4. Jimmy Greaves: 44

5. Michael Owen: 40

18. Harry Kane: 21