We were treated to a wonderful final ten laps of racing as Sainz bagged his first win
17:41, 03 Jul 2022
Carlos Sainz has secured his very first Formula One win after an epic and drama-filled race at Silverstone gave us a perfect grandstand finish. The final ten laps of racing at the British Grand Prix were simply as good as F1 gets.
As all drivers but leader Charles Leclerc pitted for soft tyres under the safety car, it led to the most thrilling finish we have seen this season. Sainz got past his teammate and ran away with his first race win, but it was all about the entertainment that took place behind him. Sergio Perez came from the back of the pack after a broken front wing to secure second, while Hamilton battled his way onto the podium after a phenomenal drive.
It looked at one point when the yellow flag may have given Hamilton the chance to win the British Grand Prix yet again but the Mercedes was slow to get going and instead he was thrown into an epic three-way battle between himself, Perez and Leclerc. Hamilton went from fourth to second at one point before Perez battled his way back through aggressively, but these ten laps of racing which also saw Mick Schumacher all over the back of Max Verstappen (no, really) gave us everything.
READ MORE:
It was the perfect tonic after a gut-wrenching start. Zhou Guanyu had his car flipped upside down, flew onto the gravel and bounced up into the fence after an incident with George Russell, who began on hard tyres. Five cars in total were involved, but all concerns were with the young Alfa Romeo driver, who was eventually taken out of the car on a stretcher, but he was conscious and taken away in an ambulance.
Russell could not continue and was handed his first DNF having finished in the top five of every race so far, but the circuit, with a packed out crowd in attendance were left silenced after a heart-stopping reminder of just how dangerous this sport can be.
The cars were forced to line up in their original qualifying positions, with Sainz back ahead of Verstappen and Hamilton back down to fifth from third. From the restart, Lando Norris got past Hamilton while Sainz defended aggressively from the front to retain the lead from Verstappen, but there were more issues for Red Bull as Perez was forced to pit with wing damage.
The pole sitter came under pressure from Verstappen and then made a mistake that cost him the lead as he ran wide and the Red Bull driver took full advantage. On lap 13 however, Verstappen ran over a bit of carbon, suffered a puncture and was forced to pit which brought him back out in sixth as the Ferraris took the front two places. The damage to his car's pace was terminal however, and he ended up finishing seventh.
CONGRATULATIONS, CARLOS! 👏
We have ourselves a new race winner! And what a way to do it!
#BritishGP
#F1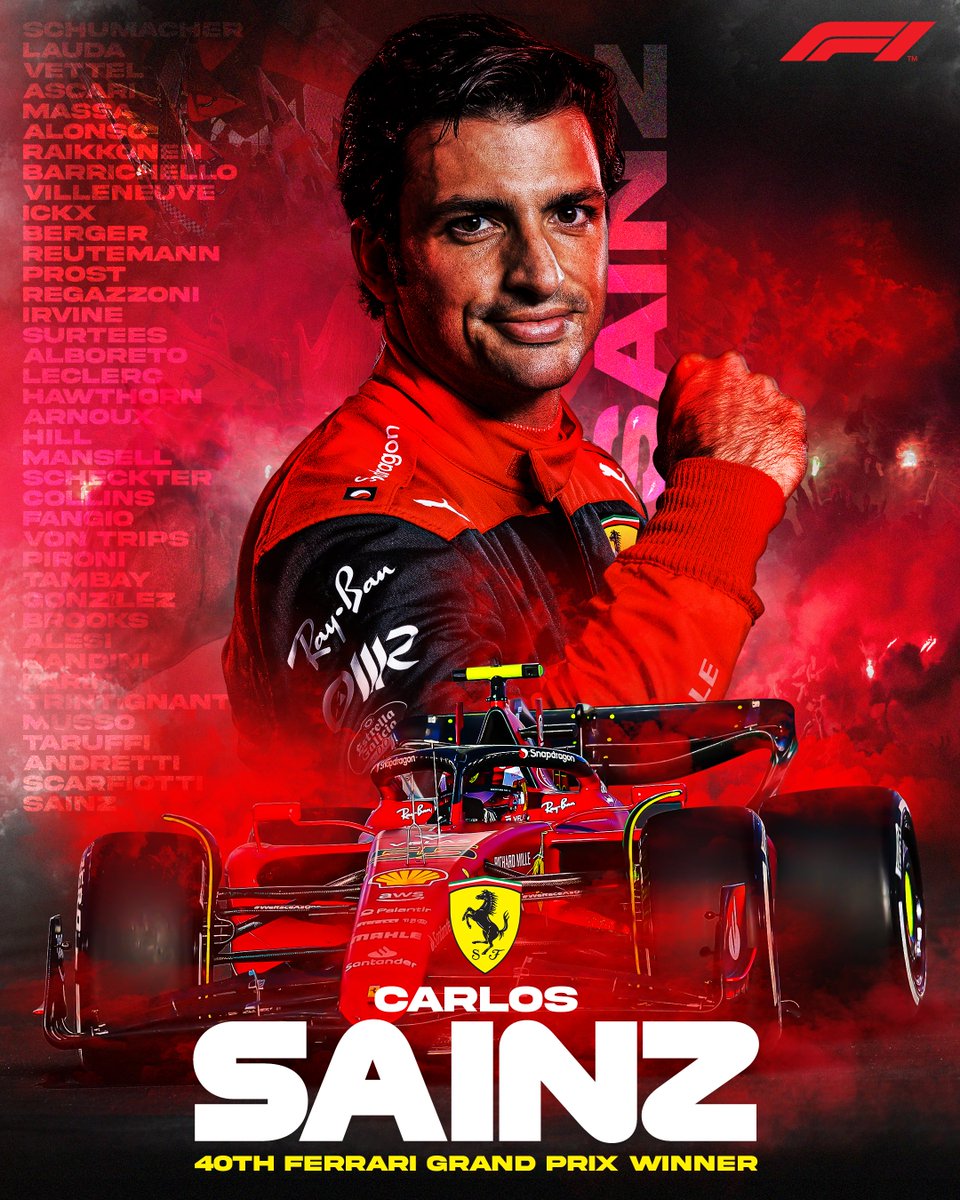 Hamilton began to close in on them lap by lap with Leclerc begging the Ferrari team to let him past, before Sainz was called into the pits for hard tyres. The Monagasque had clear air but still was reeled in slowly by the home favourite, without the benefit of DRS from his teammate, before going into the pits as Hamilton closed in.
For the first time since Abu Dhabi last year, Hamilton led a Grand Prix before his pit stop. Leclerc once again came out behind Sainz but was waved past and when Hamilton did eventually pit, he was held up by his pit crew.
That meant that he emerged behind both Ferraris but on fresher rubber however Mercedes' game plan went up in smoke as Esteban Ocon's car gave way on the old pit straight which caused a yellow flag. From that point, the drama ensued and we were treated to the best race finish we have seen in several years.
A thrilling finale, with a deserving winner. On his 150th Grand Prix, Carlos Sainz stands on top of the podium for the very first time.
British Grand Prix Results:
Carlos Sainz

Sergio Perez

Lewis Hamilton

Charles Leclerc

Fernando Alonso

Lando Norris

Max Verstappen

Mick Schumacher

Sebastien Vettel

Kevin Magnusson
*18+, terms and conditions apply, odds subject to change.