Scott Brown insists he has no regrets about hanging up his playing boots. But now the former Scotland and Celtic legend is desperate to make his mark in management after a glittering career on the pitch.
The former Hoops midfielder was appointed the surprise new manager of League One club Fleetwood Town last week. And having briefly cut his management teeth with Aberdeen last season, the 10-time Scottish Premiership title-winner is ready to step up and be his own boss.
Many observers believe the 36-year-old prematurely pulled the plug on his illustrious playing career, one which yielded all those league crowns with the Hoops and six Scottish Cup and League Cup successes. He also won the Scottish League Cup with Hibernian before going on to achieve greatness with Celtic. But the Dunfermline-born midfielder is ready to embrace an exciting new chapter after 20 years at the top.
"I knew a couple months back at Aberdeen that it was time to stop playing," Brown reveals to The Sportsman. "It becomes harder to keep up with the younger ones, but I think you know when it's the right time.
"I didn't want to keep dropping down the leagues and everyone saying 'Just look at that old guy playing in the middle of the park.' It's the right time, this is a great opportunity. I want to put my own stamp on this."
Brown was capped 55 times by his country and has played against some of the best players in the world. But management is always where he planned to be when he finally called time on his playing days.
"I'm a young manager and I'm going to make mistakes, but hopefully my knowledge of the game will help me out," adds Brown. "This is an incredible opportunity for my first job. For me, this is a fresh start away from Scotland and I'm really looking forward to it. It's about learning and it's a chance to come out of my comfort zone.
"The expectation for me was to just go somewhere in Scotland because it would be an easier situation, but I thought it would be good for me to get down here to see what I can do. It was the ambition of this football club that brought me here. I think Fleetwood have six promotions in 10 years, which shows the desire and ambition of the chairman [Andy Pilley]."
Brown captained the Hoops for 11 years during a stellar 14-year tenure with the club and, as well as having twice won the PFA Scotland Players' Player of the Year award, he played a staggering 787 games in Scotland.
And he hopes to use his extensive knowledge of the game north of the border to attract some Scottish talent to Lancashire.
"I know the Scottish market very well and there's a lot of players out of contract there, so hopefully we can force one of those deals through very soon," he says. "We need to bring players, we're going to be extremely busy.
"I didn't get time to say goodbye to all the Celtic fans, but they've been fantastic to me throughout my whole career. I loved my time at Celtic. And I loved my experience at Aberdeen as well because I went up there to learn the game – and I learned the game very quickly. The coaching, how it works day-to-day and how to deal with players and agents. It's given me a good starting point."
Delighted to be named Head Coach
@ftfc
.
Excited for the next chapter of my career, can't wait to get started.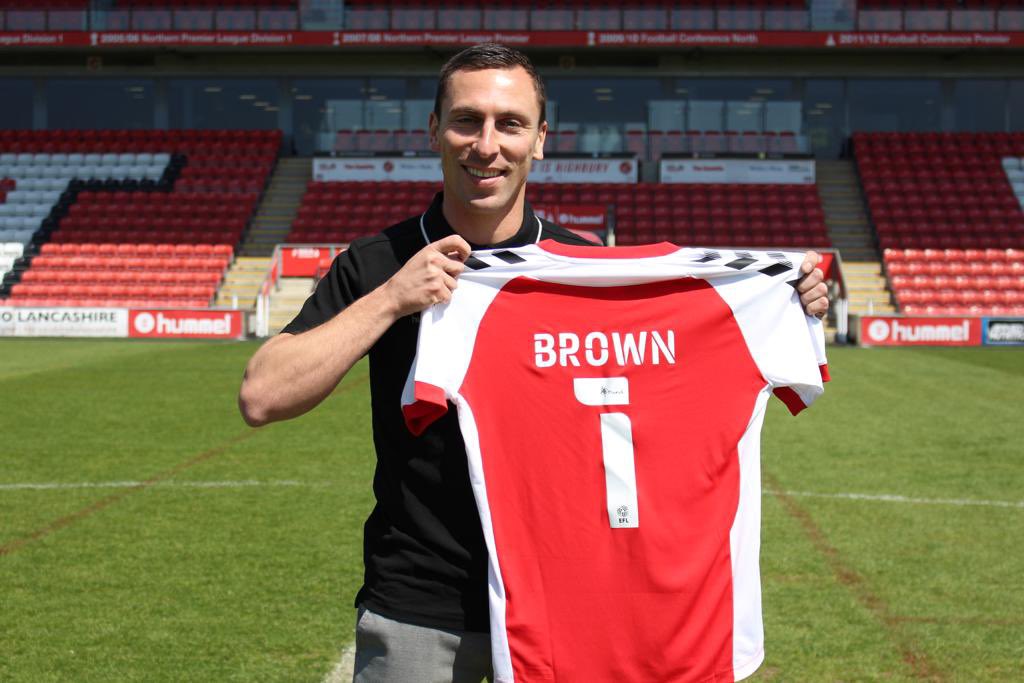 It was just a couple of days after Brown was appointed that Steven Whitaker joined as his assistant. Whitaker started his career with Brown at Hibs, and the pair have remained closed friends throughout the years.
"We've always been close – when we were coming through at Hibs, I was 17 and Scott was 16," reveals Whittaker. "Our families are close as well. Our wives and kids all get on, so that bond was there right from the start, the trust was there."
And Cod Army chairman Pilley has no doubts he has signed a born winner and leader in Brown, somewhere who shares his burning ambition to be successful.
"I think it's important to have someone with a track record of success and Scott has managed to win 23 trophies," reflects Pilley. "That's a massive achievement and he's also a natural leader of men – that is a skill set needed to be a football manager.
"We all saw this aggressive player with his eyes bulging out of his head, kicking anything that moved, and won a lot of games with Celtic. But he came across as someone very different when I met him - and I'm sure everyone will agree.
"I'm sure that the outstanding success and the standard of managers he's played under will help him on his course at Fleetwood Town."