Saturday afternoon's game was a bitterly-contested reminder of the mid-2000s, when Rafael Benitez and Jose Mourinho reigned supreme
19:51, 28 Aug 2021
In a week where Manchester United and Cristiano Ronaldo have turned back the clock, Liverpool and Chelsea treated us to a throwback of their own. Saturday afternoon's game was a bitterly-contested reminder of the mid-2000s, when Rafael Benitez and Jose Mourinho reigned supreme. While in Jurgen Klopp and Thomas Tuchel, these clubs can boast more affable coaches these days, the blood and thunder that unfolded on the pitch just before half-time felt like stumbling upon a 2007/08 edition of 'Premier League Years'.
Since 2000, Liverpool against Chelsea is the most played fixture in English football. Familiarity breeds contempt, as the two title contenders shared a tie that featured a red card, a penalty, an unedifying scene where seemingly the entirety of each side squared up to each other, and Chelsea evoking Keane-era United by chasing the referee around the field. On a day where fellow contenders Manchester City swept aside Arsenal 5-0, Liverpool and Chelsea fought bitterly to keep pace with their title rivals.
The early exchanges were end-to-end stuff, with both teams enjoying periods in the ascendancy. 18-year-old Harvey Elliott, preferred by Klopp to Thiago Alcantara and Naby Keita in midfield, pulled a fizzing shot narrowly wide, while Kai Havertz and Mason Mount bewitched in the half-spaces with excellent movement. Liverpool fans were reminded of what they'd missed in Andy Robertson, the left back punctuating his return from an ankle problem with an enticing cross that Marcos Alonso reached just ahead of Mohamed Salah. Romelu Lukaku won an early battle with Virgil van Dijk while chasing a wide ball, but his dangerous cross went begging.
Havertz would spectacularly draw first blood. A dipping Reece James corner reached the area in front of the near-post, and the German reacted quickest with a beautiful arcing header that flew over Alisson and into the Liverpool goal. Liverpool were undeterred, and immediately went about chasing an equaliser. Salah saw a fine cross towards Mane blocked, while Elliott put a pullback from the Senegalese forward over the crossbar.
SENSATIONAL HEADER 💙
Kai Havertz loops one over Alisson and Chelsea lead at Anfield
📺 Watch
#LIVCHE
on Sky Sports PL or follow here: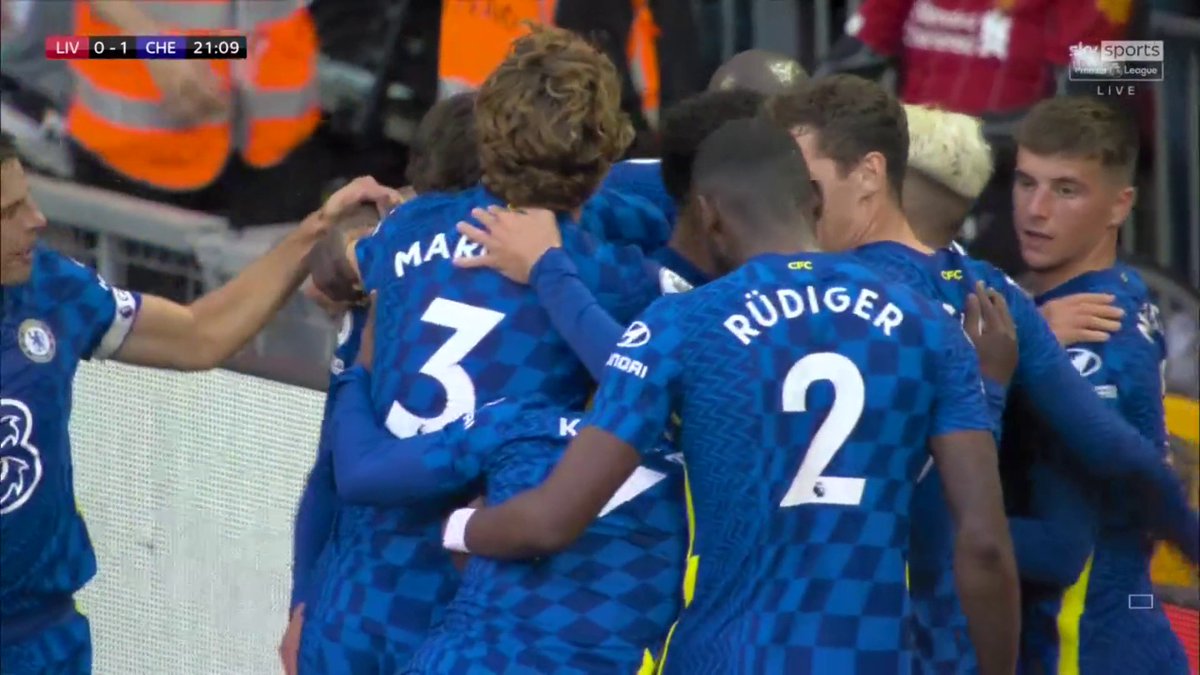 The touchpaper was lit in injury time of the first period, when a goalmouth scramble ended with Reece James appearing to block a Sadio Mane shot with his arm. Replays showed that while the ball had bounced upwards from the England defender's leg, he had moved his arm towards the ball. VAR intervened and a penalty was awarded, but referee Anthony Taylor's decision to send James off looked harsh.
Salah fired the penalty to Edouard Mendy's right, sending the Senegal goalkeeper the wrong way. Bedlam ensued, as Liverpool and Chelsea players came together to remonstrate over the decision. Taylor arrived to try and separate the factions, but instead found himself hunted down by a Chelsea contingent who furiously protested the sending off of James. The fracas surrounding the penalty, and James' sending off, resulted in bookings for Mendy and Antonio Rudiger.
🚨 SCENES 🚨
Reece James is sent off for handball on the line after a lengthy VAR review - Mo Salah fires Liverpool level from the spot
📺 Watch
#LIVCHE
on Sky Sports PL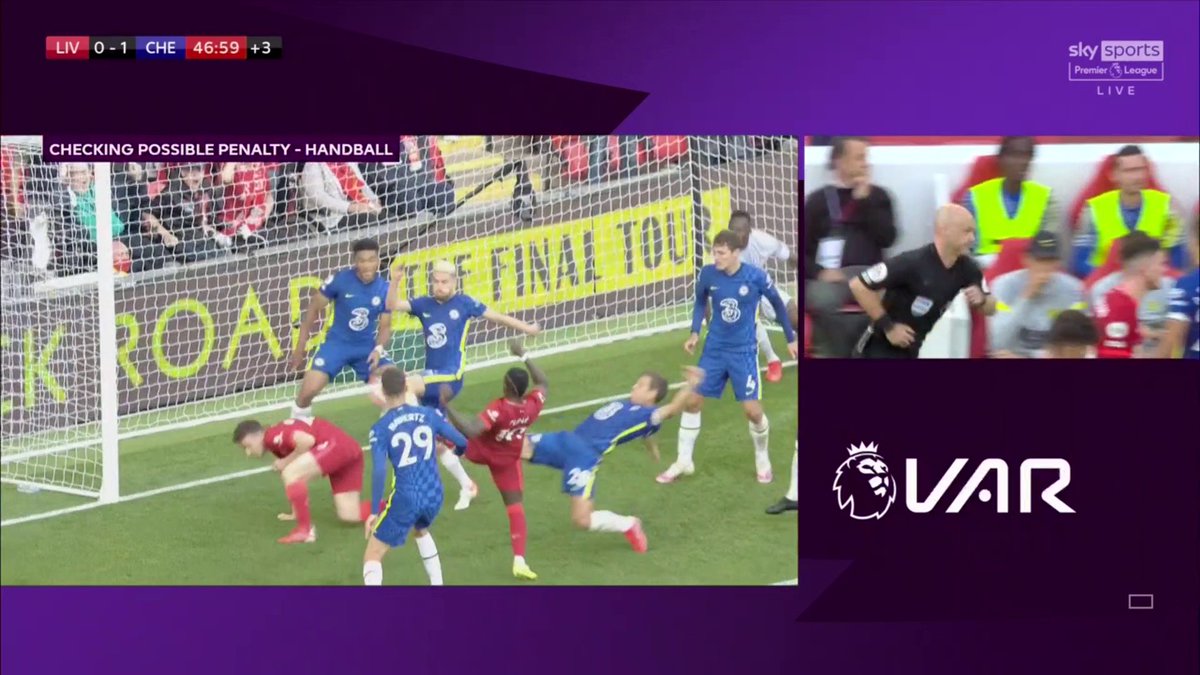 Much of the second half was a case of attack against defence. Chelsea bolstered their back line by bringing on Thiago Silva. Liverpool turned up the attacking pressure by switching Roberto Firmino for Diogo Jota. Mendy was called into a number of sensational saves, at times single-handedly keeping them in the tie. His first piece of real magic came when Virgil van Dijk saw a powerful long-range effort saved. There was a superb denial of Fabinho from outside the box, while Robertson inspired another fine stop. Jordan Henderson sent a long-range curler just past the post. A Liverpool goal looked inevitable at this point, as ten-man Chelsea desperately clung on.
Chelsea showed signs of life when the isolated Lukaku had a decent shot blocked by Joel Matip, but as the clock ticked down it was Liverpool who saw themselves frustrated. Chelsea relied on luck, as well as no shortage of defensive guile, to keep back the whirling dervish of Mane, Salah, Jota and substitute Thiago Alcantara.
Chelsea clung on for the point in a gritty second-half display, keeping out an illustrious attacking side by sheer force of will. In a game that felt like a throwback to the past, it was the sort of performance that was sure to make a certain Portuguese ex-Chelsea manager smile. As away points go, this was a special one indeed.