Should the Blues consider cashing in on the Frenchman?
16:55, 14 Mar 2020
And on the eighth day, God created Billy Gilmour. Or at least that's what Chelsea fans would have you believe after the last couple of weeks. The young Scottish midfielder seemed to burst onto the scene out of nowhere when Frank Lampard included him in the FA Cup team to face Liverpool, but Blues fans will tell you they've had their eye on him since Chelsea signed him for £500,000 from Rangers.
He screens the back four like prime N'Golo Kante and he assists like Jorginho. How ironic that the answer to Chelsea's midfield issues had been there all along and was in the form of an 18-year-old who speaks like he's bathed in Irn Bru and is about to scream "FREEDOMMMMMM." Coming through the ranks, Gilmour himself said he would look at Cesc Fabregas and try and model his game on that, also citing Andres Iniesta as his biggest inspiration in the game. Lofty idols indeed.
Chelsea fans would be elated if he could emulate even a quarter of what Iniesta has in the game, and while all the plaudits are rightly pouring in for Gilmour, there is one thing that seems to have gone under the radar here. If Gilmour is now a starting player for Chelsea, and why shouldn't he be given his performances, where does that leave some of their other midfielders?
He's brought balance to the midfield that Frank Lampard has struggled to find and that's not been there this season, and the protection he gives to the back four is a novelty for Chelsea fans and the defence to see. The question of Kante is an intriguing one. He's still seen as one of the best players in the world – quite rightly, but there's no doubt his star has fallen over the last couple of seasons.
That may be more to do with where and how he's being played, and had the Euros gone ahead this summer, there's no doubt Kante would have shone for France in his rightful place and reminded everyone just what a force he is, but for Chelsea, is his time up?
Given his stature as a player and just how much several top teams genuinely need a defensive midfielder, the Blues could get a huge amount of cash for him – and it's not a slight on Kante by saying Chelsea should consider cashing in, more a suggestion of practicality in the times of FFP and with players like Gilmour and Loftus-Cheek in the Chelsea squad.
⭐️ Man of the Match,
@ChelseaFC
's Billy Gilmour
91 touches 🥈
74 completed passes 🥇
37 passes in opposition half 🥇
92.5% passing accuracy
1st PL start, aged 18 years & 271 days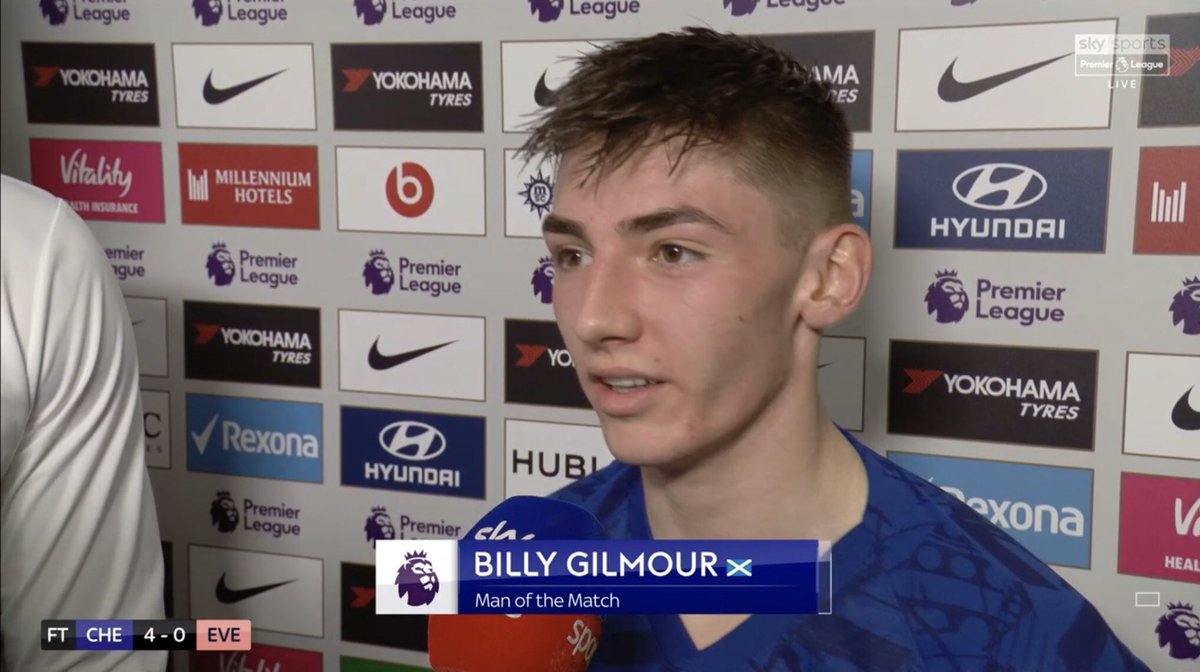 Maurizio Sarri certainly didn't know what to do with Kante, and Lampard's midfield trio of Kante, Jorginho and Kovacic sometimes does more harm than it does good to the team in terms of how unbalanced they look and the lack of cohesion between the defence, midfield and attack. Kovacic will come out of this season a winner, and Jorginho has finally bedded in, but Kante is almost the spare part – a crazy sentence considering how vital he was in his first season at the club.
Youth is clearly the way forward for Lampard, but at the same time, the manager has made no secret of the fact he wants a big-money forward this summer – and selling Kante would certainly facilitate that and then some. It comes down to a question of who fits the Chelsea side better, under this manager – and right now, Gilmour has managed to slot in and fix issues Frank Lampard didn't even seem to realise were there.
Of course, it's easy to lord players on a couple of good performances and then watch them drop down a couple of levels, but as the infamous saying goes, if you're good enough, you're old enough – and Gilmour certainly looks to be that, having a maturity beyond his years on the field and showing not only the ability to drop deep and defend, but also to pick the ball up and create.
So yes, on the eighth day, God did in fact create Scotsman Billy Gilmour - let's hope on the ninth day he created a cure for Coronavirus that we don't yet know about, so we can get our season back!