Cheltenham, Wembley and Wimbledon Shown Up By The Masters As Astronomical Food And Drink Prices At Major Sporting Events Are Compared
10:05, 14 Apr 2019
There's nothing quite like being at one of the biggest sporting events in the world. Being there to witness some of the top athletes create sporting history is spine-tingling but often comes at a hefty price for those spectators who make it into the event.
Fans are already having to fork out for the cost of a ticket, often hundreds of pounds, along with increasing cost of traveling to these events. This can often include planes, trains, and buses which means by the time they are finally into the event they are already low on cash. So why, once the fans have made it into the stadium, are they fleeced even further when it comes to food and drink?
Stadiums often ban spectators bringing in their own snacks and beverages into the arena which means the general public is forced to delve deeper into their pockets to fork out for these concessions at hugely inflated prices. The quality is often low and the mark up incredibly high, but one of the biggest events seems to be bucking the trend. We delve deep into the world of sport, analysing the prices of food and beers to try and work out what on earth is going on at those food and drink kiosks.
The Masters
BBQ Sandwich $3 (£2.30)
Domestic beer $4 (£3.06)
Import beer $5 (£3.83)
Water $2 (£1.53)
The ones who are bucking the trend. The organisers of The Masters, currently taking place in Augusta, must be commended for their reasonable prices at the food and drink kiosks. You can pick up a pint of beer for just $4 (£3.06) across the pond whilst there is also a whole range of exciting food options at exceptionally cheap prices. Sports fans are so used to being ripped off at every turn that when prices resemble something they'd be more used to seeing at their local Tesco than a major sporting event, there is an overwhelming feeling of shock.
However, with daily tournament tickets on the market initially for $115 (£88), this certainly isn't a cheap sport to attend, so it is good that attendees can save a little when enjoying a snack and some top class golf. A day of sunshine, golf and cheap food and drink. Sounds perfect.
Can't beat the Food and Beveridge prices at the Masters. The way event pricing should be.
#TheMasters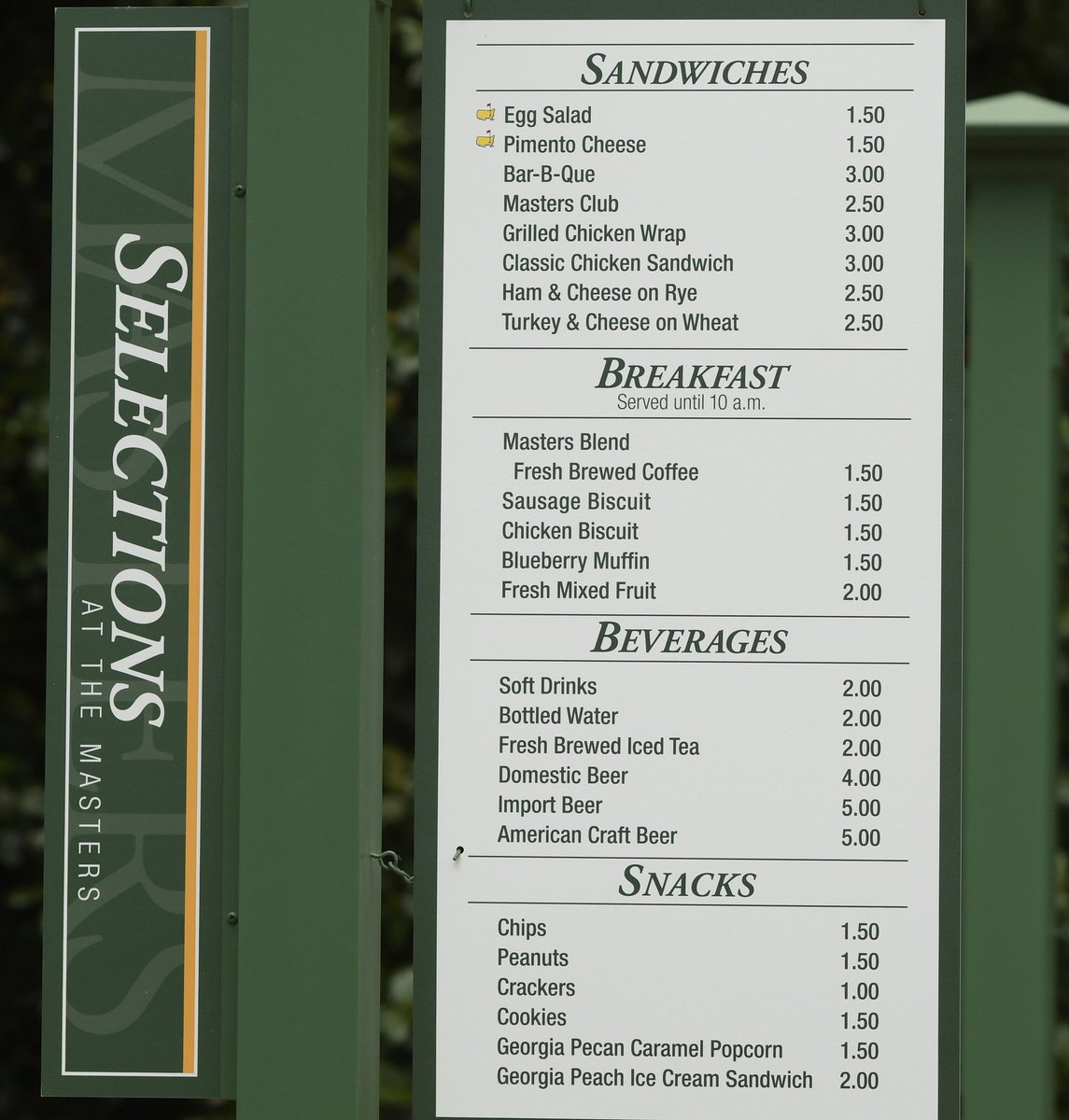 Cheltenham Festival
Burger £10
Pint Guinness £5.80
Pint Carling £5.50
Water £2
Over 260,000 people attended Cheltenham Festival over the four days this year and spent a whole lot of money on bets, burgers and beverages. A day out at the races seem to be getting more expensive every year even if you get lucky on the horses. Tickets this year were available from around £40 but prices dramatically increase when you get to the refreshments.
Given the drinking culture that goes alongside racing and the fact that punters can spend a whole day at the racecourse, fans of the sport can often splash out a hefty amount on keeping themselves fed and watered throughout the day. Cheltenham boasts loads of food and drink outlets as you would expect, selling things from pasties to burgers, but they are all a rip-off. A pint of Guinness in the famed Guinness tent will set you back just under £6 whilst if you want something to eat on course, you'll need a note. Thousands go and pay the prices every year and as long as that continues to happen, they will continue to rise.
FA Cup Final
Burger £7.20
Pint Carling £5.50
Water £2.50
Wembley is disgustingly expensive. Once again fans are fleeced out of serious money if they eat or drink inside the ground and even taking into account London prices, these are expensive meals. The FA Cup final is meant to be an incredibly special occasion but the fact that the semi-finals are there, the cost of tickets and travel and then the cost of food and drink often leaves a bad taste in the mouth.
Tickets for the FA Cup final will range from £45 to £145 with each side only receiving 28,000 tickets in a 90,000 stadium whilst a train ticket from Manchester to London return averages £88 on the day. Fans being rinsed. Tick. Food and drink being overpriced. Double tick.
FA Cup Final ticket prices:
Category 1 - £145
Category 2 - £115
Category 3 - £70
Category 4 - £45
Pricing fans out the game 🤬
#watfordfc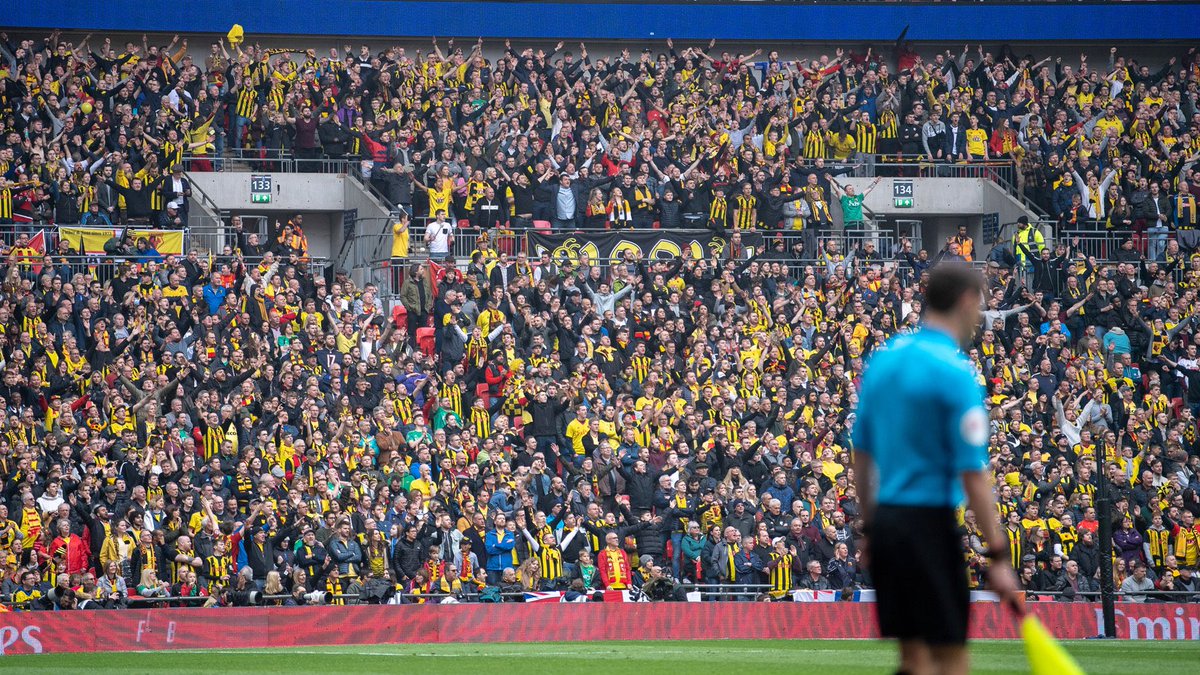 Wimbledon
Strawberries and cream £2.50
Pint Stella £5.80
Pimms £8.50
Water £1.80
Both Wimbledon and summer are just around the corner which means one thing. Strawberries and cream. Thirty-three tonnes of the fruit is eaten every year at SW19. In fairness, a bowl seems reasonably priced at £2.50 but the alcohol is steep. A glass of Pimms, one of Wimbledon's must-haves will set you back £8.50 whilst a pint of Stella Artois is priced at £5.80. That could get pricey given you often enjoy a whole day of tennis once you have gone through the camping outside in order to get your hands on a ticket.
You'll need a small fortune to get onto Centre Court in the second week with a ticket for the men's final costing £225. However, for those of us who can't afford that, you can go and sit on Henman Hill for around £25 in the first week.
One positive of Tennis' most famous tournament is that you are allowed to bring in some alcohol yourself. One bottle of wine or two cans of beer per person are permitted which means you can save on the pennies, although I'm sure these often get drunk whilst camping the night before.
Super Bowl
Hotdog $2 (£1.53)
Cheeseburger $5 (£3.83)
Draft Beer $5 (£3.83)
Water $2 (£1.53)
The Super Bowl is the biggest event of the year for Americans and earlier this year all eyes were on the incredible Mercedes-Benz Arena in Atlanta as the New England Patriots beat the Los Angeles Rams. Given the action on the pitch amounts to an average of 11 minutes in-play but the event last over three hours, spectators have plenty of time to eat, drink and be merry.
The prices vary from stadium to stadium but Atlanta is known for reasonable prices in the stadium and you can pick up some food for just two dollars. (£1.53) Having said that, with the Super Bowl changing location every season prices do vary. At Houston in 2017, Hot Dogs were $8, Burgers $16 and beers $13.
This all seems in line with other events until you realise that the average price for a ticket was $2,300. Utter insanity in America.
Cricket World Cup
Pint £5
The World Cup kicks off in late May but things have not gone smoothly for the organisers. Bira 91 from India will be the official beer suppliers for the tournament but due to an expensive wholesale price, they were going to have to charge punters between £7-£8 a pint. That has been seen as too expensive by the organisers and they are now subsidising that figure in a move that will cost them around £500k.
They must be commended for this move and prices are now set to be around £5 pint for the event. Food prices will vary around the different grounds but the World Cup organisers must be praised for saving the average cricket fan a few quid. Top work.
ICC are having to subsidise the cost of beer for the cricket world cup - shouldn't beer be something that makes you millions of dollars, not costs you it, at big sporting tournaments?