Magnus Carlsen is currently sixth in the all-time table of the popular Premier League game
10:55, 09 Dec 2019
The world's best chess player is also a managerial mastermind and could be set to become a champion fantasy football player.
Magnus Carlsen, who has been at the top of the chess circuit for the last decade, is currently sixth in the overall Fantasy Premier League game standings out of a total of more than 7 million people across the globe.
With an unbelievable ability for strategy and memory, it should come as no surprise the Norwegian is doing so well with his team.
Jamie Vardy leads Carlsen's attack, Mo Salah and Son Heung-min score big from midfield, while Trent Alexander-Arnold, Caglar Soyuncu and John Lundstram bring in the points in defence.
However, the 29-year-old insists he has merely enjoyed some good fortune.
"In chess, you know when you've done well and when you've done poorly, but it's hard for me to take praise for fantasy league, when I've just been lucky," Carlsen said in an interview with Norwegian TV.
For four years his teams have scored highly, and he finished in the top 3,000 - that's no mean feat - back in the 2017-18 season.
Carlsen is said to be obsessed with the Premier League, with England's top division being hugely popular in Scandinavia.
Also a part-time model, he spends "hours" watching the Premier League, with English football more freely available in Norway and not as restricted as in some other nations.
Playing football on the rest day, after 4 rounds, here in London. More behind the scenes, live feeds and updates on
@PlayMagnus
' Facebook.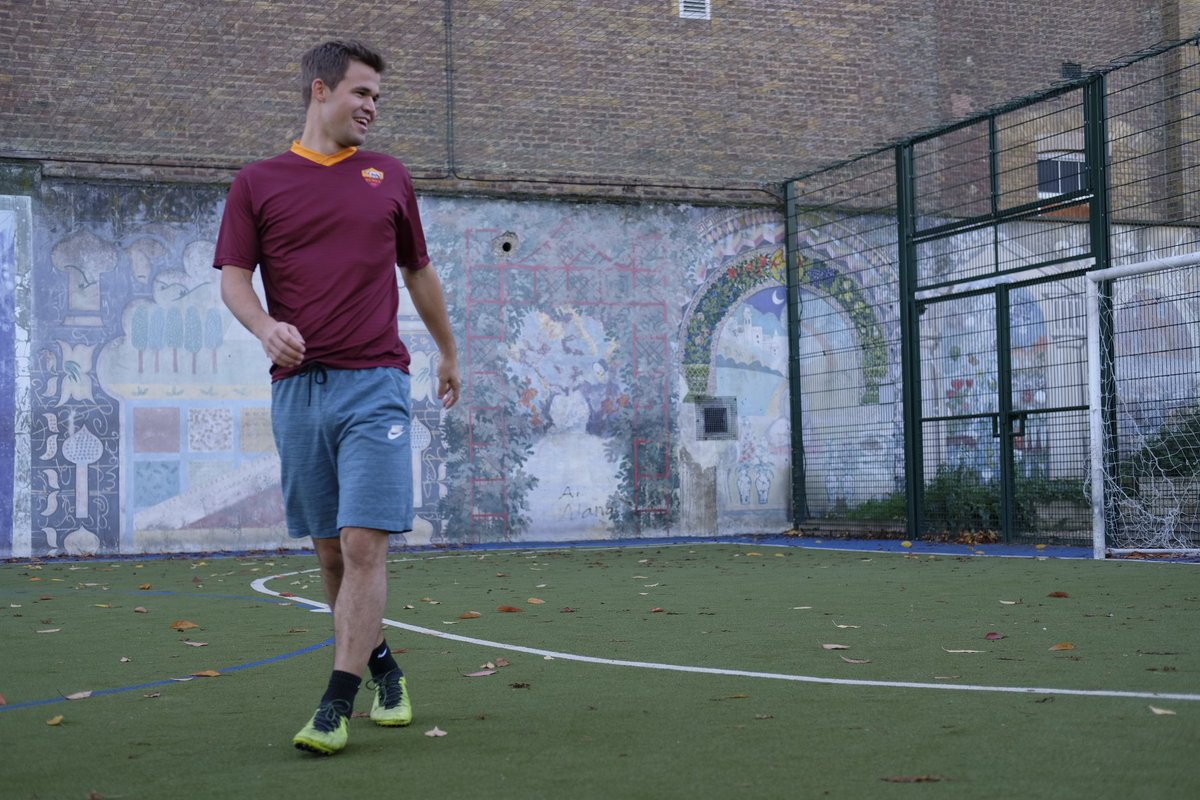 Journalist Tarjei Svensen has known Carlsen since he was just eight years old and has followed all of his competitions. He believes his chess talents have aided his pursuit of fantasy football.
"It is a similar game, it requires planning and strategy. And he has an incredible memory, which helps," Svensen told The Guardian.
"His ability at fantasy league has been known for a couple of seasons now, but this season has been exceptional and he's had another good week.
"His level of knowledge about English football is amazing, which must help him a lot.
"His rise up the charts is incredible. He had a really good year for a while last season and then he dropped a couple of hundred places at the end of the season, but he was still in the top 1,000.
"Clearly there is some luck but when you do consistently so well, it isn't luck. He says he has a lot of time on his hands because he doesn't have a regular job. And he is just a huge football fan, he watches everything.
"I once went to White Hart Lane with him to watch Spurs. But he doesn't have a favourite English team, he supports Real Madrid."
Amazingly, he tops another private league in which Los Blancos talent and compatriot Martin Odegaard is languishing near the bottom of the standings.
Come May, Carlsen could be celebrating another checkmate.
Carlsen's current starting XI: Gazzaniga, Alexander-Arnold, Soyuncu, Lundstram, Mane, Salah, Son, Alli, Mousset, Abraham, Vardy