From a prized jewel of the Aston Villa academy to one of the most despised characters among the club's fan base, Carney Chukwuemeka's revolt at Villa Park has finally got him what he wanted as his move to Chelsea nears completion.
The promising youngster essentially severed ties with the West Midlands outfit last year when reports emerged that he was demanding a substantial wage increase to stay with the club, as well as more first-team action, with several top clubs keeping an eye on his situation.
READ MORE:
For a player who has only just turned 18 and only made 14 Premier League appearances to make such demands is a disgrace, but another sign of how much football has changed as it becomes more commercialised. However, the way that Chukwuemeka handled this situation doesn't immediately seem like the actions of a teenager. He was most likely being fed absolute nonsense by his agents, who of course were only going to be looking after their best interests - lining their own pockets.
Chukwuemeka should've known better, though. He knew how this situation was going to come across to the club and the fans, who had invested a lot in him since he joined the academy from Northampton Town in 2016. The fans were quick to turn on him and are now glad to see the back of him now that he is moving on. He's been branded as a snake and however harsh that seems, you cannot argue with fans for feeling let down.
And while the player is in no means completely innocent in this dramatic saga, the bulk of the supporters' frustration should be directed at his agents who are the puppet masters behind Chukwuemeka's disrespect towards the club that has nurtured him and given him the platform to express himself. It once again raises the question that perhaps agents should be prevented from being involved with young players due to the concerning amount of influence they can have on them.
Carney Chukwuemeka, in London together with his agents and family. He will undergo medical tests today in order to be unveiled this week as new Chelsea player for £15m fee plus add-ons up to £20m package. 🔵🩺
#CFC
Contract will be until June 2028. 100% confirmed.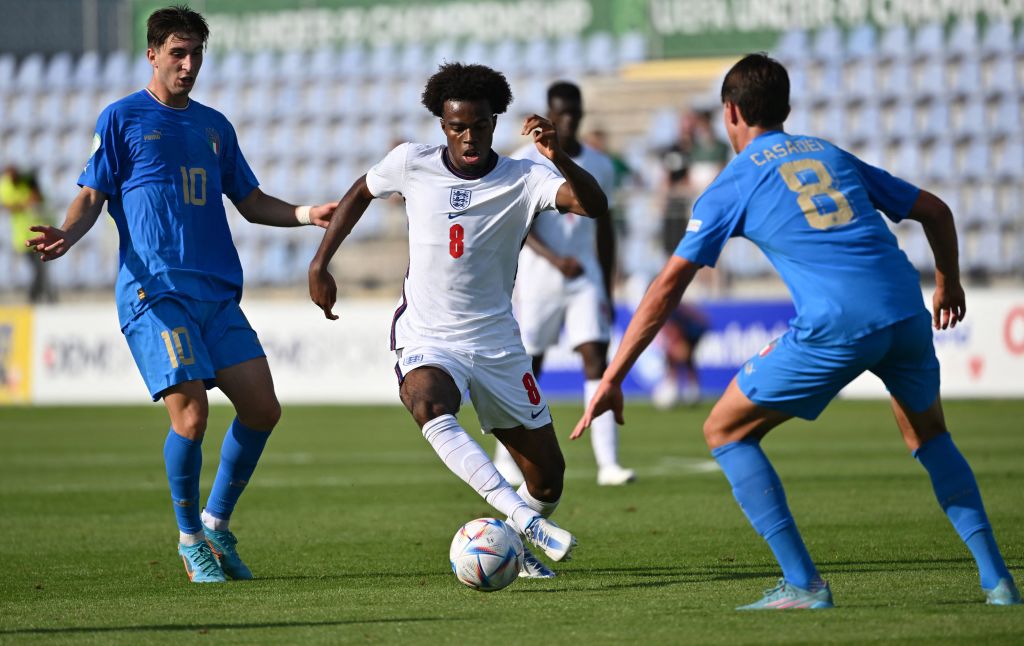 There is no disputing that Chukwuemeka is a good player and has the potential to go far in his career after he played a starring role in the England Under-19s side that won the European Championships, further adding to the speculation over his future. Almost all Villa fans, along with outsiders looking in, would say that they would view their main young talisman, Jacob Ramsey, as having a higher ceiling than Chukwuemeka though.
Ramsey is a regular name in the first team, has already adapted well to the demands and the standards of the Premier League, while chipping in with goals and assists. So with the club profiting from a deal worth up to £20 million for the wantaway Chukwuemeka, Villa have done well with their business, showing that they will not tolerate anything less than the standards they set and will only invest in players who are committed to to what the club and Steven Gerrard are wanting to achieve. Gerrard himself made the right call by excluding the wantaway youngster from the pre-season tour of Austria as he knew his presence could disrupt the positive feeling in the camp.
What doesn't add up about the player moving to Chelsea is that one of his biggest concerns at Villa involved a lack of game time. He is now going to a club that is regarded as a wasteland for young players as it is incredibly difficult for youngsters to be rewarded a chance at Stamford Bridge. This particular move couldn't be more obvious of the agents getting the move that they wanted rather than finding a better environment for the player's development.
This whole transfer is extremely similar to a situation that unfolded at Liverpool a few years ago. Young talent Bobby Duncan had been a prolific goalscorer for the Under-18s and was eager to kick-start his senior career. As we know, Jurgen Klopp has been excellent for bedding in young players, but Duncan swapped Anfield for Fiorentina, with his agent claiming that bullying led to his departure.
This was just another example where an agent has taken advantage of a young player in a bid to find a deal best suited for them financially. And not to scare Chukwuemeka about the future but Duncan's career hasn't quite taken off since. This week he joined Real Balompedica Linense in the Spanish third tier after failing to make an impact in Serie A or more recently Derby County.