Conqueror Of Real Madrid And Barcelona: Sacked Real Betis Manager Quique Setien Would Be Perfect For The Premier League
11:50, 20 May 2019
Quique Setien is one of the most dynamic, innovative and inspirational managers in the whole of Europe and now remarkably, he is out of a job. He mutually agreed with Real Betis that he would not continue as manager next year, just hours after beating Real Madrid at the Bernabeu in another sumptuous away performance.
This season, Real Betis have been gripping to watch - almost unmissable in La Liga with some incredible away performances. In fact, Setien's men became the first team to win league games at the Nou Camp and the Santiago Bernabeu since 2002/03, when Mallorca coached by Gregorio Manzano pulled off the shock double.
In an interview with The Independent he said: "I'm a romantic, I like the football.
"I'm a spectator, and I don't buy a ticket to watch a team stay stuck in their half waiting for a 0-0 or a counter-attack."
The 4-3 win against Barcelona, one of the games of the season, epitomised that and even a Lionel Messi brace couldn't save the hosts from a deserved defeat. This game proved Setien's philosophy of being brave in possession and playing out from the back which has led many to believe he would be the perfect successor to Ernesto Valverde at the Nou Camp.
Barcelona have since extended Valverde's contract for another season but the Barcelona faithful are not best pleased with their current manager due to the style of football and the nightmare that occured at Anfield in the Champions League. Meanwhile, Setien has made excellent progress with Lugo, Las Palmas and Betis during his time as a manager.
His time at Betis has been the pinnacle of his managerial career to date. He lead them to a sixth-place finish in his first season in charge, qualifying for the group stages of the Europa League which was a storming season for a side who only got promoted in 2015, although they dropped to tenth with those European commitments this year.
Camp Nou ✅ 3-4
Bernabeu ✅ 0-2
Quique Setien is the first manager to win away at Barça and Real Madrid in the same season since 2003! 🙌
#RealMadridRealBetis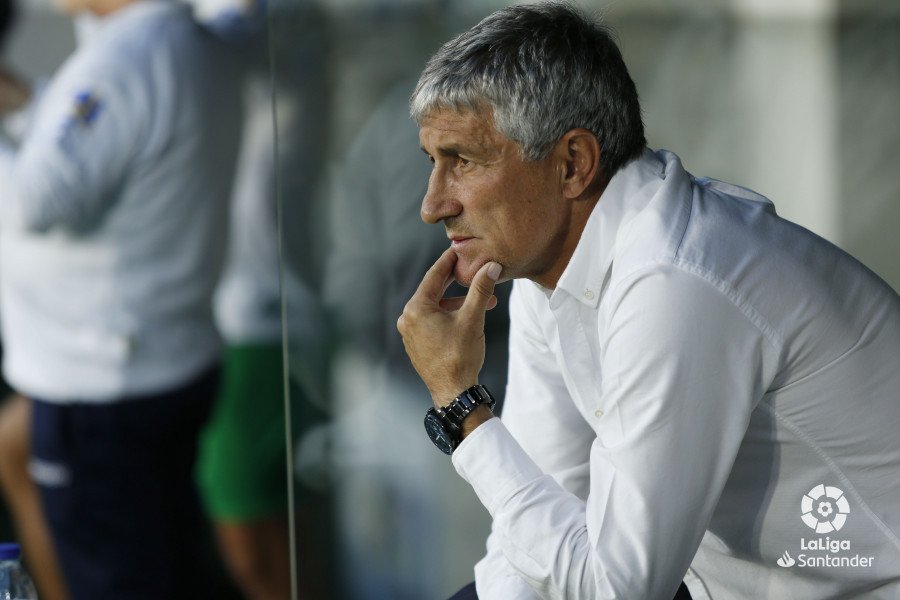 There have, of course, been times where it has not worked this season. A 3-0 defeat to Leganes along with a 4-0 hammering by Levante were particular low points and a run of one win in nine towards the end of the campaign could have contributed to his departure this summer.
But it is Setien's belief in his philosophy that makes him stand out from the crowd. In the same interview with The Independent last year he vehemently denied the train of thought that you cannot play expansive football without big money players.
"That's not true. That is a falsity. Nobody can say you can't play a particular way.
"People have said it even on days we lost, meaning it stays with them. And, wow, that's the satisfaction of the job."
Fluidity has been key for Seiten as he played predominantly with a 3-5-2 system throughout the season. However his players have been equally well drilled in a 3-4-3 or a 4-2-3-1 system, again proving it is his philosophy that works rather than a particular tactical system.
However, Betis' loss could be the Premier League's gain. The Spaniard is now available to take on another job and there are English sides who could learn a lot from his methods. Although every Premier League job is currently taken with Brighton set to appoint Graham Potter, but there could well be a few tempting roles on the horizon.
Newcastle and Rafa Benitez are still going through troubled times in the north-east and the Magpies could do worse than appointing another Spaniard. Meanwhile, Everton may take their chances on Setien if things go awry with Marco Silva next season, plus Wolves if Nuno Espirito Santo is lured away by a bigger club.
Patience is needed for this talented manager to implement his ideas. Let's hope we get to see him in the Premier League sooner rather than later.