Could Lorenzo Insigne Be The Man To Take Diego Maradona's Number Ten Shirt At Napoli?
12:04, 14 Jul 2017
Having scored a record-breaking 115 goals in 259 appearances for Napoli between 1984 and 1991, Diego Maradona received honorary citizenship of Naples last week. It was no surprise that this award was bestowed on a man that had such a huge impact on a city, the adoration of the fans way beyond any normal hero-worship status. The presence of their adopted Argentine son is ubiquitous in the city, the Spanish quarter in particular filled with murals, shrines and graffiti dedicated him.
His retired number 10 shirt remains something sacred to those Napoli supporters, but ever since the emergence of homegrown talent Lorenzo Insigne, there has been talk of a possible revival of that iconic number. "The No.10. shirt? You cannot touch it, that is Maradona's and must always remain his," Insigne told reporters back in 2012.
Born in Frattamaggiore, a comune just 15km north of Naples, Insigne joined the Partenopei youth ranks at the age of 15. After signing professional terms in 2009, loan spells with Cavese, Foggia and Pescara followed, before he finally broke into the first team in 2012, around the time of that interview.
Since then, the man nicknamed "Lorenzo Il Magnifico" by the fans – standing just one inch shorter than Maradona at 5"4' – has steadily improved in each season in which he has featured. After scoring 12 goals and providing 10 assists in 2015/16, last term saw the forward smash his previous tally, registering 18 goals and 9 assists for 2016/17. He now has 49 goals for the Partenopei, 67 away from surpassing Maradona, but at 26 years old there is plenty of time yet.
Indeed, Maradona himself confirmed that he gave his blessing for Insigne to wear his precious number 10 shirt, but only under one condition. "If he scores more goals than me, then he can wear it!," the 56-year-old told reporters at his citizenship celebration. Maybe this was tongue-in-cheek, but the truth is that if Insigne can achieve this feat, he may well be so entrenched in those fan's hearts that wearing the shirt becomes a possibility.
🎙️ Maradona : " Quand Insigne battra mon record de buts avec le Napoli, je lui léguerais mon numéro 10. "
#Napoli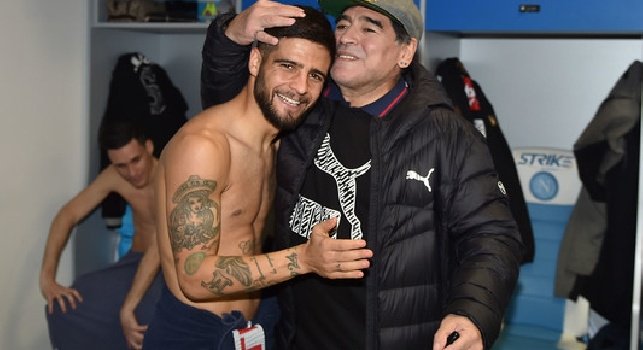 "He [Maradona] was the greatest player of all time," Insigne said of his idol in a recent interview with Corriere dello Sport. I am proud of the fact he proved even part of his quality with this jersey on his back. He made us dream and win, so we'll never stop thanking him, because Maradona filled our fans with joy. It was my childhood dream to meet Maradona and I achieved it."
But just as Maradona was the adopted son of Naples, Insigne is their true born offspring. Despite interest from elsewhere, he recently extended his contract until 2022, allowing the Napoli fans to enjoy his cultured right foot for a good while longer.
"I'm happy at Napoli and just want to give my best," he continued. "My desire is to stay for as long as possible at the club where I grew up and for whom my heart beats. I grew up and now live in Frattamaggiore, on the outskirts of Naples. I've heard some players turn down a chance to come here because they are afraid the city is dangerous, but I want to tell them that they are wrong, because Naples is a city that gives you so much."
Perhaps the point here is not what Naples can give to Insigne, but what he can give to his city. Coach Maurizio Sarri is looking like he may keep his talented squad intact next season, and Napoli look set to raise the bar even higher from the easy-on-the eye football they displayed so often this season. The pint-sized forward is an integral part of this system, and even new Chelsea recruit Antonio Rudiger has spoken about how difficult it is to defend against him.
The best 5 goals from Serie A 2016/17:
Yes, that is Lorenzo Insigne dabbing after scoring a wonder-goal...
"My strongest opponent? Insigne is a very intelligent player," the Germany international admitted to UltimoUomo magazine. "He almost always plays with one touch against me: I cannot win it back. He touches the ball only once and then it goes away from me. The fact is that he has a low centre of gravity and therefore is more stable than me. I am very athletic and fast, but if he moves sideways, I'm dead."
There will only ever be one Diego Maradona, but the super-talented Lorenzo Insigne is writing his own future in the city of Naples.