Cristiano Ronaldo And Lionel Messi: Manchester United Target Paulo Dybala And The 12 Lucky Footballers To Have Played With Both
14:18, 01 Aug 2019
"It is impossible to make a comparison between the two of them or say who is the best because they are at a level on a par with each other and well above everybody else and that has been the case for several years."
Paulo Dybala was understandably diplomatic when asked the eternal question as to who the best player was between Cristiano Ronaldo and Lionel Messi.
The forward is one of the few players who can claim who have shared the same dressing room and pitch as the two footballing giants who have dominated the beautiful game for over the past decade, sharing 10 Ballon d'Ors, nine Champions League trophies, and continuously decimating once-thought impervious goalscoring records.
"Cristiano's a champion and it's always a pleasure to play with guys like him. Ronaldo makes things that are very difficult actually seem easy".
Dybala has been in and around the Argentina set-up since October 14 2015, four months after making the move from Palermo to Juventus in a €32million deal.
Barcelona star Lionel Messi was granted his debut for the Argentina national team on August 17 2005, by José Néstor Pékerman, and has gone on to become La Albiceleste's top scorer and third-highest appearance maker. In 2018, Cristiano Ronaldo joined Juventus from Real Madrid in a blockbuster €100million deal, winning his first Scudetto in his first season in Turin, alongside Dybala. Mirroring Messi, Ronaldo is not only captain of his country but is also Portugal's all-time record goalscorer.
In total, by our calculations, there have been 11 footballers to have been on the same team as the two greats, across the respective national teams of Portugal and Argentina and club sides of Barcelona, Real Madrid, Juventus, and, of course, Manchester United - the side where Ronaldo won the first of his Ballon d'Or awards.
The Red Devils, once again the hottest topic, are currently linked with a summer move for Dybala. The 25-year-old had a smaller return for the Old Lady predominantly due to Ronaldo's arrival; the striker was down from 22 goals in the 17/18 Serie A season to five the following, being more alternated in position in order to accommodate the Portuguese.
If Dybala does move to Old Trafford, he will become one of six Manchester United to have played with both Ronaldo and Messi; a number no other side can emulate. Andre Gomes, Gonzalo Higuain, Nelson Semedo, Ezequiel Garay, Deco, and Fernando Gago currently complete the illustrious list.
🇵🇹🗣 Ronaldo on Messi...
"I played in England, Spain, Italy, Portugal and with the national team while he's been in Spain. I'd like it if he came to Italy one day. He should do like me and accept the challenge. But if he is happy, I respect him. He is a fantastic player."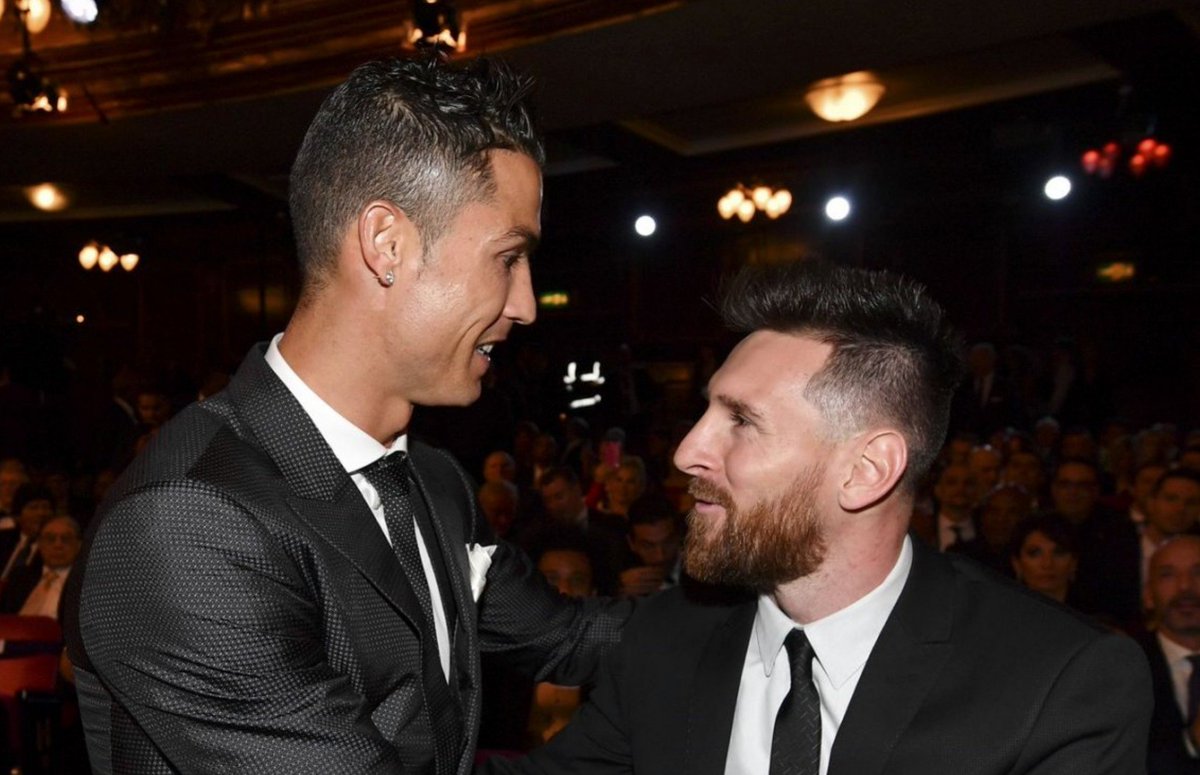 Gabriel Heinze was Ronaldo's teammate at Man Utd between 2004 and 2007, arriving a year after Ronaldo's move from Sporting CP to England as an 18-year-old. The defender made 73 appearances for the Argentina national from 2003 until 2010, most notably playing in two World Cups alongside Messi, reaching the Quarter-Finals in each.
His compatriot Angel di Maria - on the verge of a century of caps in a decade international career - was a key catalyst in Real Madrid's recent Champions League successes, earning the man of the match award in their 2014 victory over city rivals Atlético; the earliest of four triumphs in the five years since. Di Maria also had a fairly ignominious season at Manchester United under Louis van Gaal in 2014.
Carlos Tevez formed a deliciously ruthless triptych alongside Ronaldo and Wayne Rooney under Sir Alex Ferguson between 2007 and 2009, winning the Premier League and European Cup Double.
Like Heinze, Carlos Tevez was granted his debut for Argentina by coach Marcelo Bielsa, back in 2004, and alongside Messi reached the finals of two Copa America tournaments.
Only two footballers so far can claim to have played in the same sides as Ronaldo and Messi at club-level; a pair of former United players have also slipped into the colours of the Blaugrana. Henrik Larsson played at Barcelona for two years from 2004, the second season of which saw the emergence of Messi. Celtic-legend Larsson would also have a successful and beloved loan spell at Man Utd in 2007, and was granted special dispensation to claim a Premier League winners medal with the Ronaldo-starring side.
Gerard Pique began his career at Barcelona - his home city - in the same academy as Messi, before leaving for Manchester United upon turning professional in 2004. The World Cup winner was part of the same Double-winning squad as Ronaldo and Tevez, before returning to Barca where success has been even greater for the defender; eight La Liga titles and a further three Champions League triumphs to name just a portion of his silverware collection.
When asked himself how he would describe the contrast of ethereal talent possessed by Ronaldo and Messi, the Spaniard had this to say:
"I think that they are both amazing. We are talking about two of the best players, not just in the world but the history of this sport. For me, it's like Messi is not human but Cristiano is the best of the humans."
Whether Dybala's own opinion will change upon a move to Manchester United, away from Ronaldo, to his former club, and potential to become a more integral part of his national side, is just a small aspect as to why this transfer is so intriguing.