Another day, another Ronaldo record
17:06, 15 Feb 2020
Cristiano Ronaldo scores goals. That statement is hardly one that will send shockwaves around the sporting world but his recent run of goals has been simply spectacular. As he takes to the field against Brescia on Sunday the Portuguese superstar has the chance to equal a Serie A goalscoring record.
As Juventus chase a ninth consecutive Serie A title, they are relying on their record signing to fire in the goals to take them back to the top of the league. Unsurprisingly, he is producing in front of goal. If he finds the net against Brescia this weekend, he will have scored in a remarkable eleven consecutive Serie A games. That will equal the current Italian top-flight record of consecutive appearances with at least one goal scored in one season and he could go one better and beat it the following weekend.
That current record of consecutive goals in on Serie A campaign was originally set by none other than Fiorentina legend and Argentinian heartthrob Gabrielle Batistuta. In the 1994-95 season, he scored in all of the first 11 matches of the season as he finished as the top scorer with 26 goals. Batigol!
He also holds the record for the most consecutive appearances with at least one goal scored stretching across multiple seasons as he also scored in the final two games of the 1992-93 season as La Viola were relegated to Serie B. That means CR7 has some way to go to overtake the 13-game run Batistuta went on in the early 90s.
10 - Cristiano
#Ronaldo
is the 1st
#Juventus
' player to have found the net in 10 successive games played by the Bianconeri in the history of the Serie A. Star.
#VeronaJuve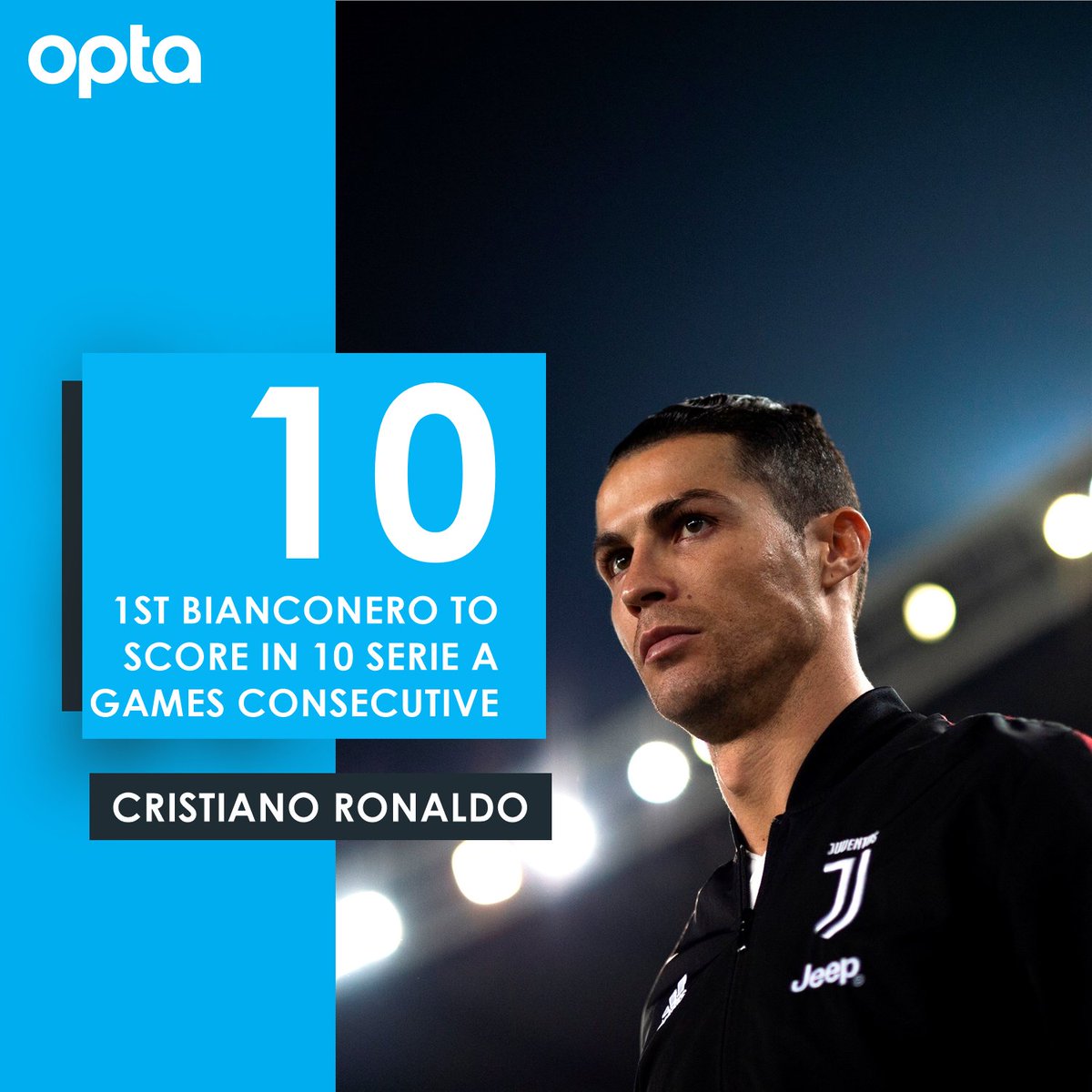 Remarkably, his one season record of scoring in 11 consecutive appearances was equalled last year by the surprise winner of the Capocannoniere, 37-year-old Fabio Quagliarella. He matches Batigol's record although his run was broken up as he was left on the bench against Roma two games into his run. So although he is the joint record holder with the former Fiorentina forward, it wasn't quite as satisfying.
The same record in the Premier League was famously broken by none other than Jamie Vardy as Leicester won the title back in 2015-16 as he scored in 11 consecutive appearances. Manchester United's Ruud van Nistelrooy was the former record holder and it just so happened that the England striker would break the record against the Dutchman's former club.
If Cristiano Ronaldo does write his name into Serie A history this weekend, his great rival will still be looming over him. The world record for goals scored in consecutive games is, of course, held by none other than Lionel Messi, who scored in a simply gargantuan 21 games in a row. He hit 33 goals across those 21 appearances in a run that lasted from November until May. He ended the season with 60 goals in all competitions, 46 in La Liga. That man is not normal.
But keep an eye on Cristiano Ronaldo this weekend. When there is an individual record to break, he almost always delivers.