The Newcastle United boss has penned a number of books in between playing and coaching
15:01, 05 Mar 2020
As Steve Bruce stands on the touchline, barking orders and thinking up new tactics to ensure his beloved Newcastle stay in the Premier League, it's clear this is a true football man.
A title winner with Manchester United and captain fantastic, the beautiful game courses through his veins but, there is so much more to him than meets the eye. Oh yes, because beyond his many year's experience as a top-flight manager, he is in fact a published novelist. No, really!
Now, a literary genius he has confessed he is not, but the narrative in his three books Striker!, Sweeper! And Defender! is nothing short of stunning, in both senses of the word and on World Book Day, we just had to share it for those who are going through life unaware of this trilogy.
Penning crime fiction and using his main passion of football as the setting, the stories Bruce has written see a terrific crossover and a really brilliant eye into his imagination. Think Dream Team meets Luther.
According to the West Yorkshire edition of The Examiner, Bruce wrote the novels during his time in charge at Huddersfield Town between 1999 and 2000. One imagines him putting Ken Monkou and Clyde Wijnhard through their paces on the training pitch before going home to write.
From a sniper shooting a football out from under the foot of manager as he stands in his technical area to bringing down a bad guy with a slide tackle, the book tells the story of Steve Barnes (who seemingly has plenty of similarities with Bruce except the ownership of a Champions League medal) who is the manager of a top football club all the while solving murders and kidnappings. Part James Bond, part Neil Warnock and a little 'Swallow', Alan Partridge's own made-up sleuth.
Happy
#WorldBookDay
!
"I looked around the stadium and sighed. Football is a business, and a tough one at that, but the green playing area, well, that really is the field of dreams."
If you know, you know...
@QuicklyKevin
@IvoGraham
@joshwiddicombe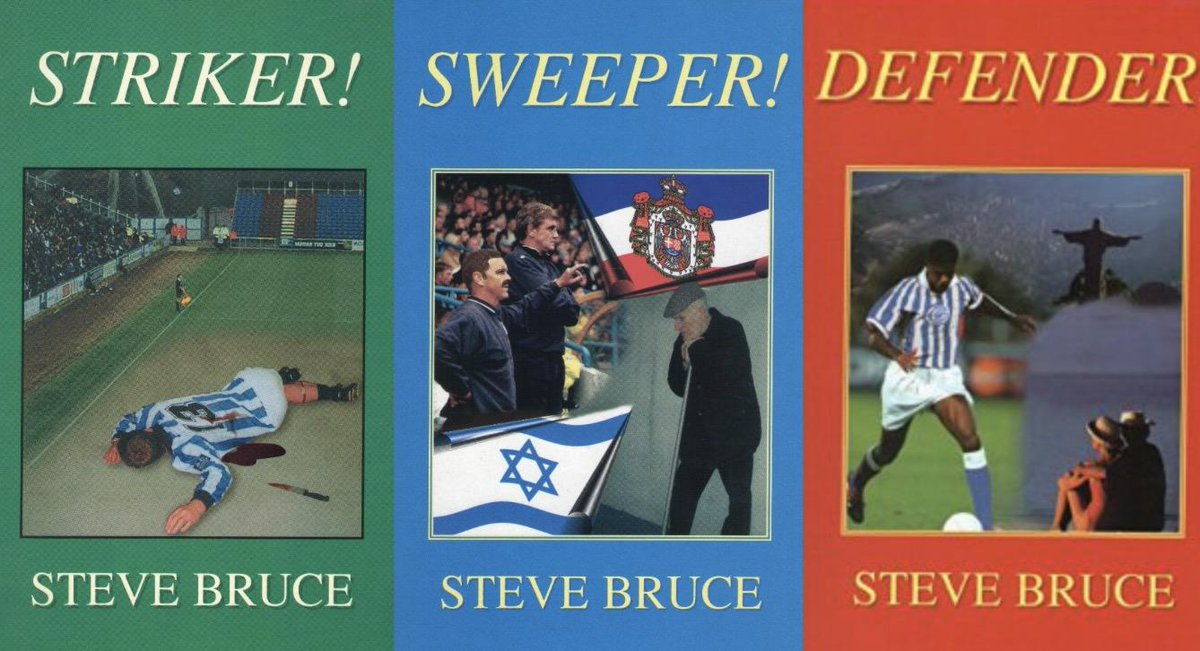 The plotlines are far-fetched yet so incredible. However, Bruce would rather forget about his brief time as an author
"It was a long time ago, and I'm not sure I want to be reminded of how bad they were," author Bruce told Eurosport in 2013. "Just because I got a GCSE in English, I thought I was going to be the next Dick Francis. It didn't make any contribution at all to anyone's income.
"It became a laughing stock, to be honest. I think they're probably still on the shelves somewhere, and I bet you could probably pick one up for 99p."
How wrong he is. Well, yes it has become a laughing stock in part, particularly causing great hilarity on the Quickly Kevin podcast but actually, the books are selling for hundreds on eBay.
So, in the middle of coaching the Magpies, is there any chance Bruce will pick up a pen again? "No," he sadly told Sky Sports. "Have you read them? Go and read them and you'll understand why."
Literature's loss is football's gain at least.