Do Tottenham Hotspur Have Lazio's Keita Balde Diao In Their Sights?
15:48, 23 Aug 2017
Keita Balde Diao ended last season as one of the most in-form players in Serie A. The Senegalese international scored seven goals in four games over the final part of the 2016/17 campaign, including a brace in a 3-1 victory over derby rivals Roma.
Keita Balde: Last 5 league appearances of the season
Vs Palermo⚽️⚽️⚽️
Vs Roma⚽️⚽️
Vs Sampdoria⚽️🅰️
Vs Fiorentina⚽️
Vs Inter⚽️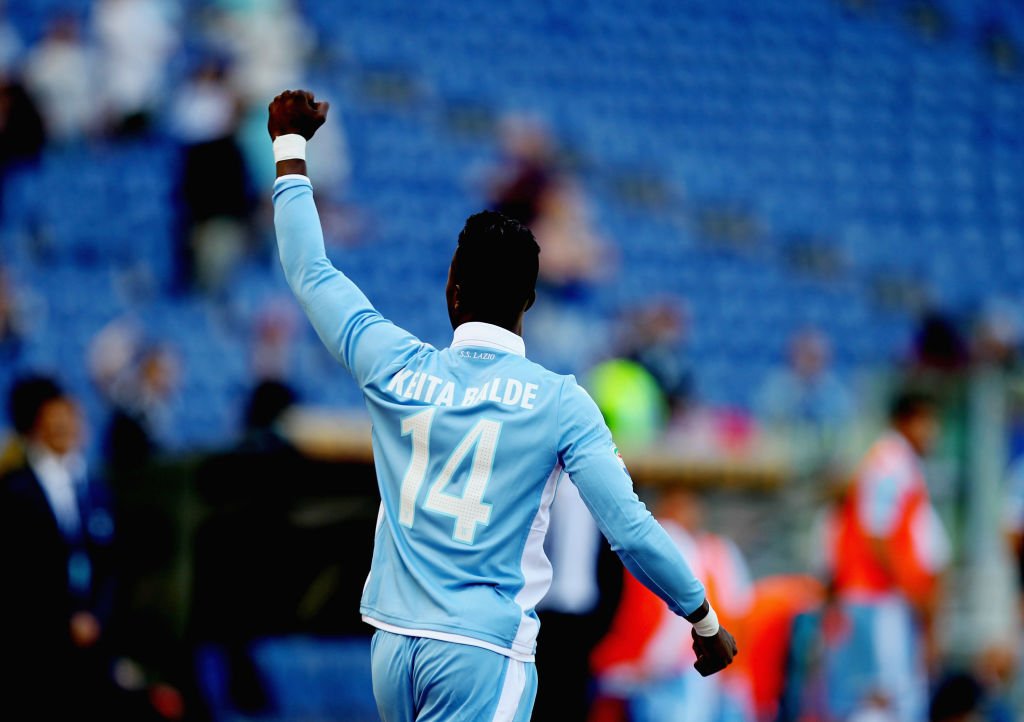 It appears as though those happy days playing for Lazio are now over though, with the 22-year-old making no secret of the fact that he wants a move away from the capital before the end of the current transfer window. Juventus have always been his preferred destination, but this morning Italian newspaper Corriere dello Sport claimed that Tottenham Hotspur had made a €30 million bid for the talented forward.
Report in this morning's Corriere dello Sport linking unhappy
#Lazio
forward Keita Balde Diao with a €30m bid from Tottenham
#THFC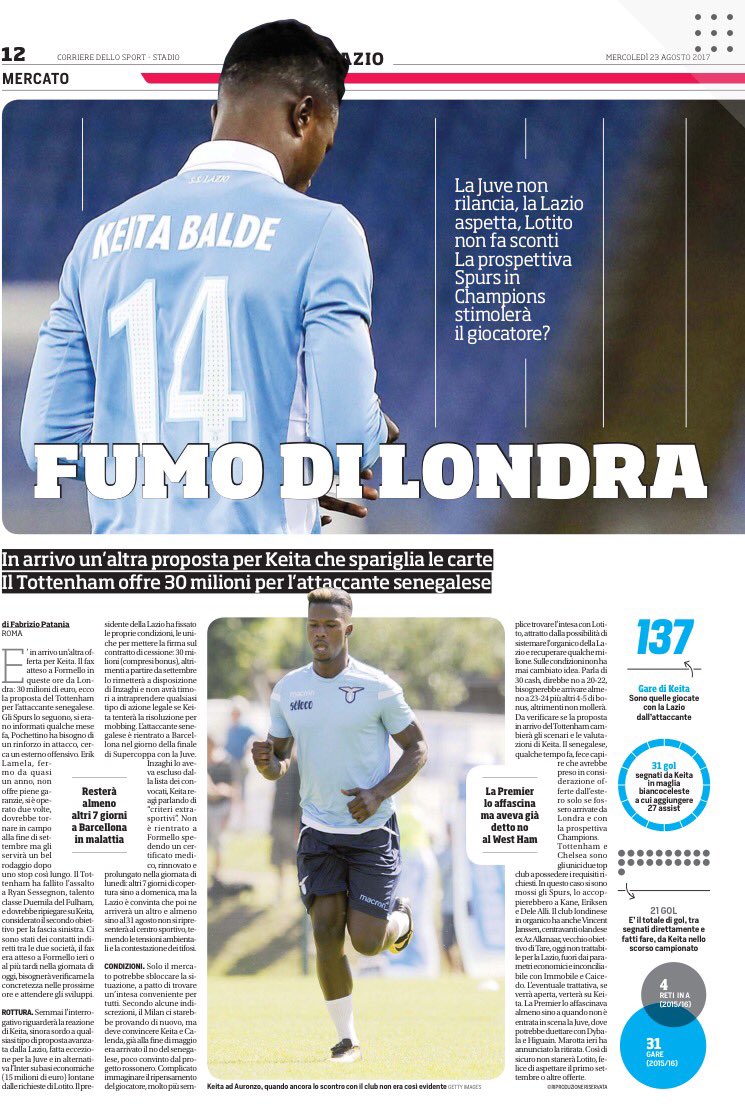 So could Keita be on the way to London? It all depends on what the player wants. The current situation is that the player has handed in a medical certificate, reports in the Italian press suggesting that he had cited "psychological discomfort" as the reason why he has been refusing to train. After bids from Milan, West Ham and Napoli, Lazio president Claudio Lotito accused the player of "extortion" in a recent interview with La Gazzetta dello Sport: "There were three formal offers, all of them I can prove with documentation. Milan would have given us €35m, West Ham €32m and Napoli €30m. Keita and his agent replied they were not interested in any of the three, that the destination they wanted was Juventus.
"The Bianconeri consider €15m to be a suitable offer, but I cannot sell a player for half of the lowest other offer I received. If I got proposals worth €30m, why should I sell him for half that? You tell me his contract is running down and I risk losing him for nothing if I don't accept? Well I say that is extortion and practically qualifies as a crime."
Question marks over the youngster's attitude have been raised before, the former Barcelona youth product having gone AWOL from pre-season training last summer after demanding a transfer. Tottenham are the latest side to offer in excess of €30m for the player and – should he choose to accept this time – the London club would be receiving a young star of immense quality.
Lazio's Keita Balde has been sent off after receiving a second yellow card for diving 🙄
His 16 goals last term was the highest tally in the league among any player under the age of 23, his cool head in front of goal showing a level of talent above and beyond other forwards in the same bracket. Indeed Keita had the second-highest conversion rate (32%) in Serie A last term among players who had achieved a tally that was in double figures.
In just 21 starts, the Lazio man created 43 chances and completed 53 take-ons, becoming a key player as Simone Inzaghi's side enjoyed a fruitful campaign. The Aquile did much better than was predicted from the outset last summer, securing a Europa League berth in 5th position in addition to a Coppa Italia final appearance.
Even though the player has been pushing so hard for Juventus, Spurs may have a chance here. Bianconeri Director General Beppe Marotta has declared the club out of the race, hinting at the fact the off-field issues with the player may have been a factor in the decision.
"Keita is an opportunity that, for contractual conditions and age, all clubs must at least try to take, with all due respect for Claudio Lotito and Lazio," he told Ansa. "Emre Can and Adrien Rabiot are also players whose contracts expire in 2018, like Keita, but they play regularly for their teams without any drama. We made an offer to Lotito that we consider to be fair, but only he is able to decide strategies at his own club and so we have withdrawn."
Whether Keita wants a move to the Premier League remains to be seen, but the window of opportunity for Tottenham is open and – if they can create the right conditions for him – a gamble for Keita Balde is one worth taking.