It is 74 years since he held a bat, but nobody has ever got close to matching 'The Don'
07:00, 05 Mar 2023
He has a career Test batting average more than 50 per cent higher than any other player in history, remains unmatched for Test double-centuries, scored more than 100 in a session on an unprecedented six occasions and holds the record for runs scored in a single day with 309. Simply put, there has never been a cricketer like Sir Donald Bradman.
On 5 March 1949, a then-40-year-old Bradman was bowled by his former Australia teammate Bill Johnston for 30 while playing in a Sheffield Shield game for South Australia against Victoria at the Adelaide Oval. It was to be the last delivery he would ever face, but his legacy lives on 74 years on from that final instance of the greatest player ever with a bat in his hand.
Bradman's Test average of 99.94 is among the most famous statistics in sport, with the sheer scale of his achievements forever cast against the context of the career-ending duck which would deny him an abiding three-figure average. Still, cricket has had countless legends come and go in the decades since his retirement and none have ever come close to matching his achievements.
He got double and triple-hundreds for fun, never once going through a whole series without a 100-plus score. His longest century drought lasted 11 innings. His second-longest lasted just five. Bradman battered the opposition into submission.
There can be few examples of any person having dominated their sport in quite the same way, with the great American surfer Kelly Slater saying decades later, "If you are going to be compared to someone who was great in his sport, the biggest honour would be Don Bradman. As far as setting the bar in sport, he set the bar".
Bradman's brilliance came about from an intense dedication to practicing the art of batting. As a youngster he would train in his backyard, using a cricket stump to hit a golf ball against a curved brick column with remarkable repetitiveness, building a hand-eye coordination which would make him near-impossible to outwit during a 20-year Test career.
Either side of an enforced eight-year break for the Second World War, 'The Don' rewrote the cricketing history books with on-drives, square-cuts and cover-drives all intelligently piercing fields in an age when bat technology was not what it is today.
Bradman's bat was short and light, giving the look of a twig compared to its modern-day equivalents which are custom-made for each batsman, built long and heavy to make bludgeoning runs to all parts a more achievable feat in the T20 era. That meant a greater need to be artistic with bat in hand, especially in an age of uncovered pitches which could occasionally make run-scoring a treacherous business. His ability to score big regardless of the surroundings, the opponents or the pitch was extraordinary.
#OnThisDay
in 1948, Don Bradman walked to the crease for the final time needing just 4 runs to average 100. You know what happened next...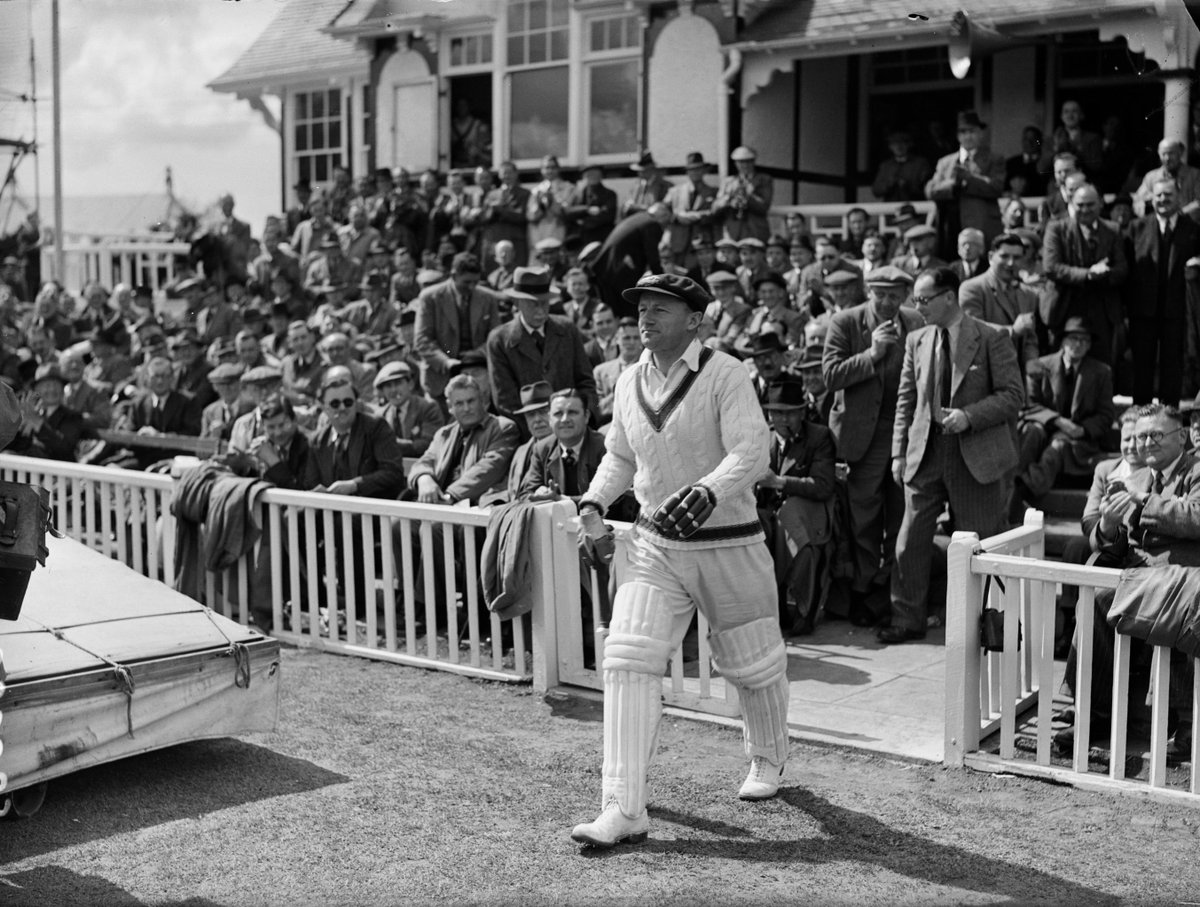 Such was the cricketing calendar in those days, more than 5,000 of The Don's 6,996 Test runs came in Ashes contests against England, including his unparalleled 309 not out on day one of the 1930 Headingley Test. He would finish that innings on 334, but it was his 254 at Lord's a fortnight earlier that he would define as his greatest knock. "Every ball went exactly where I wanted it to go until the ball that got me out," he would memorably state afterwards. It was typical of his modesty and his powers of understatement.
Bradman loved scoring runs, and in true Aussie fashion, he particularly loved scoring runs against England. "When you play Test cricket, you don't give the Englishmen an inch," he once told Australian media. "Play it tough, all the way. Grind them into the dust."
The great England spinner Jim Laker said of his clashes with The Don: "As I ran up to bowl, Bradman seemed to know where the ball was going to pitch, what stroke he was going to play and how many runs he was going to score."
It is one of the greatest paradoxes of sporting history that Bradman's most famous innings came when he failed to score. On the verge of turning 40 and with no Test match scheduled for Australia for over a year, it was clear he was striding to the crease under the famous baggy green cap for the final time when came out to bat at The Oval in 1948. The match came at the culmination of the Aussies' legendary 'Invincibles' tour in which they went unbeaten in 34 games during the five-month trip around the UK.
Needing only four runs to ensure his career ended with a batting average of at least 100, Bradman received the doffed caps of his opponents before defending the first ball from England leggie Eric Hollies. The second clipped his off stump, sending the bails flying and leaving the crowd in stunned silence for a moment or two.
Bradman, never one to make record-breaking his primary goal, hadn't immediately realised the statistical significance of his failure that day. Neither had the England players. In the grand scheme of things it was just one of cricket's idiosyncratic moments, but nobody could argue The Don wouldn't have been deserving of a landmark average.
Either way, his numbers will never be repeated. Neither, arguably, will the feelings he was able to produce in the hearts of Australians and cricket lovers in equal measure.
"The game of cricket existed long before I was born. It will be played centuries after my demise," said the great man. "During my career, I was privileged to give the public my interpretation of its character in the same way that a pianist might interpret the works of Beethoven."