There's no shortage of critics for Morata but Diego Simeone's side would be much worse off without him
09:01, 21 Dec 2019
Diego Simeone had big plans for this season. The Argentine made clear over the summer that he wanted to move away from the trademark philosophy dubbed 'Cholismo' that had sustained Atletico Madrid over his tenure to date.
Simeone recognised the difficulty in perpetuating his side's underdog status while spending almost more than anyone else in the transfer market, including €126 million on a teenager (Joao Felix) this summer.
Things haven't quite gone to plan, though. Atleti have struggled to modernise, losing much of their defensive conservatism without becoming an expansive, dynamic side in the way Simeone wanted. Slumped in fifth place in the Spanish Liga table, six points off the pace being set by Barcelona and Real Madrid, Atleti are already deemed out of the title race.
Everyone at the Wanda Metropolitano has faced scrutiny, perhaps none more so than Alvaro Morata. The loss of Antoine Griezmann over the summer has heaped the pressure on Morata to deliver on a weekly basis. Some aren't convinced that the 27-year-old can carry Atleti in the same way, with even Simeone switching between Diego Costa, Angel Correa and Felix in attack.
This doesn't quite do justice to Morata's importance at Atletico Madrid. In fact, he is the only thing saving the capital club from a full-blown crisis. With eight goals (six in La Liga, two in the Champions League) to his name, the 27-year-old is Atleti's top scorer by a long, long distance, but his importance is down to much more than just his numbers.
4 - No other
@LaLigaEN
player has scored more headed goals than
@atletienglish
striker Álvaro Morata this season in all competitions (four, level with Espanyol's Facundo Ferreyra). Critical.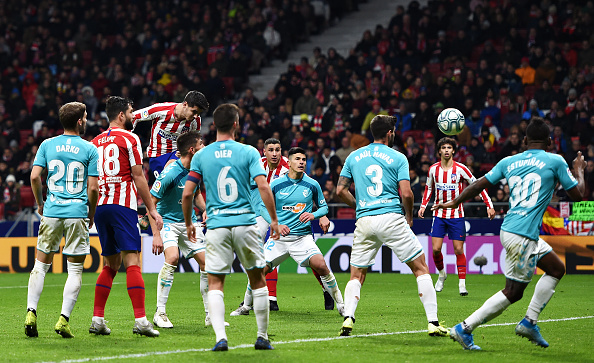 As a frontman, Morata is inherently productive. While he is sometimes guilty of showing a lack of composure in front of goal, he never goes missing. He always makes himself available for the ball and more often than not he does something with it, whether that's getting a shot away on goal or bringing a teammate into the game.
Morata is, in fact, the perfect Atletico Madrid centre forward, it's just that he is being denied the required support system around him. Felix has shown promise amid glimpses of brilliance, but the Portuguese teenager has yet to find his true role in this Atleti side. Then there's Costa who now looks as good as finished at the top level. The only forward who has come close to striking up an understanding with Morata is Correa.
There is no shortage of critics quick to write off Morata. There is just something about the striker that makes him an easy target, particularly after his failed spell in the Premier League. But Atletico Madrid would be a lot worse off without Morata. In a better Atleti side, he would be their defining talent.