It will be the 30th time St Andrews has hosted The Open.
12:00, 13 Jul 2022
Snead. Nicklaus. Woods. All of the greats have lifted the Claret Jug outside the famous Royal & Ancient clubhouse, battling a course that disguises its mischievous twists and turns with its beautiful seaside landscape. The weather can control a round as much as the person with a club in their hands, and the countless hazards make for anxious, treacherous golf at the best of times.
When the professional golf tours arrive in Fife, the world watches and waits. This time is no different, but it's worth taking a look at the great events of the past to remind us of the good times to come this week.
1978: The Golden Bear Completes His Third Grand Slam
By the sunset of day two in the 1978 Open Championship, you'd be forgiven for thinking that it was Japan's year to get a major win on the board. Isao Aoki led alongside Seve Ballesteros and Ben Crenshaw on -5, with Masashi Ozaki and Tsuneyuki Nakajima just two shots behind. Things were looking good for the Asian contingent, however the trio failed to find similar success on days three and four.
READ MORE:
Going into the final day, Simon Owen of New Zealand was leading the field as he stood on the 16th tee. Three more holes without a bogey or worse would confirm his first and only major championship. Unfortunately for the Kiwi, he bogeyed both the 16th and 17th holes as Nicklaus found birdie on both.
From two shots behind to two shots ahead, it would turn out to be his third and final Open Championship victory. It was at St Andrews where Nicklaus hung up his metaphorical boots, bidding farewell in 2005 as he closed out his golfing career. There's no doubt that it still holds a special place in the heart of the most successful major winner of all-time.
The Open Greatness of Jack Nicklaus
@jacknicklaus won the Open thrice (1966, 1970 and 1978) but he also holds the record for the most runner-up finishes with 7.
(1964, 1967, 1968, 1972, 1976, 1977, 1979)
From 1964-1979 he was in the top two spots 10 times!
@TheOpen
@RandA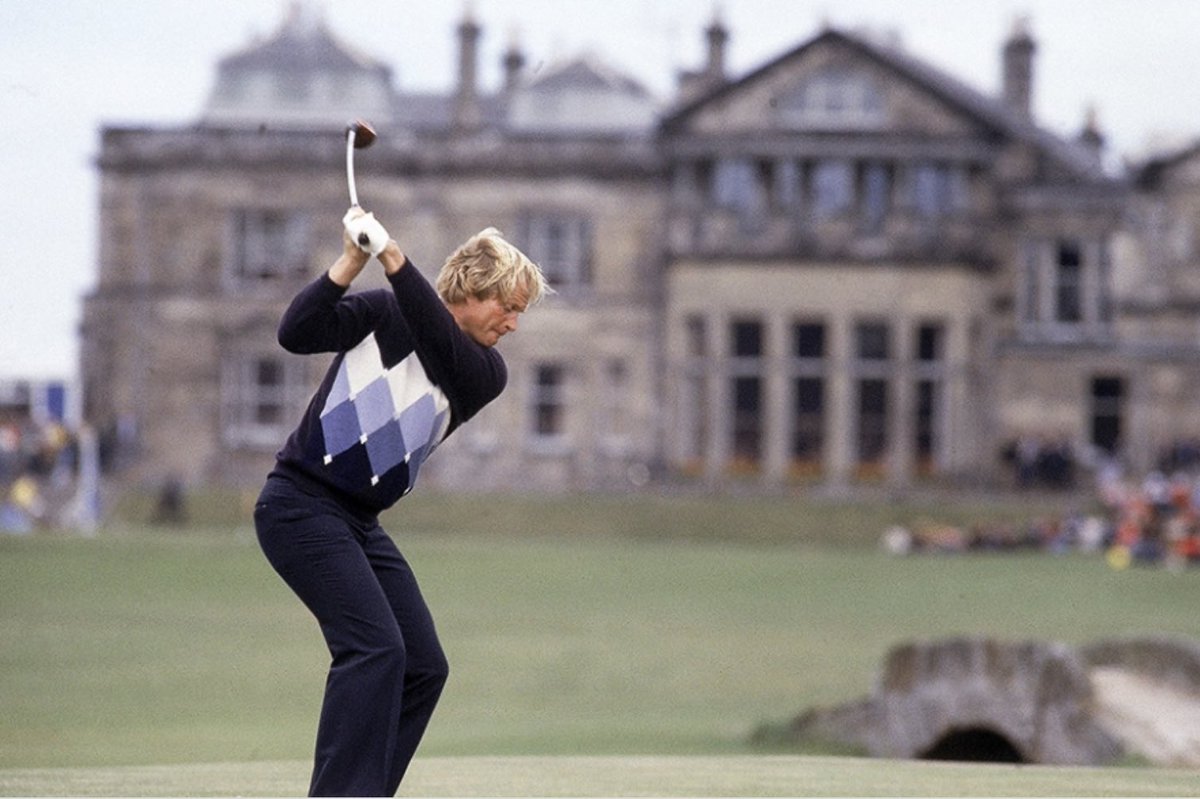 1984: Seve Beats The Best To Be The Best
Unique and iconic in every way, Seve Ballesteros won three Open Championships in his career, but none were more spectacular than his second in 1984, where he battled with the world's best players, all in the form of their lives, to win on the final day.
The narrative going into the tournament was around Tom Watson, who was ready to win his third championship in a row, and up until the final day, he led the field, closing day three at -11. All inside the top ten were Nick Faldo, Lee Trevino, Bernhard Langer, Fred Couples and the eventual winner, Ballesteros.
A final score of -12 confirmed his win, finishing two shots ahead of Langer and Watson. A birdie on the 18th saw huge celebrations and Seve's iconic triple fist pump, a moment that was remembered forever in part to his incredible victory, but also how he was remembered when he passed away in 2011 aged 54. Team Europe used a silhouette of his celebration on their shirts as they performed the 'Miracle of Medinah.'
1995: Big John Daly: From Zero-To-Hero
John Daly travelled to Scotland with ambitions. Ambitions of perhaps a top five finish like he got at The Masters in 1993. Maybe eyeing up a clubhouse lead on one of the four days. He probably didn't quite predict that he'd end up lifting the Claret Jug.
Maybe it shouldn't have come as quite a surprise. He had played well at the Dunhill Cup previously, which was held at the Old Course. The course is suited to Daly's game of big drives and long irons, as it was to a debutant that year by the name of Eldrick 'Tiger' Woods. By the end of day four, Daly had finished a shot ahead of Constantino Rocca but the Italian managed to sink a 60+ foot putt for the birdie he needed to take 'The Lion' to a playoff.
Unfortunately for Rocca, the playoff's third hole of four saw him end up in the road hole bunker, a horrible pit in which he took three shots to get out. Daly's flamboyant approach to life was rewarded in the game of golf, and the crowd erupted as the people's champion was crowned. Daly only ever won two majors in his career, and was never selected to play for Team USA in the Ryder Cup, but he will always be remembered for his exploits in Fife back in '95.
Happy Birthday to 1995 Champion Golfer, John Daly 🏌️
2000: The Tiger Slam
Five years on from his Open Championship debut, Tiger returned to his favourite course with wins of the Masters, PGA Championship and US Open. As the world held its breath waiting for the then-24-year-old to win The Open to complete his first Grand Slam, he had his own ideas. And so was born, the Tiger Slam.
Tiger became the youngest ever golfer to achieve a Grand Slam, and that weekend in St Andrews saw him set the record for lowest score to par in any major tournament, at -19. The 'Tiger Slam' was when he held all four major championships simultaneously, which he completed at the 2001 Masters.
Most incredibly of all, Woods didn't even hit a single bunker with all 269 of his shots. A ridiculous accomplishment for a ridiculous player of the game. His walk to the 18th green as thousands followed the famous red shirt was nothing short of legendary.
2005: Resurgent Tiger Wins Tenth Major
Aged 29, Tiger joining Jack Nicklaus, J.H. Taylor, James Braid and Bob Martin as the only players to have won twice at St Andrews as he nailed a -14 victory over home favourite Colin Montgomerie, five shots over the Scot.
The rest of the field fought a close fight, with Fred Couples and Jose Maria Olazabal in third on -8, before Sergio Garcia, Bernhard Langer and Vijay Singh on -7. It marked a milestone tenth career major for Tiger, and with the record sitting at 18, hitting so many majors before turning 30 put the odds in his favour of reaching Nicklaus's record.
It was a wire-to-wire victory, with a birdie on hole nine of his first round handing him the lead which he maintained until he lifted the Claret Jug on Championship Sunday. In the same weekend, Jack Nicklaus called time on his career after missing the cut in his 164th major championship. Tiger knew that was the level he would need to be at to break his record, and that still stands today.