Here are the boxing stories you might have missed this week
09:00, 07 Aug 2020
From a historic all-British world title fight to a heavyweight hotel horror for Dillian Whyte, it's been another busy week in the world of boxing. Here are five stories you might have missed...
Rival Promoters Eddie Hearn And Frank Warren Could Finally Work Together
Eddie Hearn and Frank Warren are two names that are synonymous with British boxing but the two rival promoters have rarely spoken to each other in the past, let alone worked with one another. That could all change after Warren, in a column on his website, urged Hearn to "throw off the shackles" in order to make a series of fights involving the best boxers from each of the promoter's stables.
Speaking to IFL TV, Hearn said meeting up with Warren was "overdue" and should have happened "ten years ago."
"I gave him a buzz and said later in August or September we can have a chat and a bite to eat," Hearn said. "I'm focused on saving boxing. The sport is in a horrendous position."
No one knows for sure whether these two promoters will actually work together, it took a pandemic just to get them to talk after all, but these are encouraging signs indeed.
Chris Eubank Jr Steps In To Help Roy Jones Jr Prepare For Mike Tyson
Chris Eubank Jr has been helping out Roy Jones Jr as the 51-year-old prepares for his September 12 exhibition against Mike Tyson, 54. Eubank has been training with Jones in America throughout the coronavirus pandemic and explained to talkSport why he believes Jones will come out on top when he meets Tyson in the ring.
"Mike Tyson is a hero of mine, but I'm in this crazy position where I've got two heroes and they're fighting and I can't go against Roy. I've been with him every day for the last five months so I'm actually in this weird position where I wanna see one of my heroes not win.
"I don't know how prepared Mike is. He looks great in his little 30-second clips on Instagram, but eight rounds against Roy Jones is a different thing."
Terri Harper and Natasha Jonas All Set For Historic Clash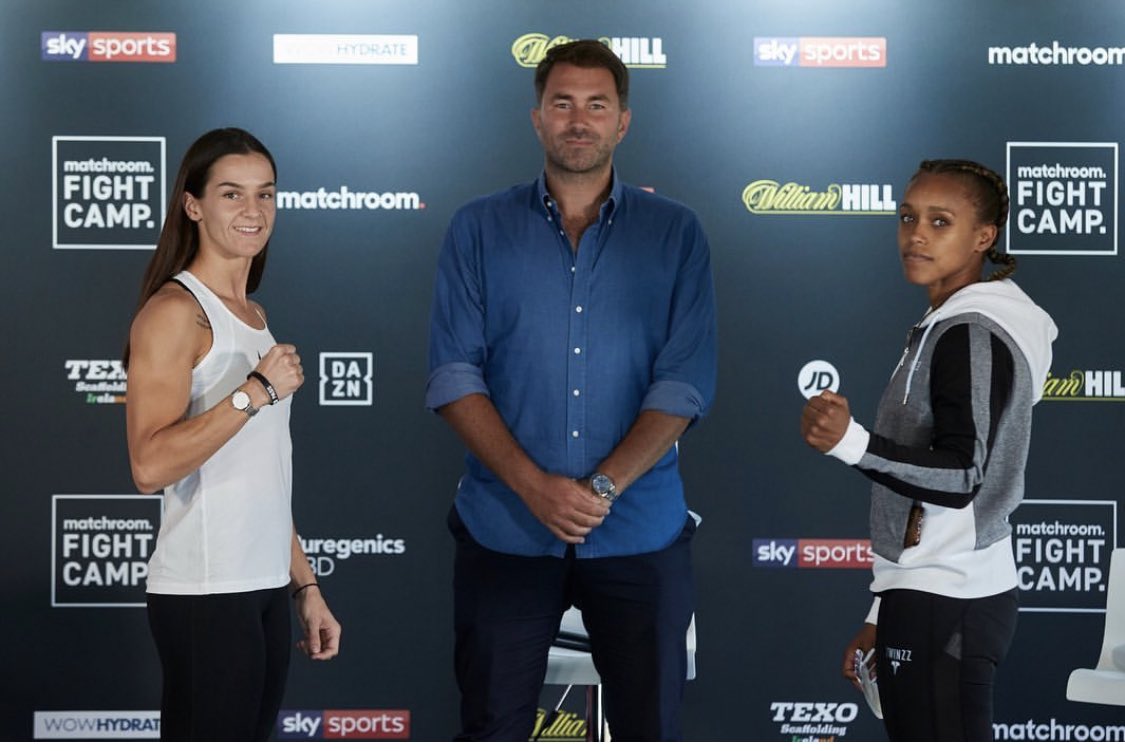 The second round of Eddie Hearn's Fight Camp gets underway on Friday with a humdinger of a main event between Terri Harper and Natasha Jonas, which will be a historic super-featherweight encounter.
The pair will meet in the first all-British women's world title contest and Harper, who won the WBC title back in February and is 13 years younger than her challenger, is confident that she'll retain her title against Jonas; the first British woman to box at an Olympics, in 2012.
"She's come from being an elite amateur, but she's still yet to prove herself at this level and I personally feel the pressure is on her.
"Tasha is past it now. She should be the one in my position as a champion but she isn't."
Dave Allen And Derek Chisora Join Team Povetkin Ahead Of Russian's Showdown With Dillian Whyte
Alexander Povetkin has turned to the services of Dillian Whyte's former foes, Dave Allen and Dereck Chisora, as he prepares for his August 22 showdown against the Brixton heavyweight.
Whyte beat Doncaster's Allen back in 2016 and famously shared a huge domestic rivalry with Chisora, which culminated in two Whyte victories across two spectacular fights in 2016 and 2018. Incredibly, with it being part of Eddie Hearn's Fight Camp, all fighters will be quarantining together, meaning that Allen, Chisora, Povetkin and Whyte will all be in the same Holiday Inn in the build-up to the fight.
"Povetkin's gonna be in the bubble from Friday sparring with Chisora. So you're gonna get Povetkin, Chisora and Whyte all in the [Holiday Inn]. Whyte is not gonna be over the moon. God knows what's gonna happen in the next couple of weeks," Hearn told Sky Sports.
Andy Ruiz Jr Offered Shot At WBA 'Regular' Title
Former heavyweight world champion Andy Ruiz Jr may have found his route back to another world title after WBA 'regular' title holder Mahmoud Charr claimed he is set to open talks with the Californian, with a view to fighting this year.
Ruiz, the first boxer of Mexican heritage to win the heavyweight title, hasn't fought since he was beaten by a vengeful Anthony Joshua in December but Charr remains optimistic that a deal can be arranged.
"If any opponent gives you a chance for the world title fight, you say no or do you say yes? Make this fight happen, I'm ready for you. If you want, do this fight. I will risk my belt. I don't need an easy fight. Fight me," Charr told Sky Sports.