Effigies, Hooligans And Violence: The Madness Of HSV v St Pauli And The Hamburg Derby
13:31, 29 Sep 2018
Hamburg, Germany. On Wednesday morning, commuters in Hamburg were treated to the sight of at least eight effigies hanging from bridges across Germany's second-biggest city.
The effigies, made of plastic bags stuffed with straw, were painted in brown, white and red – the colours of FC St. Pauli, the cult second division club based just off the city's famous Reeperbahn.
The stunt, pulled off by rival Hamburger SV ultras, was just the latest in a series of provocative incidents in the city over the past month in the build-up to Sunday's highly-anticipated derby – the first since 2011 after HSV's first ever relegation from the Bundesliga.
Provocation
As early as August, a 100-strong group of HSV supporters disrupted a concert at the Menschenzoo – a venue on the "HSV side" of the Reeperbahn but where two bands with links to St Pauli were set to play.
A few days later, at HSV's home game vs. Bielefeld, a more "active" element among the Hamburg support displayed a banner calling out their rivals: "Face up to our lust: 100 of you, 100 of us!"
On September 1st, they almost got their wish. A group of about 50 HSV ultras marched through the district of St Pauli chanting "Scheiß St Pauli!" prompting a reaction from a much larger group of St Pauli ultras – but the police prevented a direct clash after being alerted by a local resident.
HSV lads in St. Pauli area tonight 👀
At their next home game against Heidenheim, the HSV hooligans upped their offer with a new banner reading: "Happy Hour 2 for 1! You can have 100, we'll have 50!"
But St Pauli fans appear to have other priorities, displaying a banner at their last home game against Paderborn reading: "Satisfy our lust: 1,000 joints and 1,000 beers!"
Still, it's not all smoking and drinking at the Millerntor stadium. Last Thursday, a group of 20-25 St Pauli ultras broke into a hall where six HSV ultras were working on their derby day choreography. According to reports, the display was partly damaged and at least two of the Hamburg ultras were injured.
"There will definitely be revenge for that," one HSV ultra told a reporter from the Hamburg Morgenpost tabloid. "The choreo cost a lot of money and financed by donations. Now it's destroyed. It was dishonourable and cowardly."
Derby day plans
St Pauli supporters have been making their own preparations. The last time the two teams met, the travelling Paulianer distributed brown and white flags across both tiers of the away end in the Volksparkstadion.
On Sunday, the "Das ganze Stadion" (the whole stadium) group are once again planning to "cover the away end in this city's club colours" and collected choreo donations at the last home game against Paderborn.
The main ultra group, Ultrà Sankt Pauli (USP), has also announced details of a collective fan march to the game, which has the official support of the club. The away contingent are requested to meet at Bahrenfeld S-Bahn station at 10:30 for a four-kilometre march to the ground.
In response, HSV fanzine Dröhnbütel distributed flyers advertising their rivals' march and requesting that people "keep the running track free" and re-shared an old video showing St Pauli fans being chased by HSV fans.
On Saturday, the day before the derby, the HSV ultra group Castaways have called for fans to attend the team's final training session before "taking over the district in blue and white" that evening in the bars around Hans-Albers-Platz – a traditional meeting point for Hamburg supporters.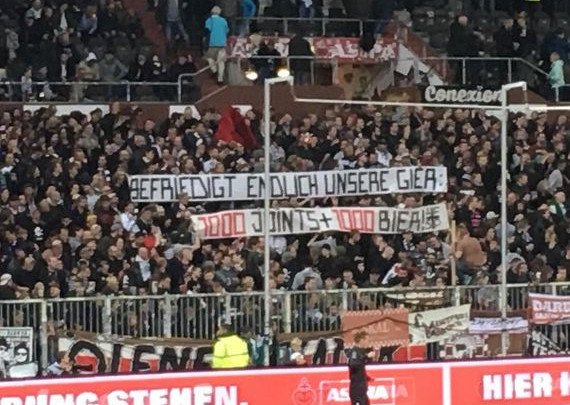 A clash of opposites
Some derbies around Europe are fought out between clubs who have more in common than they care to admit – Borussia Dortmund and Schalke 04 in Germany for example, or Manchester United and Liverpool in England.
But the Hamburg derby represents a clash of footballing worlds. On the one hand, the once-mighty Hamburger SV, six-time German champions, four-time cup winners and 1983 European Cup winners who once saw themselves as northern Germany's answer to Bayern Munich.
Nowadays, after controversially separating their professional football team from the club, HSV are effectively controlled by billionaire backer Klaus-Michel Kühne, whose huge financial support and 20.57% shareholding gives him significant influence in the club.
In the 1980s, as right-wing extremists made their presence felt on terraces across Germany, including at HSV's Volksparkstadion, fans flocked to St Pauli as an alternative – the small club from the "Kiez" around the Reeperbahn in the heart of the city which has since built its reputation around its proudly alternative, left-wing, "against modern football" stance.
With a budget dwarfing that of their rivals, HSV are favourites for promotion back to the Bundesliga, but they come into the derby on the back of a draw and two defeats – including a 0-5 hammering at home to Jahn Regensburg. St Pauli, on the other hand, have recovered from three heavy defeats themselves to win their last two games.
The two meet on Sunday at 12:30 GMT, and the tensions are rising.