Another of boxing's retired stars is back to face a social media influencer
13:00, 23 Mar 2022
Former two-weight world champion Marcos Maidana returns to the ring this Saturday for the first time in almost eight years. This is The Year Of Our Lord 2022, so of course his opponent is a YouTuber. Yes, the eternal warrior 'El Chino', the unflappable Argentine powerhouse who gave Floyd Mayweather fits, will face a 25-year-old social media influencer best known for faking his own death in a prank video.
Interestingly, the bout appears to be an official boxing match that will appear on the 38-year-old's record. In the past, the likes of Mayweather, Evander Holyfield and David Haye have fought these sort of bank-boosting dalliances as exhibitions. This method of ring-fencing your actual boxing achievements from the stupidity of a circus fight makes a lot of sense. But Maidana fighting under these circumstances, in a bout that will contribute to his 35-5 ledger, begs the question; will this be a case of one and done?
This could just be a beloved former champion coming back for an easy payday. Even at the age of 38, there is no reason to believe a rusty Maidana will not beat Cabrera. The YouTuber has no boxing background whatsoever, and it is likely this sham will go on as long as Maidana allows it to. But perhaps this is a lucrative warm-up for further fights?
That would not be advisable. There is nothing stopping Maidana drinking from the platinum fountain available to old fighters these days and getting paid ridiculously well for slapping about a novice. Everyone else is doing it, and he's young enough that it does not read as sad just yet. This is not a repeat of the unedifying spectacle we endured when 58-year-old Holyfield was sliced and diced by MMA veteran Vitor Belfort. But whether this fight goes on Maidana's record or gets a late-switch to exhibition status, the Argentine should probably make this the last time we see him in a prize ring.
Maidana has cultivated a strong following for his exploits in retirement. Fans have revelled in seeing him eat, drink, smoke and be merry in his post-ring years. Maidana got out of the sport with his health, with two mammoth Mayweather paydays in his back pocket and with a desire to spend time with his children. It is Maidana's son that this upcoming fight reportedly centres around, with Yao stating he has "beef" with the youngster. So far, so YouTube.
🚨🚨𝙁𝙄𝙂𝙃𝙏 𝙒𝙀𝙀𝙆🚨🚨
😱 Feared puncher, Marcos Maidana makes his long-awaited return when he faces Yao Cabrera.
🏆 Plus- Mike Perez battles Vasil Ducar for the WBA Inter-continental Cruiserweight strap.
SAT MAR 26 | Live from 🇦🇪 on
#FITE
👉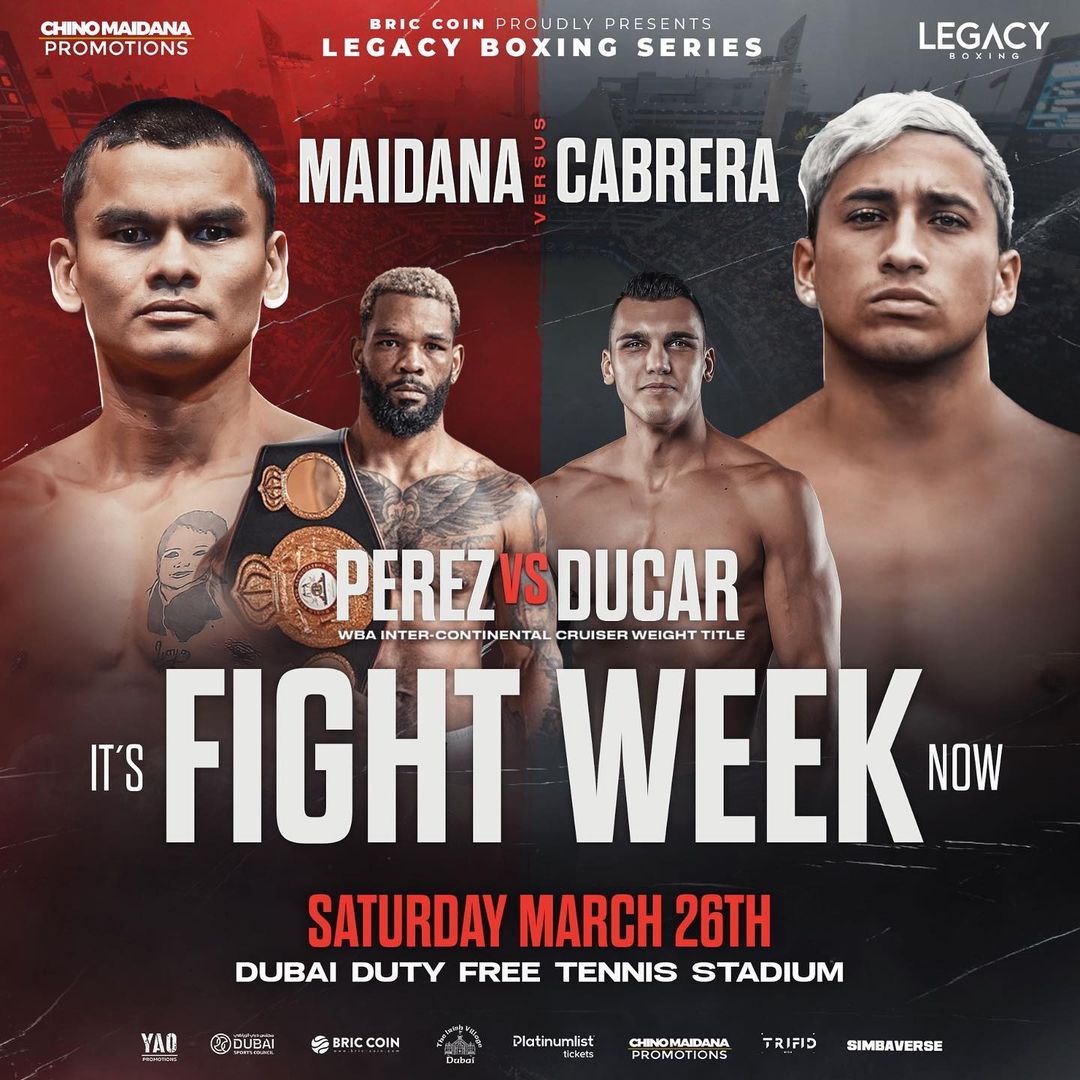 The fight is being billed as "Most Loved vs Most Hated", and it is a designation that makes sense. Cabrera is notorious for a number of controversies. He has faked his own death via stabbing, been arrested for organising illegal parties and been the subject of allegations of sexual impropriety. The Uruguayan star has over 8 million YouTube subscribers, but many more people would relish him getting taught a lesson by Maidana.
This is the crux of why this fight is happening. Nobody is expecting to see the Maidana that bewitched us a decade ago. The fighter that many thought should have got the decision over Mayweather back in 2014 is gone. So too the avenger who took apart another online hate figure, Adrien Broner, to win the WBA welterweight title. But the 38-year-old remains a hugely popular figure, especially in his native Argentina. This returning hero beating up someone many feel deserves it is the primal simplicity that drives this fight. When you think about it, it is the same "one of them is a tw*t" narrative that drives 99% of these YouTube fights.
The caveats here are the same as always. Should you tune in to this to see world class boxing? Absolutely not. Will it be nice to see the returning legend don the gloves? Probably. Is there only one winner here? Undoubtedly. Your stomach for this sort of thing will differ from person to person, but if you grew up watching Maidana put on classic fights a few times a year, this one might be worth a look. Just don't blink.