Warrington Wolves take on Wigan Warriors on Friday night
16:05, 05 Aug 2022
Warrington Wolves boss Daryl Powell admits there is a fear around the club and has demanded unity, pride and positivity ahead of an "absolutely huge" game at Wigan Warriors.
The rivals clash on Friday night live on Sky Sports, with the Warriors in pursuit of champions St Helens at the top, and Warrington in a shock relegation fight in their first season under Powell. These games are usually semi-finals or finals, yet the Wolves' plight has added a real element of jeopardy to what is always a ferocious contest.
"Circumstances are difficult but we have to drive together. We have to maintain our unity and toughness and come out of the other side," Powell told The Sportsman. "The team feels under pressure and the pivotal moments have not been going our way."
READ MORE:
Warrington this week released a statement online to supporters that was essentially a plea to fans to rally behind their struggling side, praising their "outstanding" support, thanking them for "sticking by us" and adding that "we've endured challenging seasons before and the support from our fans always helped drag us through to the other side".
Your incredible support is needed now more than ever 🟡🔵
Now the Wire! 🐺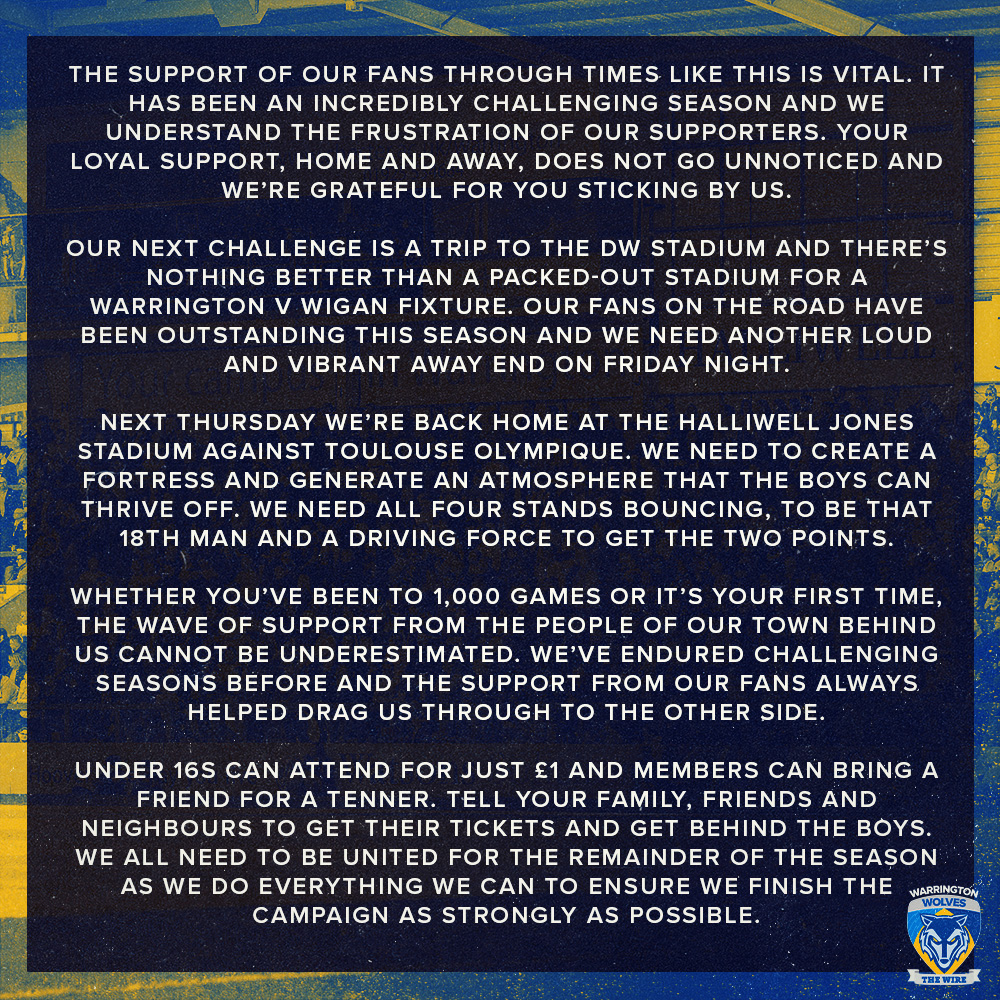 Powell was brought in as the final piece in the jigsaw to win Warrington an elusive Grand Final. He's instead fighting the unthinkable, after a disjointed season or upsets, fallouts and collapses that has left only relegation favourites Toulouse and Wakefield below them in the table.
The timing of the club statement is therefore no accident. The next home game after the trip to Wigan is the visit of Toulouse to the Halliwell Jones Stadium next Thursday.
"At the moment we are like a team waiting to be shot," Powell admits. "We have to start firing bullets. There is fear around us at the moment and all the club, the fans, must realise this team wants to win games. Stick together and get 17 players playing with pride for the badge and get after the game.
The Wolves lost four of their five games in July, including each of the last three against Huddersfield, Hull KR and Castleford, having found themselves in healthy positions before fading away. These collapses late in games has led to Powell putting a match timer on the scoreboard during training in a bid to replicate that in-game scenario, though he admits the most simple ingredient his team must rediscover is desire.
"It has to be more important to us than the opposition. That is the way it has to look, that is what the fans want to see. We can't help each other by being negative. We are playing finals now. They have a real meaning.
"It needs to feel like a derby and we have to create that intensity. You can't dip your toe in the water against Wigan to see how hot the water is going to be. You know it is going to be hot, you have to get in there and put up with it. It gets a bit colder when you get in a hot bath. That is what we have got to do – get in the heat, accept it is going to be a battle and not fear it. "
Wigan can close the gap to just two points on leaders Saints with a win while Warrington are two points better off than Wakefield and four clear of bottom club Toulouse.