Eoin Morgan's side lost from a strong position in the World Cup semi-final
17:59, 10 Nov 2021
England suffered a gut-wrenching defeat in their World Cup semi-final as New Zealand, inspired by Daryl Mitchell, made their first T20 final. Eoin Morgan's side, having put up a score of 166, should have been able to defend that total on a big Abu Dhabi pitch, but New Zealand put in a seismic display with the bat.
Mitchell, who wasn't even thought of as an opener before the tournament, scored a massive 72 from 47 balls, including the winning runs that dragged New Zealand to the final even after they lost both Martin Guptill and Kane Williamson relatively cheaply early on.
At that point, England will have fancied their chances of living up to their pre-match tag as favourites, but the final period saw Chris Jordan give away 20 runs in one over and James Neesham hit a quick-fire 27 from 11 balls which took his side close to the total needed.
"Coming into the game we knew both sides were very close," England captain Eoin Morgan said after the match. "New Zealand outplayed us today. Unfortunately, in a tight game we have come out of the wrong end of the stick.
"I can't fault anything we've done tonight. We have fought unbelievably hard throughout this tournament. We've represented ourselves unbelievably well but tonight we have come up short. I am extremely proud of the guys."
Throughout the competition the New Zealanders have shone in the field and although England made it to 37-0 fairly comfortably, Jonny Bairstow's drive into the offside was brilliantly caught by Williamson, as his fingertips just prevented the ball touching the turf.
Jos Buttler, so crucial for England this tournament had made it to 29 off 23 before he tried an outrageous reverse sweep and was subsequently out LBW. He has been so good in this tournament and his lack of big hitting allowed the Black Caps to limit England's scoring with the bat on a testing field.
Dawid Malan and Moeen Ali steadied the ship for England as Malan started to let shots go, with one huge six taking him onto 41 from 30, before he attempted to play the same shot against Tim Southee but mistimed it and was caught behind. Moeen was England's best outlet as he consistently found the boundary to secure his first World Cup 50 but in the final over, Jimmy Neesham, who isn't used to bowling the last, took the wicket of Liam Livingstone, to halt England's late charge.
Guptill immediately showed New Zealand's intentions with a four of the first ball but two balls later he was out to the delight of the English bowlers. A straighter ball from Chris Woakes saw the opener sky a ball into the hands of Moeen, as England got off to the perfect start. Williamson was also in and out quickly as Woakes once again forced the batsman to go high and this time Adil Rashid was underneath it as England seemingly took a giant step towards the final and reduced their opponents to 13-2.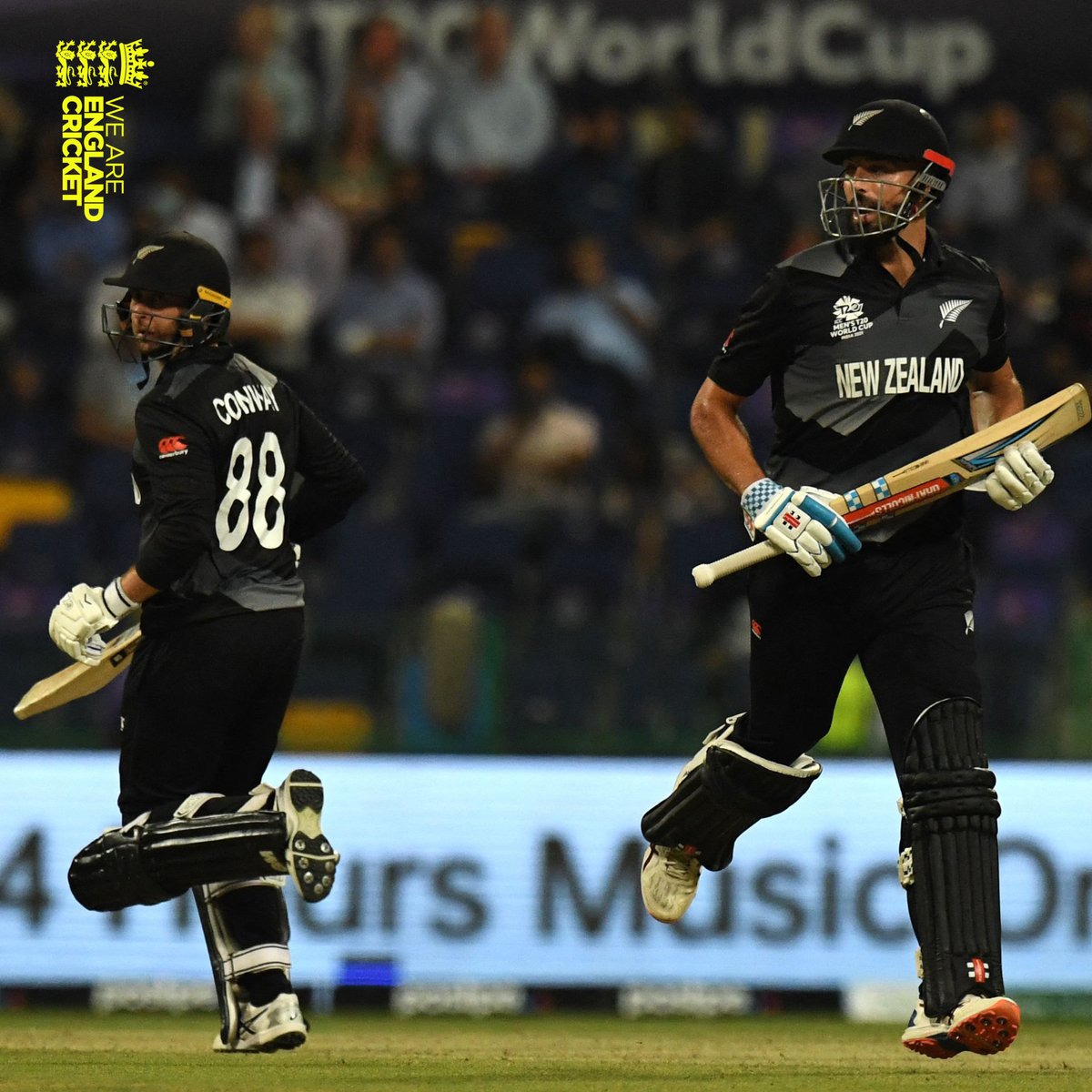 They reached 58-2 after ten overs and began to pick up as Devon Conway and Mitchell began to open the taps. The latter was almost denied a six as Chris Jordan leapt over the boundary at long-off to parry the ball back into play, but unfortunately his foot had touched the rope and so his incredible effort was not rewarded.
That partnership had dragged New Zealand back into the game as Conway opened up, but in chasing a big six, Livingstone managed to get him stumped out. On 97-3 with six overs left, Glenn Phillips came in to bat, and as he has hit more sixes this year in this format than anybody else (93), England knew the game was far from up.
Mitchell was an immovable cog as New Zealand needed 60 from the final 30 balls but then Livingstone struck again, as Phillips was out for just two, having gone for the big boundary. T20's second highest six hitter this year had just got number one on the list out and having finished with figures of 22-2 from his four overs, Livingstone showed just how much he has improved with the ball in his hand.
However, then the turning point came and New Zealand came good. Jordan had a nightmare over against Neesham that featured two sixes and cost England 20 runs, the most they have conceded in one over so far this tournament. The injured Tymal Mills was a big miss as in the crucial overs, England gave away too many opportunities.
Bairstow thought he might have taken a catch but his knee had hit the boundary before a mix up saw another missed opportunity for a wicket. That knee touching the rope proved to be a key turning point as Neesham kept on pushing, while Mitchell brought up his 50 with another huge six against Rashid.
With two overs left, they needed 20, and they were still one run ahead of England's total with 12 balls remaining. Then Mitchell hit two sixes in a row and wrapped up the match with a ferocious four and six balls to spare, to leave England licking their wounds. They'll have another chance next year and New Zealand were deserving winners, but this one will sting for a long time.