Roy, Bairstow and Stokes put in excellent displays to see England triumph over India in their second ODI
16:33, 26 Mar 2021
When England's top three bat like this, there is simply no side in the world that can stop them. Jason Roy, Jonny Bairstow and Ben Stokes, chasing 336, put on a masterful display of batting as they slogged India all over the show to take the second ODI by six wickets. In an aggressive, attacking display with the bat, England almost completely silenced any doubters that had emerged after Tuesday's loss. Almost. 
Three wickets in nine balls late on for India got the England nerves jangling but Liam Livingstone came in on his debut to see the visitors comfortably over the line and level the ODI series at 1-1 heading into the decider on Sunday. 
Without Eoin Morgan, England needed a win to keep their series hopes alive, and put India in to bat after winning the toss as they looked to fix the mistakes made in the first match. India batted with great balance, not going out all guns blazing, but instead taking their time to reach a weak looking 210-3 off 40 overs, before going hell for leather to add 126 to their total off the final ten overs. They finished on 336 after that incredible finish but England's bowling was good in spells. 
In particular, Reece Topley will be pleased with his display as he took the first wicket of Shikhar Dhawan and finished with two wickets for 50 runs, off eight overs. Having reduced the hosts to just 37-2, India really started to get a foothold in the game when Virat Kohli and KL Rahul were in the middle. Kohli's 66 was damaging, but it was Rahul's sensational performance that helped his side to a competitive total.
The batsman scored an amazing century, finishing on 108 from 114 balls as Topley's catch eventually stopped him in his tracks. By then India had made it to 271-4 but it was the way they finished in the last ten overs that made this game super competitive. Rishabh Pant came in and got 77 off just 40 balls and Hardik Pandya got 35 from 16 as India ramped up the tempo to reach 336.
Ben Stokes since passing 50:
10 balls
45 runs
6 sixes
Utter carnage.
#INDvENG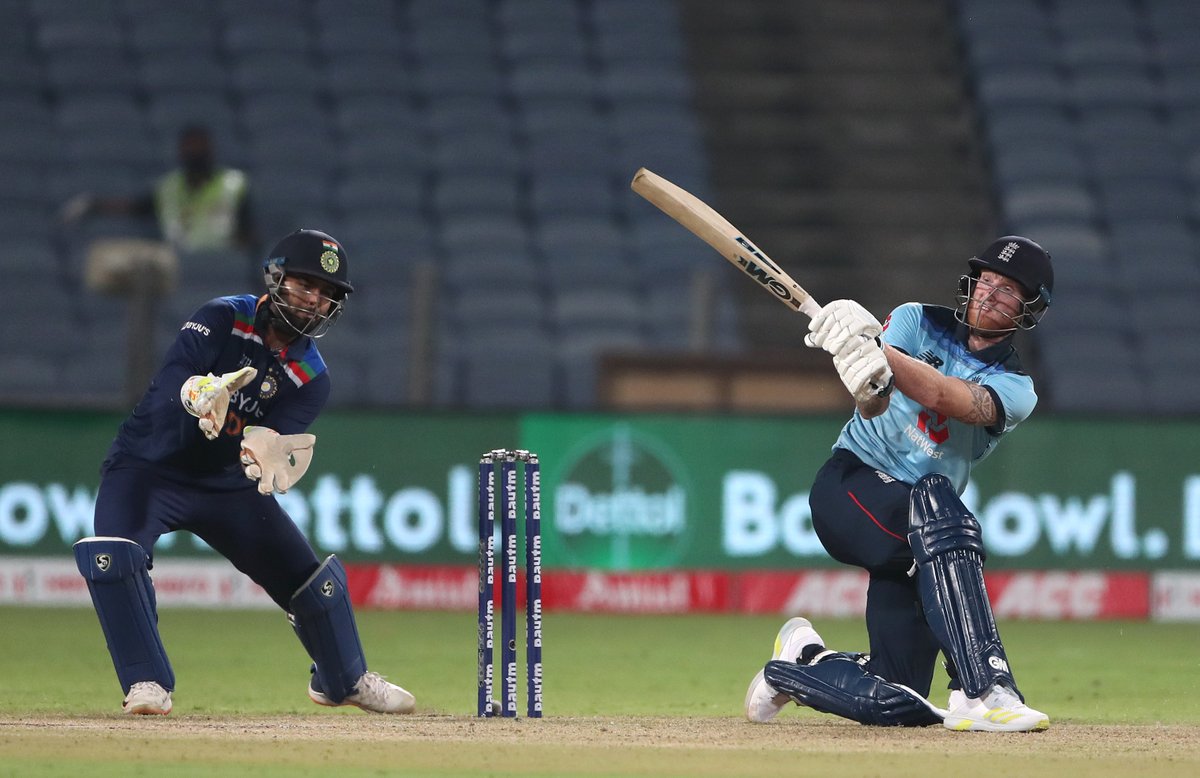 With the bat, despite Morgan's commitment to playing attacking cricket, England started slowly, 10-0 after four overs. Then the visitors picked up the pace as Jonny Bairstow and Jason Roy set out to prove they were the best white ball opening pairing in the world. It was not the breakneck slogging we saw in the first game, but England put themselves well ahead of the run rate thanks to some brave, but sensible batting. 
Both batsmen reached fifty with relatively little trouble as England hit 110 before losing their first wicket. It was a mix-up in the middle combined with some brilliant fielding by Rohit Sharma that led to Jason Roy being run out having made it to 55 off 52 balls. Bairstow called for the single and began running before Roy stuttered at half-way, hesitation from both batsmen led to Roy's dismissal, but unlike in the first match, England didn't immediately crumble.
Ben Stokes, England's Man of the Match, came out with a point to prove having been dismissed for just one in the first ODI, and with Eoin Morgan out, even more responsibility sat on Stokes' shoulders at three. He got away with a run out, when absolutely coasting between the wickets, the ball hit the stumps and the third umpire gave the benefit of the doubt to the batsman, unable to determine whether any of his bat was in the crease. It is fair to say, England got lucky on this one.
Bairstow played some scintillating cricket to reach his century and even when the mix up with Roy cost the team, he quickly paired back up with Stokes to continue the run chase. He reached his century with a six and kept the score ticking over averaging more than one run per ball for his entire innings, but at the other end, it was Stokes who once again grabbed the headlines.
Having made it to 50 in 40 runs, Stokes hit Kuldeep Yadav for three sixes in a row and really started to enjoy himself in the middle, making it to 95 runs off just 50 balls. He hit 45 runs from ten balls as Bairstow stood and watched from the other end, admiring this incredible display of batting that put England on 285-1, a total better than any they managed for one wicket loss over the Test series. 
Stokes was dismissed agonisingly on 99 as Bhuvneshwar got him caught behind with a short delivery. It was a sensational seismic innings from Stokes which ultimately put England in a very comfortable position as Dawid Malan came to the middle. The things started to unravel. Bairstow fell at 124 placing a shot into the hands of Kohli, before captain for the day Jos Buttler was out for a duck following a spectacular Prasidh Krishna yorker. 
Three wickets in nine balls stopped England in their tracks and gave India momentum but Liam Livingstone came in on his debut to steady the ship. When England could have taken the singles to the finish, he came in and hit 27 from 21 as he and Malan safely saw the side home, with five overs to spare. 
England have a playing style in ODIs that means every single ball counts. When the top three bat in this style, picking up runs at this pace with a run total to chase, Morgan's promise to stick to this attacking style makes total sense.