Joe Root's men have fallen apart Down Under - but where do they go from here?
13:00, 29 Dec 2021
The story of the Ashes began way back in 1882 when England were beaten on home soil for the first time by Australia. It was labelled as the "death of English cricket". The Sporting Times newspaper said 'English cricket would be burned down and the ashes sent to Australia'. When England went down under two years later a pair of bails were burned and the ashes put in the now-famous urn. The fierce rivalry between the two countries was born.
Quite fitting then that Test cricket in England will eventually die a painful death if administrators keep force-feeding players a diet of white-ball cricket.
Under-fire coach Chris Silverwood was, rightfully, lambasted when he spoke about "positives" in the aftermath of a crushing innings and 14-run defeat as dominant Australia took an unassailable 3-0 lead in the five-match series — after just 12 days on the field.
The only positive is his side's string of abject performances have highlighted the systematic issues within the domestic structure. White-ball cricket has been prioritised for far too long as long-form cricket is shunted to the extreme ends of the summer — played on wet, and green wickets. No wonder there is a chronic struggle to produce quality batters, spinners, and bowlers who can consistently hit the 90mph mark — the weapons which you need at your disposal when playing in Australia, and in other parts of the world.
The fact 45-year-old Darren Stevens is one of the standout performers year in and year out is the perfect case in point. No disrespect to the Kent all-rounder, but there's a reason he's never played for England despite his phenomenal stats.
Joe Root was adamant in his assessment that England had travelled with their "best 18 red-ball players available". It's indicative of the problem. The county game isn't built to breed Test cricketers, it isn't fit for purpose, and it needs to change.
Higher-ups at the ECB pocketed huge bonuses this year, and for what? The 5-0 whitewash in 2013/14 prompted inquiries and wholesale changes. But since then they have created a new franchise white-ball format, pushed red-ball cricket further down the pecking order and have failed to win a game in Australia. It's a vicious cycle.
The ECB had already announced five rounds of the County Championship will be played in June and July next summer before this series. It's a step in the right direction, but the old adage that the horse has already bolted jumps to mind.
🦆 6 Burns
🦆 5 Robinson
🦆 4 Lawrence, Sibley, Bairstow, Hameed, Anderson
🦆 3 Broad. S. Curran
🦆 2 Buttler, Crawley, Archer, Leach, Wood, Bracey
🦆 1 Root, Stone, Malan, Moeen, Bess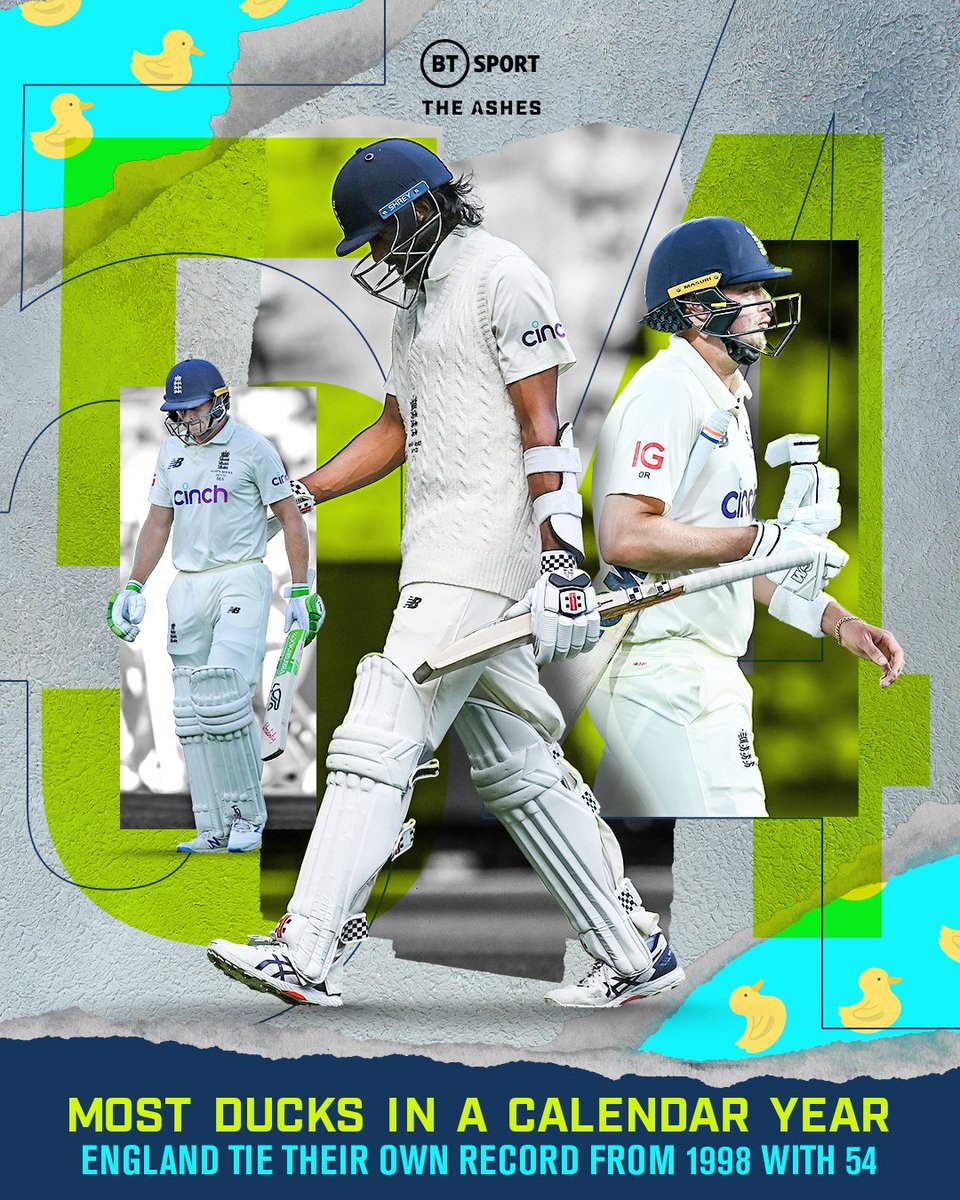 I recently re-watched The Test; the Amazon Prime documentary which followed Justin Langer's team around for 18 months as they tried to change their culture after the sandpaper ball-tampering scandal. If a camera crew documented England during this tour it would be categorised as a gruesome horror. It's been a massacre of the highest proportions which will haunt these players for a long time.
Everything that could go wrong has gone wrong since England landed in Australia. Their worst mistake was getting on the plane in the first place.
Silverwood's side have become a laughing stock and the players in the dressing room will be hurting. Brad Haddin and Andrew Symonds, whilst commentating on the Big Bash, labelled the series as the '12 Days of Christmas' and England were the gift that kept on giving to the hungry Aussies. The fact they spent longer in quarantine, 14 days, than to meekly surrender the sacred urn sums it up perfectly.
The preparation was catastrophic to say the least. You can't account for the weather playing a part and all but wiping out the warm-up games. But England were always restricted to a couple of inter-squad matches, which is hardly the perfect preparation for a series of this magnitude.
This schedule categorically cannot be the blueprint for tours down under moving forward. Players who are out of form or expected to come in as replacements need match practice and the lack of tour games has been startling.
The selection policy was also baffling. To leave James Anderson and Stuart Broad, who have over 1100 wickets between them, out of the first Test at the Gabba was a mistake. Australia would have been licking their lips to see an English XI without their two best bowlers. If Anderson was rested purely for his distinctly poor record at the ground, or a rumoured calf niggle, then fair enough, but Broad averages 24.58 there.
To make matters worse reports came out of the visitor's camp that the prolific pair were "bowling at full pace" in the Brisbane nets whilst they were being soundly beaten by nine wickets to go 1-0 down in the series. Momentum is huge in sport and the Aussies never looked back. On the other hand, England were always looking ahead and put all their eggs in the pink-ball basket. It firmly came back to bite them.
Rory Burns got himself in a tangle and was bowled around his legs with the first ball of the series. It was a sign of the humiliation to come. More dropped catches than you'd care to remember followed as well as missed run-outs and Ben Stokes bowling David Warner off a no ball. The opener went on to make 94.
"We have to find a way of competing against [Australia]"
"There are positives coming out of this"
England head coach Chris Silverwood reflects on going 3-0 down inside twelve days of cricket.
#Ashes
The worst was yet to come as Jack Leach was dropped for the Adelaide Test, on a pitch which was expected to offer spinners assistance, as England went for four right-arm medium pacers with Anderson, Broad, Chris Woakes and Ollie Robinson. A mistake that has plagued English touring sides down under for years.
There's a famous quote which states 'the definition of insanity is doing the same thing over and over again and expecting different results'.
When England played the pink-ball Test at Adelaide four years ago; Anderson, Broad, and Chris Woakes returned joint figures of 4/230 from 88 overs as the hosts racked up 442/8 declared. So it was surprising when England announced their attack for a pink-ball Test at Adelaide this time around. The trio took four wickets for 234 runs from 78.4 overs as Australia made 473/9. Robinson even resorted to bowling off-spin due to Leach's omission and part-timer Root in hospital getting a scan.
Then to the MCG where England needed to win to keep the series alive. They rang the changes in a desperate attempt to turn the tide. It was sink or swim time, and the visitors sunk to the depths of despair with their worst performance yet — being bowled out for 68 to hand Australia the sacred urn.
Zak Crawley replaced Burns at the top of the order whilst Jonny Bairstow came in for Ollie Pope at six. Crawley averaged just 12 in Test cricket in 2021 heading into the game and staggeringly now averages even less. Bairstow hasn't made a Test hundred since November 2018 and has passed fifty just three times in 37 innings since. These were the men tasked to help England avoid another embarrassing collapse.
Root has spoken about playing for pride in the final two Tests in Sydney and Hobart. But some of these players are playing for their Test careers. England need to hit the reset button and fast after this miserable tour comes to an end, which quite frankly can't come quick enough.