England beat Pakistan by 74 runs in the first Test in Rawalpindi
13:26, 05 Dec 2022
James Anderson ages like a fine wine.
The imperious 40-year-old produced an age-defying display in the Rawalpindi heat to lead England to one of their most famous overseas victories ever on a gripping final day.
England's greatest ever bowler took 4/36, whilst Ollie Robinson took 4/50 in a remarkable finish as Ben Stokes' side beat Pakistan by 74 runs with little time to spare.
READ MORE:
The fast bowlers were incredible. Usually in the last innings in Asia it's the spinners you bank on to win you games, but England's work-horse seamers ran in hard and took the first nine wickets in what was their first Test in the country for 17 years.
With the light fading, it was a race against time as Pakistan's final pair of Naseem Shah and Mohammad Ali stood firm for 53 balls before the former was trapped lbw by Jack Leach as the sun dipped below the stands.
The gamble paid off for Stokes after his sporting declaration left Pakistan well in the game.
The fact we headed into the final day with all three results still possible was testament to Stokes' fearless captaincy and willingness to lose in order to potentially secure an incredible win.
And the bowlers repaid the faith shown in them by their captain as they marched to a tense victory in the most thrilling circumstances.
England teams of yesteryear have long been criticised for being far too conservative, but this team are anything but conservative. They are a breath of fresh air for Test cricket.
This game should have petered out into a dull draw, one of many between the two sides over the years in this part of the world.
A WIN FOR THE AGES!! 🦁🦁🦁
🇵🇰
#PAKvENG
🏴󠁧󠁢󠁥󠁮󠁧󠁿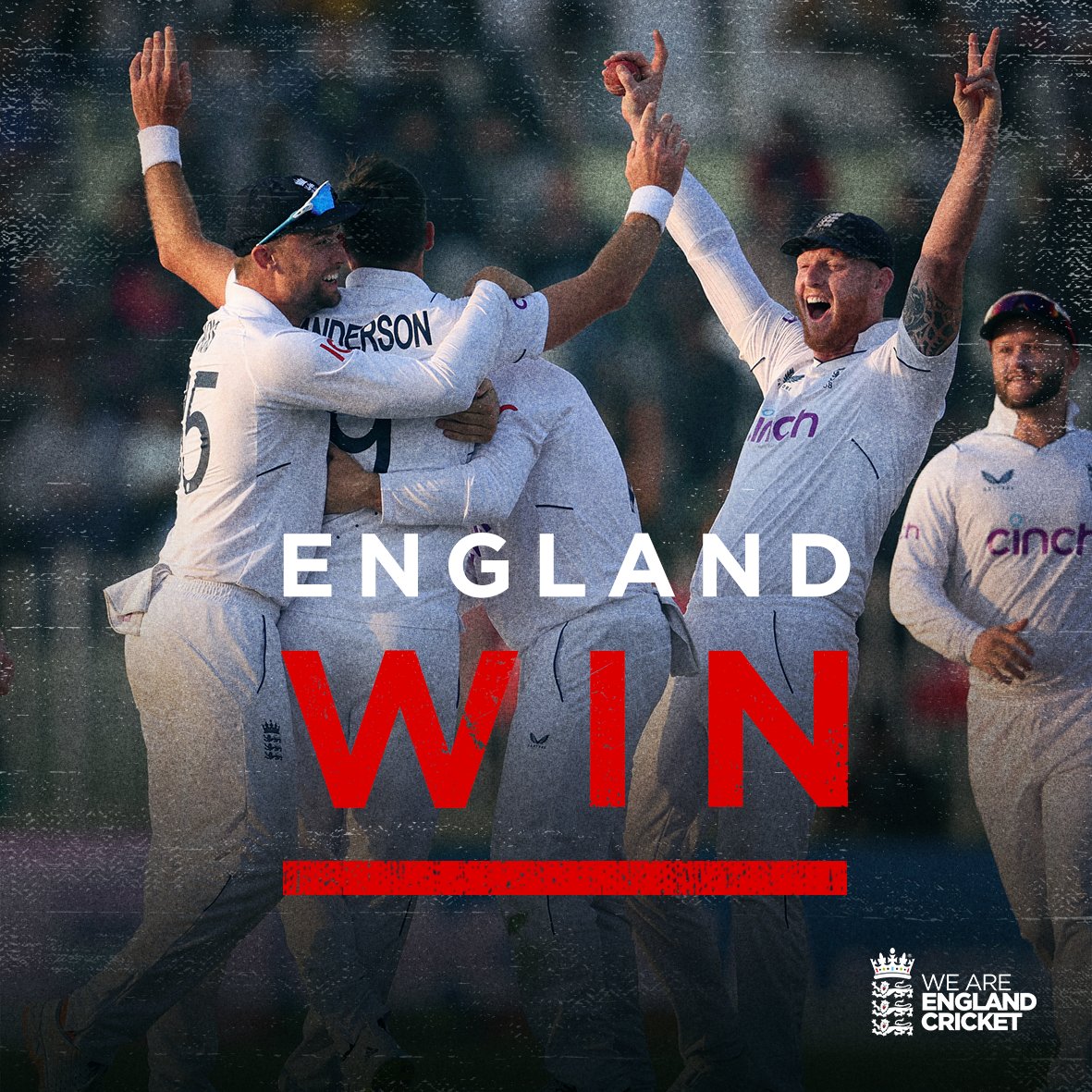 After England smashed a record 500 on the opening day in their incredible first-innings 657 I said this pitch could play host to a brand new grand prix on the Formula One circuit and I stand by that statement.
Pitches like this will be the death of Test cricket. The fact that thousands of people packed into the Rawalpindi stadium with many more waking up on a damp December morning to watch this amazing final day was because of how this England side took the game by the scruff of the neck.
This is a landmark victory which will strike fear into sides around the world.
There were calls for Stokes to be named Player of the Match after he orchestrated an incredible game of Test cricket, which will live long in the memory.
But infallible Anderson was the star of this show on the last day as he once again produced when his country needed his skills.
Who said you can't teach an old dog new tricks? Watching the greatest swing bowler ever bounding in and bouncing Pakistan's batters on the penultimate evening was a sight I thought I'd never see.
For a bowler who has picked up the majority of his staggering 677 Test wickets by pitching it up without anybody in the slip cordon, with a field designed for leg theory, highlights how innovative England are in their plans to take 20 wickets to win a game.
And the fact Anderson, well into the twilight of his illustrious career, is willing to do whatever it takes to win Test matches for England demonstrates how committed the team are to the direction Stokes is steering them.
Lots has been said about his effectiveness overseas and especially in the sub-continent. But think back to that impeccable reverse-swing spell in Chennai in February 2021 and his phenomenal Herculean effort today. Only Dale Steyn has more wickets as an overseas seamer than Anderson's 77.
The best there is.
The best there was.
The best there ever will be.
King 👑
🇵🇰
#PAKvENG
🏴󠁧󠁢󠁥󠁮󠁧󠁿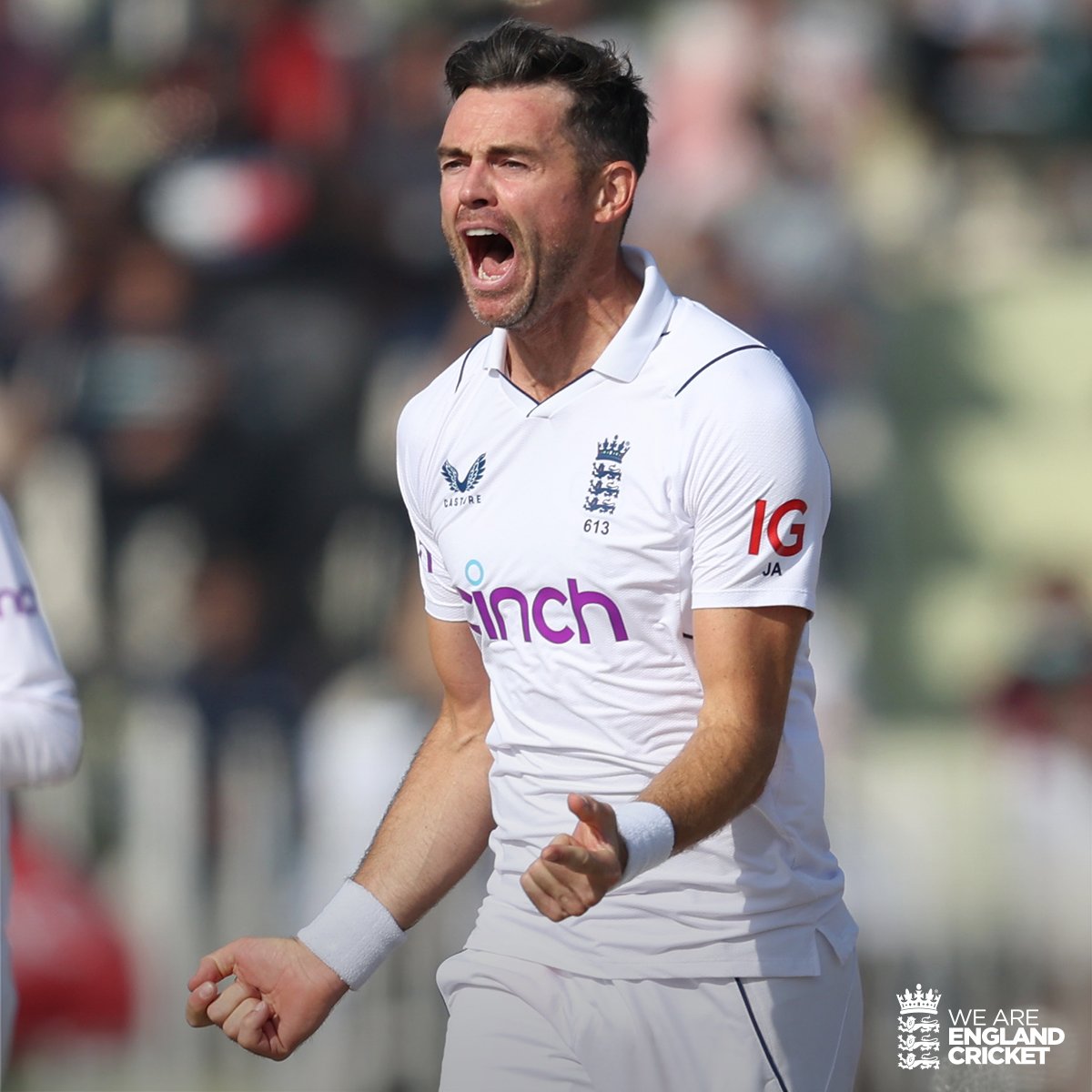 On a lifeless fifth-day pitch, Anderson finished with remarkable figures of 4/36 from his 24 overs. He gave Stokes control with the spinners proving expensive. At times it looked like Pakistan could pull off a great win of their own, but Anderson kept dragging them back.
After a long day, he said: "I feel like it's the best win I've been involved in away from home and at all really. That wicket was so flat and unresponsive. Today was a monumental effort.
"I don't think I've seen anything like it. Ben Stokes is someone you really want to play for. It's a great win."
Skipper Stokes hailed his side and beamed: "What we've had to deal with coming in makes this win even better. We try to focus on taking the positive option. We're an exciting team and it was a great pitch to bat on.
"With the ball you have to make bold decisions on pitches like this. For the lads to run in all day like they did, it's great as a captain to see that.
"I don't think I've seen a group who want to put their bodies on the line so much. It's a special group.
"We went with the seamers and it paid off. James Anderson was fantastic. The toil everyone put in is hitting everyone.
"Anderson is emotional up there. We;'ve done something very special this week."
Pakistan resumed on 80/2, but Anderson struck early on the last morning to remove Imam ul-Haq, a prized scalp as the left-handed opener has made three hundreds on this ground — including his fine first-innings 121.
Azhar Ali returned after retiring hurt from being struck on the hand by Robinson's steep bounce with the new ball on the previous evening.
He and wicket-keeper Mohammed Rizwan threatened to provide a scare for the visitors in an 85-run partnership, before he was strangled down the leg side shortly after lunch by Anderson.
The last five wickets fell in the last 16.1 overs, but not before things got nervy for England with light a huge factor.
Anderson returned to have Zahid Mahmood caught behind by another great Ollie Pope catch before trapping Rauf LBW two balls later.
Heads were in hands as Stokes induced an edge which flew between keeper Pope and Joe Root at first slip.
But left-arm spinner Leach struck right at the very end with Naseem trapped in front.
Match scorecard (England win by 74 runs and lead the three-match series 1-0)
England: 657 (101 overs); Brook 153, Crawley 122; Mahmood 4/235 & 264/7 Dec (35.5 overs); Brook 87, Root 73.
Pakistan: 579 (155.3 overs); Babar 136, Imam 121; Jacks 6/161 & 268 (96.3 overs); Shakeel 76; (Anderson 4/36, Robinson 4/50)