English Ultras? Manchester United And Crystal Palace Demonstrate Contrasting Support
11:22, 01 Mar 2019
London, England. Selhurst Park is a proper English football ground. Nestled among the houses of Croydon, there is little to suggest that a Premier League stadium is hiding just around the corner.
But look closely enough and you'll spot blue and red stickers adorning lampposts or a small flag with the initials "C.P.F.C." in the corner of the Cherry Tree pub. On matchdays, the doormen provide another clue, as The Sportsman finds out when quizzed politely as to the provenance of his accent.
"Are you Palace, mate? Are you local?" A quick white lie - "Neutral, mate" – does the trick.
But upon turning the corner onto Holmesdale Road, there can be no more mistake. The glow of the floodlights cutting through the darkness, illuminating the iconic curved roof towering over the Holmesdale End and the sloping road down to the away end turnstiles, built into the brick boundary wall.
Peering out from behind a pillar in Block R of the Arthur Waite stand however, in this most English of football grounds, away fans are confronted with a somewhat less English sight.
Far to the left, behind the corner flag at the bottom of the Holmesdale End, a dozen red and blue flags are flying, waved by young supporters, predominantly male, dressed largely in black and bouncing up and down in unison behind a large banner: "Fanatics."
The sound of the "Holmesdale Fanatics" is different, too. "Sha la la la la la, Crystal Palace!" rings out, accompanied by the steady beat of a drum. It's a melody frequently heard at Borussia Dortmund's Westfalenstadion, the final four syllables replaced with "Bo-russ-i-aaa," but also elsewhere across Germany and Europe where groups of hardcore ultras dictate the atmosphere.
Crystal Palace vs. Manchester United
Love Selhurst Park. Proper football ground.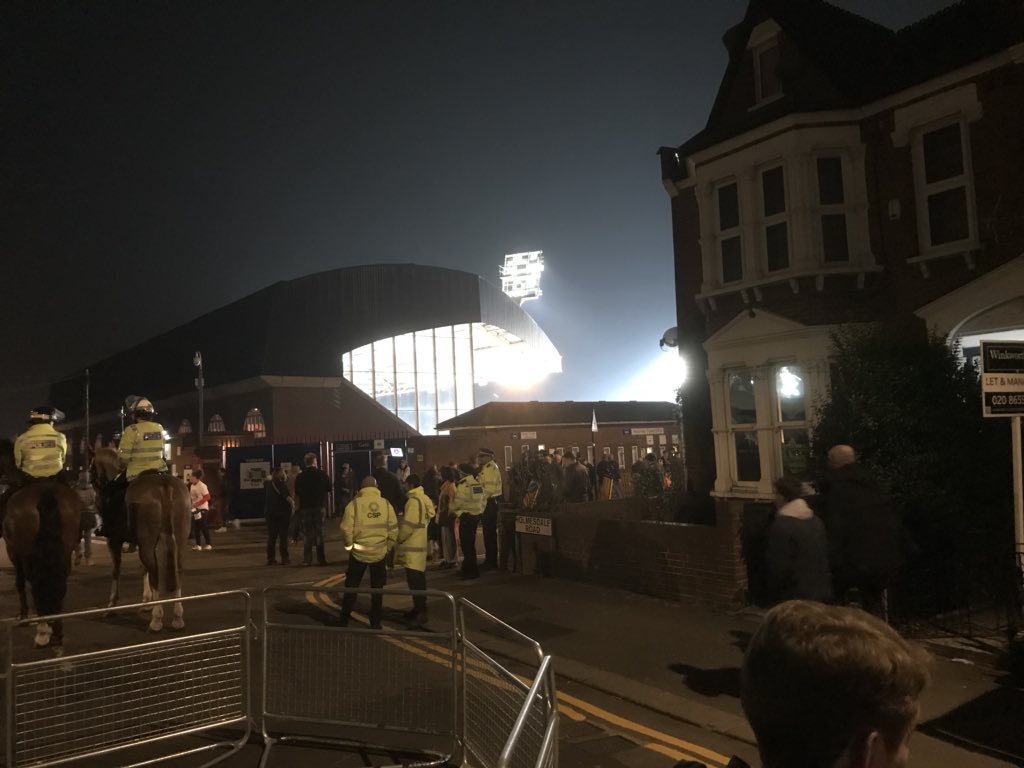 'Who do they think they are?'
English ultras. It doesn't really roll off the tongue but since 2005 Crystal Palace's "HF" have been conducting the singing at Selhurst Park, helping to generate genuine noise in a league increasingly well-known for its sterile atmospheres.
English ultras. The phrase even attracts mockery. "Who do they think they are?" goad some. "They think they're in Poland," laugh others. Then again, the topless lad caught on camera wearing a half-face skeleton mask away at Doncaster in the cup recently didn't help himself.
But the HF are ultras just as much as any established European group. "This mentality is unstoppable," read the message at the 2016 FA Cup Final, where Palace narrowly lost to Manchester United despite the Londoners' end of Wembley, conducted by the HF behind the goal, putting their opponents to shame.
It is a mentality, and it's about more than just 90 minutes. They may be fewer in number but, like their continental counterparts, the HF are colourful, artistic and inventive. They create impressive displays, they have a degree of control over their own tickets and they're active in their community too, fighting against the closure of iconic London nightclub Fabric in 2016, for instance.
It's not perfect though. Ultra-style support can be monotonous and lacks spontaneity with regards to the on-field action. Not everyone at Selhurst Park appreciates the choreographed atmosphere and proposals by the HF to move behind the goal were met with resistance by long-standing season ticket holders which led to the ultras temporarily boycotting games, causing the atmosphere to disappear. With some transparency, communication and a readiness to compromise, the ultras are back.
The HF also maintain friendships with Bordeaux in France and Panionios in Greece – another phenomenon largely unknown in England, as evidenced by recent reactions to Manchester City fans' apparent affinity with West Ham United. On the journey down to London on Wednesday, Manchester United supporters were highly amused by a video on the subject produced by one fanzine cover designer.
Crystal Palace 1-3 Manchester United
#mufc
🇾🇪🎶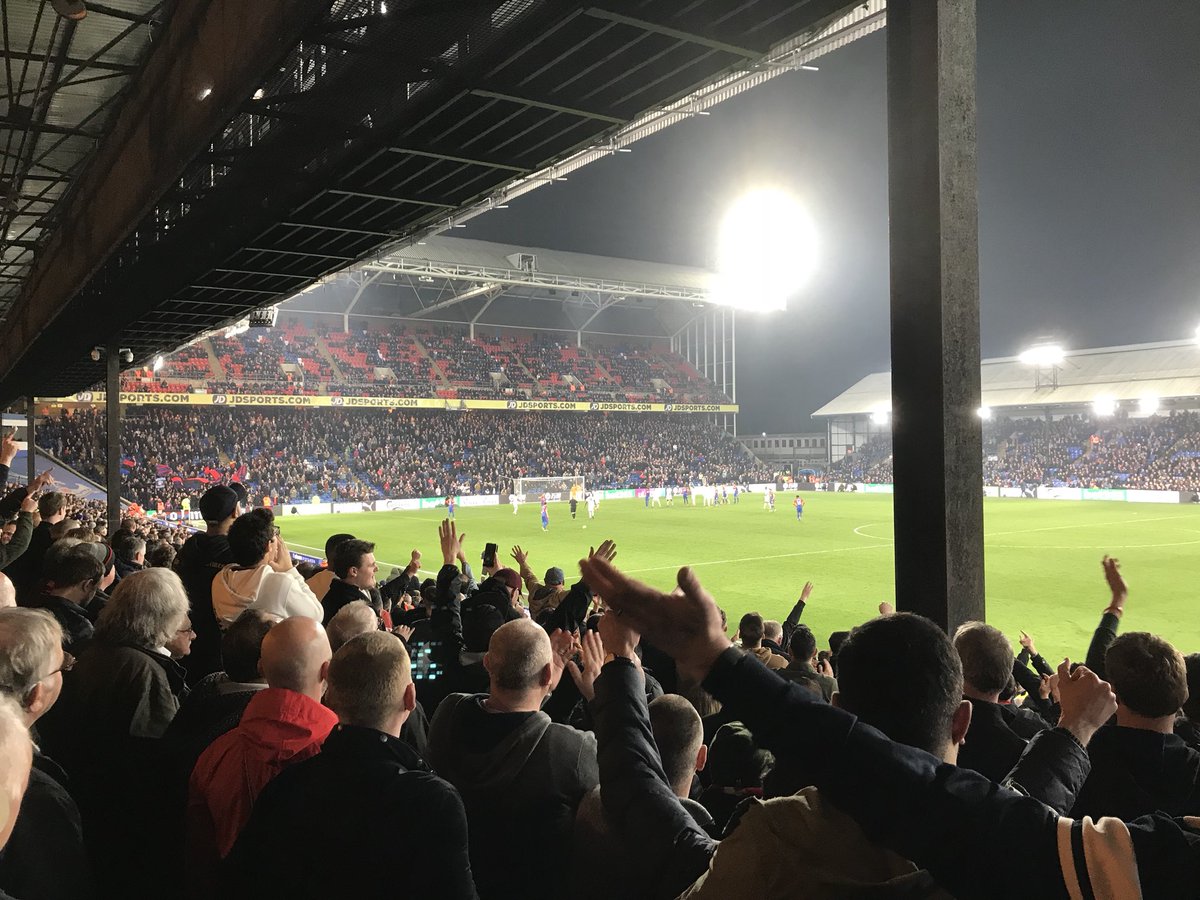 Ole's at the wheel
Match-going United supporters don't like ultras. They don't like drums or friendships. They don't really like each other half the time and the prospect of a "capo" standing up at the front of an away end with a megaphone would probably end in violence.
Not that it's necessary anyway. From Cardiff to Newcastle to Leicester in the league and from Arsenal to Chelsea in the FA Cup, United's hardcore support has blown home fans away with an almost constant wall of noise and a songbook superior to any other in the country.
Under Ole Gunnar Solskjaer, United have now won a club record eight consecutive away games in all competitions, sound-tracked by "Ole's at the wheel, tell me how good does it feel?" to the tune of the Stone Roses' classic Waterfall. It's original, it's unique and it's quite naturally Mancunian. It's definitely not ultra.
Unlike at Old Trafford, United's vastly over-subscribed away ends see thousands of like-minded, loyal, vocal supporters grouped together in a single stand – but it's not perfect.
Without a drum, chants get sung at lightning pace as fans subconsciously try to outdo each other. At Selhurst Park, the bizarre "1, 2, 3, 4" counting in the middle of Solskjaer's Waterfall song was replaced by the equally dubious "You Scouse B-stards." Why mention them? And what's so hard about counting to four in your head?
And when it comes to issues off the pitch which go beyond club loyalties, a lack of organisation has seen English supporters ruthlessly exploited by clubs, television and police, their clubs sold off to the highest bidders. In Europe, organised ultra groups often play a vital role in preventing such developments.
On Wednesday, Crystal Palace's ultras couldn't prevent a third straight home defeat against United – the only club the Eagles are yet to beat since being promoted back in 2013 – in a match which showcased two contrasting styles of support.
Classically English support in the away end and continental-style ultras in the home end. Ultimately, both could learn from each other.