The Dutchman boasts a staggering 74% win percentage as Ajax boss since he took charge in 2017
18:00, 23 Mar 2022
Ever since Ralf Rangnick stepped through the doors as Manchester United's interim boss, all talk has centred on who his long-term successor could be. The two names that have been at the forefront of this conversation have been Paris Saint-Germain and former Tottenham Hotspur boss Mauricio Pochettino, and Ajax manager Erik ten Hag.
Argentine Pochettino would bring a wealth of Premier League experience with Spurs. But for all his glowing credentials, he still lacks the main criteria Manchester United are looking for when it comes to experience; titles. While many have labelled Pochettino as the man to lead the Red Devils into a new era, there are those that see his lack of silverware concerning. Another mark going against him is his struggles to manage the egos that he is outnumbered by in his PSG squad. He would have that exact same problem with the bad batch that are still clinging onto expensive contracts at Old Trafford.
The other frontrunner, ten Hag, does not. With Ajax, the Dutchman has already tasted title success with two Eredivisie titles, two KNVB Cups and one Johan Cruyff Shield. His stock increased three years ago when his Ajax side were one minute away from the Champions League final. During that campaign they held the spotlight with their mesmerising style of play and a talented squad, including Donny van de Beek, Dusan Tadic, Frenkie de Jong, Hakim Ziyech and Matthijs de Ligt. It was regarded as one of football's great travesties that they did not at least reach the final, but it still put ten Hag on the map.
During the meeting, Erik ten Hag wanted to hear about Manchester United budget and plans for the future. His English level has now improved - ten Hag feels ready to try Premier League experience soon. 🔴
#MUFC
Man United will also meet other managers. Process still ongoing.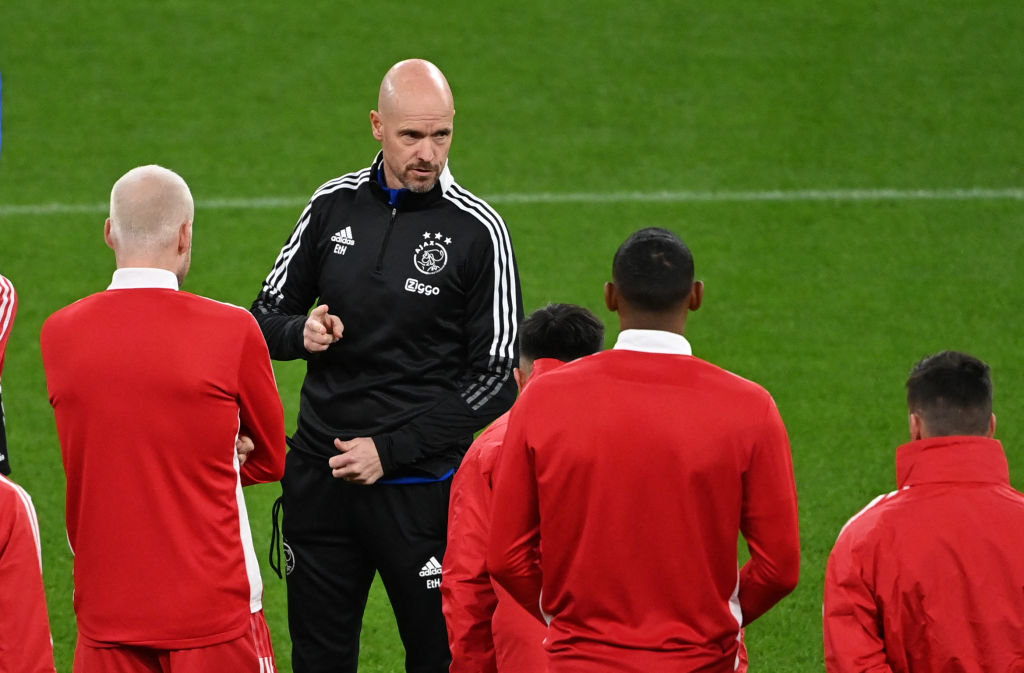 That squad was quickly disassembled as De Jong and De Ligt left the following summer and they have since been followed by Ziyech and Van de Beek. And for how incredible these players were in that 2018-19, none of their careers have quite hit the same heights, which just further highlights Ten Hag's abilities as a coach. Not to mention he has rebuilt his side which has once again impressed on the Champions League stage this term. There is no denying that swapping the Eredivisie for the Premier League would be a gargantuan leap. But the 52-year-old has proven himself over the last few years to the point where it is the right time for him to tackle one of Europe's top five leagues, and with a 74% win percentage as Ajax boss it's easy to understand why both he and other clubs across Europe are looking to explore this avenue.
It was reported this week that the former Utrecht boss had held talks with the powers that be at Manchester United on Monday about taking over the reins from Rangnick in the summer, when the German moves into a consultancy role. It is reported that Ten Hag asked about the club's budget and what the long-term plan was. Having previously worked in the Bundesliga, Ten Hag is an admirer of working alongside a sporting director, which is just another tick of a box in favour of his prospective arrival at Old Trafford in the summer. He has also been having English lessons which would suggest he is more than ready for a new challenge in English football.
The cycle of mediocrity at Manchester United has to come to an end, and while there needs to be radical change across the board at the club, the first cog could be put in place with the arrival of Ten Hag this summer as they look to reestablish themselves as title challengers domestically and internationally. His experience may not come from one of the more glamorous divisions Europe has to offer, but he has more than proven his worth in the Netherlands, while developing an intriguing style of football which shows he is a man with a plan - something which Manchester United have lacked for years.
There are a lot of more experienced managers in the frame for this prestigious job that know how much has to be done firstly before the club can start dreaming of becoming champions of anything again, but Ten Hag would have to be one of those fine examples of big risks that are worth the gamble. After all, the bigger the risk, the bigger the reward.