An injury time winner from Demarai Gray secured all three points for Everton
22:18, 06 Dec 2021
Sometimes, a football club just needs one result to turn their season around. After the dismal showing against Liverpool on this ground and with fears of a fan walkout on 27 minutes, Everton put in the performance of their season to come from behind to beat Arsenal 2-1, thanks to an injury time winner from Demarai Gray.
This was a manager, a group of players and a fanbase with a point to prove. Even when it seemed like everything was going against them, with Richarlison having two goals disallowed by VAR, instead of deflating the crowd it injected a level of enthusiasm into them that we have not seen this campaign.
Although this was a side managed by the much-maligned Rafa Benitez on the touchline, this starting XI had the imprint of five Everton managers upon it, stretching all the way back to David Moyes who brought Seamus Coleman to the club. The day after Director of Football Marcel Brands confirmed his departure, he leaves behind a club that is still searching for an identity on the pitch, but tonight proves this club certainly has one off it.
Everton fans' walkout was not as dramatic as first thought and instead Goodison Park rallied as the home side made a positive start to the match. Talks of the protest quickly dissipated as Ben Godfrey remarkably escaped without a red card for one of the most dangerous pieces of play we have seen all season.
The England youngster clearly placed his boot down on the face of Takehiro Tomiyasu, who was on the floor, and yet for some reason he escaped unpunished after a VAR review. It was a clear and obvious error for most watching on, yet Everton retained their full complement.
Although chances from open play were at a premium in a first half that the home side had the better off, they thought they had opened the scoring from an Andros Townsend set piece. Richarlison headed home from a perfect delivery but was ruled offside by VAR, and then when the Toffees thought they had gone 1-0 up, they went 1-0 down.
Martin Odegaard, who also scored at Old Trafford on Thursday, met a perfect Kieran Tierney delivery to volley home his third of the season and leave the Goodison Park faithful briefly bereft. Arsenal didn't deserve their half-time lead, just as Everton didn't deserve the smattering of discontent that greeted them at the break.
DEMARAI GRAY, OLÉ, OLÉ, OLÉ...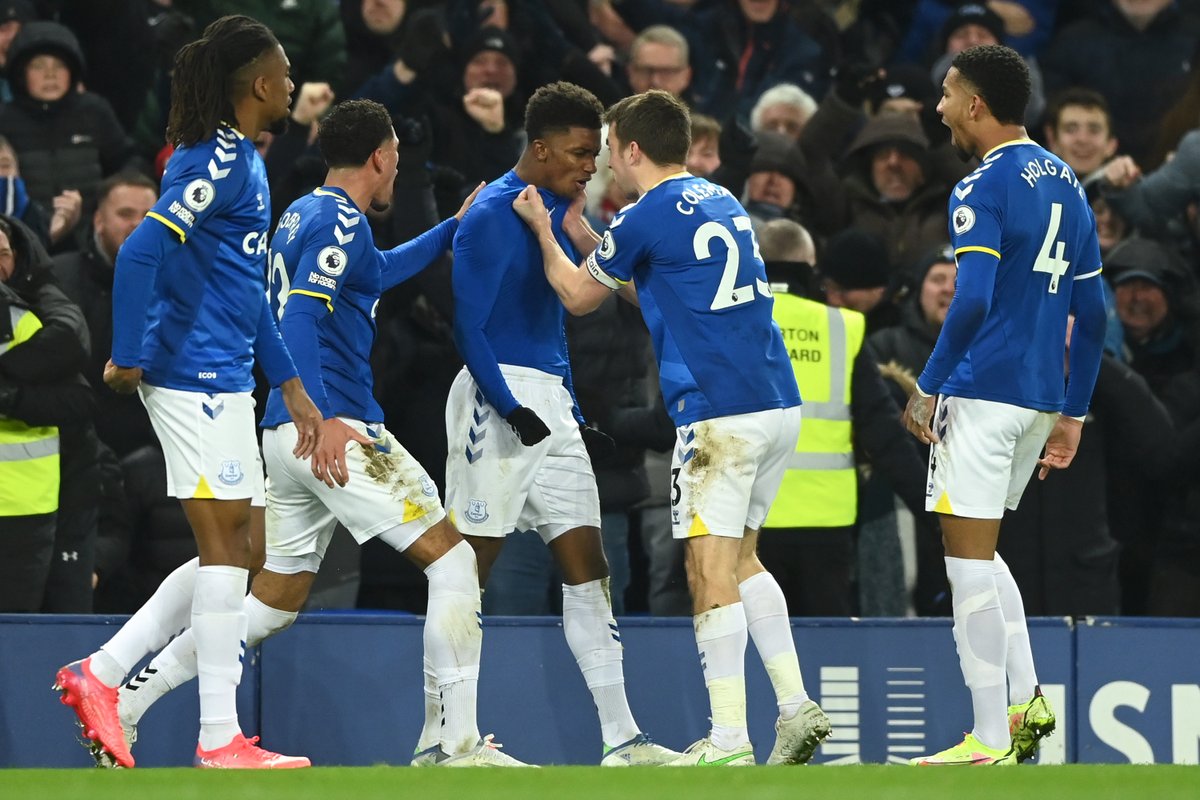 But any fears that this would turn into another toxic home loss soon faded away. Rafa Benitez saw his side come out on the front foot again in the second period, yet once again they, and Richarlison, were denied by VAR. Abdoulaye Doucoure threaded a ball through to the Brazilian forward who finished past Aaron Ramsdale and despite the "and this one counts" from the commentator - it didn't. It seemed like one of those 'toenail' decisions that we had hoped to see the back off but once again the number 7 was denied - but he wouldn't be kept out for long.
Gray pressed forward and saw his shot cannon off the bar, and it was Richarlison who was there to head the ball home. The relief on his face was clear for all to see and the crowd let out two hearty roars - one when the ball hit the net and another when Arsenal kicked off.
Goodison is a fragile old place at the minute. One moment it feels like nothing can stop this Everton team with the wind in their sails and the next minute they are a nervy mess which was seen again as Eddie Nketiah hit the post from six yards out with a header he really should have scored.
Then, the ground burst to life in stoppage time. Andre Gomes fed the ball out to Benitez's summer signing Gray who cut inside and thumped the ball in off the upright. It was a goal of monumental quality and a goal that could be monumental in turning the tide around this football club.
It's been a tough few weeks for Everton fans and now changes behind the scenes have been made. But the fans packed into Goodison Park got to see a team fighting for the shirt tonight - and that's all they have ever asked for.