Cricket /
Everything You Need To Know About The 2019 Cricket World Cup In Manchester
Old Trafford will host six World Cup matches
The ICC Cricket World Cup is back in England and Wales for the first time this century, and with the action already under way in the majority of the 11 venues, Manchester is now set for its moment in the spotlight.
The 23,000 capacity Old Trafford stadium, home of Lancashire County Cricket Club, is back on World Cup hosting duties, and the very venue that witnessed Shane Warne's "Ball of the Century" at the 1993 Ashes promises to be a cauldron of electricity as six ODI matches take place over the summer, more than any other stadium.
The city will be a festival of colour, noise, and excitement as fans - both passionate, casual, and those new to the sport - unite together for the most eagerly anticipated summer showdown between arch rivals India and Pakistan, the first of Manchester's half-a-dozen matches.
With the blockbuster clash edging ever closer here's all you need to know about the 2019 Cricket World Cup in Manchester.
Time to get excited: What's on show?
Cement Tuesday, June 18 in your diary as this is the date England venture up to Manchester for their clash against Afghanistan. New Zealand, West Indies, Australia, and South African will also be on show at Old Trafford over the upcoming weeks, however it's the eagerly anticipated duel between fierce rivals India and Pakistan that takes centre stage on Sunday 16 June - more on this below - while Old Trafford also hosts one of the semi-finals on Tuesday, July 9.
Manchester Matches

India v Pakistan - Sunday 16 June

England v Afghanistan - Tuesday 18 June

New Zealand v West Indies - Saturday 22 June

India v West Indies - Thursday 27 June

Australia v South Africa - Saturday 6 July

Semi-Final - Tuesday 9 July
The Big One: India vs Pakistan
Manchester, home of two iconic football teams, is no stranger to holding mega sporting spectacles, yet demand for tickets for India vs Pakistan was off the scale. More than 800,000 ticket applications were made for a stadium that holds 23,000, meaning the venue could have been sold out 34 times over. There's even been reports of tickets changing hands for a staggering £2,500.
The neighbours last locked horns in the final of the 2017 ICC Champions Trophy, also held in England, which attracted a worldwide TV audience of 324 million, making it the third-most watched cricket game of all time. The countries can only face each other in international tournaments, and in case you haven't got the gist yet, you're not going to want to miss this one.
Where to watch the action?
For those fortunate enough to grab a ticket for any of the six matches, the stadium is easily accessible. Just hop on a tram from Manchester Centre and step off at Old Trafford - it takes all of 15 minutes. Easy peasy. There are plenty of busses and Ubers, but if you fancy a stroll then it will take you just short of an hour from central Albert Square.
For those without a ticket, have no fear as there are plenty of other options…
Cathedral Gardens Fan Zone
For the full fan experience you are not going to want to miss this specialised event in Manchester city centre. For three days the historic Cathedral Gardens gives you the perfect opportunity to drink in the World Cup atmosphere as it's transformed into a free-to-enter Fan Zone; from 10am to 7.45pm on Friday and Sunday, and 10am to 10.45pm on Saturday.
The ICC promises fans an "authentic Cricket World Cup experience" complete with a huge screen showcasing four live matches over the three days, including England's clash against West Indies (Friday), and the Old Trafford showpiece between India and Pakistan on Sunday. Best of all it's free-to-enter so go enjoy the matches, activities, and music, grab a refreshing beverage, some tasty multi-cultural cuisine, and who knows you may even catch some rays.
"The British public always get behind global events and our City Celebrations allow fans up and down the country, as well as visiting fans, to come together to celebrate the Cricket World Cup, regardless of whether they're attending a fixture or not," said Steve Elworthy, managing director of the Cricket World Cup.
Broadcasted Fan Zone Matches

Friday 14th June: England vs West Indies - 10:00 to 19:30

Saturday 15th June: Sri Lanka vs Australia & South Africa vs Afghanistan- 10:00 to 22:30

Sunday 16th June: India vs Pakistan - 10:00 to 19:30
There are cricket activities aplenty, from a Street Cricket Cage offering structured coaching sessions, to five Skill Challenges where you can about different aspects of the game such as bowling, batting and catching.
"All sessions are based around the current practices of the Lancashire Cricket Foundation. My sessions are based around Visually Impaired Cricket and our Lord's Taverners funded programme Super 1s," revealed Rob Tipping, Lancashire Cricket's Disability and Inclusion Cricket Development Manager.
"The Visually Impaired session will involve using Visually Impaired cricket balls, which are size three footballs which rattle. We have sleep masks and simulation goggles to give members of the public the opportunity to experience playing cricket when Visually Impaired or blind.
"The Super 1s session is a closed session, and is a demonstration of our Lord's Taverners funded Super 1s programme. Super 1s is a pan Disability program aimed at 12-25 year olds, which aims to give participants a weekly cricketing experience at a community hub. Saturday forms a competition for three of our hubs as Bolton, Manchester and Oldham compete.
"The Wicketz sessions are skills sessions aimed at young people with coaches and players from our existing Wicketz programs, the Women's Softball session is open to all females, with no experience needed. The Free Play sessions are exactly that, they are an opportunity for members of the public to develop their own games, and play under the guidance of Lancashire Cricket Foundation Coaches."
Meanwhile, Women & Girls Manager for Lancashire Cricket, Jen Barden, will be running a women & girls only open session on Sunday from 2-4pm on Sunday which will focus on free play, adapted cage games, and a basic introduction to the sport.
So go get involved!
Check out the full schedule of activities running inside our Fanzone this weekend! ⤵️
No tickets or bookings required, simply turn up and enjoy our
#CWC19
experience 🏏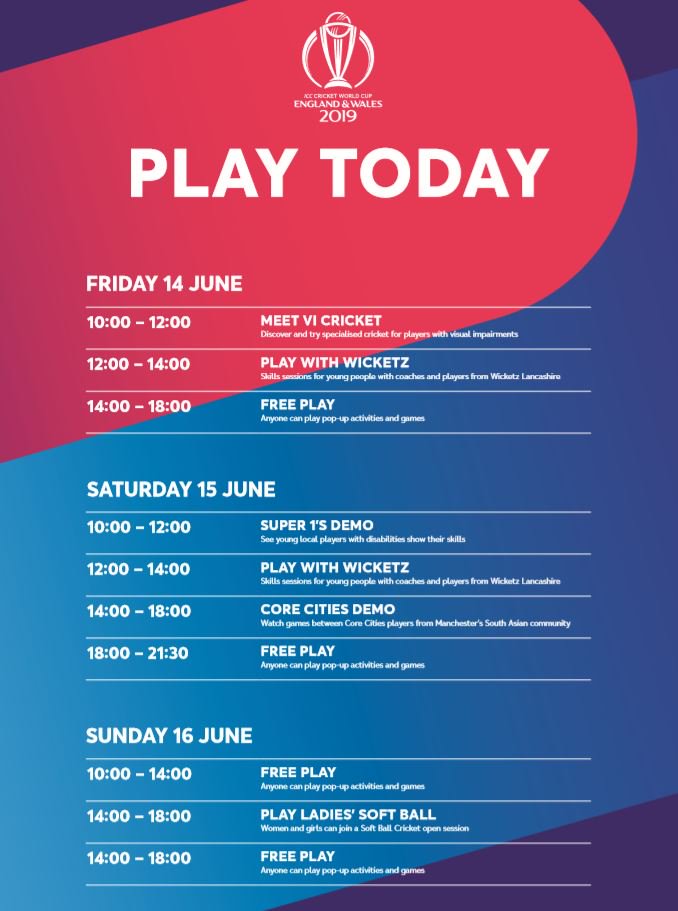 Manchester Sports Bars
Manchester is jam-packed with a wide range of sports bars, so you won't have any problems catching each and every match at the 2019 Cricket World Cup.
The Director's Box has long been a favourite for us here at The Sportsman. Not only is it centrally located within a stone's throw of Albert Square, it offers a first-class sporting experience with nine state-of-the art screens - you can even dabble in multiple sports as four events can be screened simultaneously. Compliment with the excellent food and drink options - we recommend the generously-portioned Nachos.
Over at The Brotherhood of Pursuits and Pastimes, a venue split over three contrasting floors, you're able to enjoy a more private spectacle in the form of booths in the basement, perfect for catching up with a couple of mates.
For atmosphere Walkabout is hard to beat, especially if you're an Aussie cricket fan. As you may have heard Manchester isn't famed for scorching sunshine, but the venue's beach-esq setting more than makes up for this. Every World Cup is screened live on 60" TVs, while if you're with a big crowd then VIP areas are available.
Location wise, Manchester's Northern Quarter is the place to be. The area is famed for its eclectic mix of vintage ships, coffee shops, eateries, and quirky bars...speaking of which the Tib Street Tavern is another one of the city's stand-out venues for sports and one which will happily flick on the cricket for your viewing pleasure. There are more intimate areas downstairs, ideal for fans looking for more privacy.