The UFC Apex returns to our screens for the second weekend in a row, with number one women's flyweight contender Jessica Andrade stepping down to the 115lb strawweight division. She will come up against the number ten ranked Amanda Lemos, an 11-1 fighter who most recently defeated Angela Hill in December, and carries her strength despite cutting weight to fight in the lightest division on offer.
Also on show is the 40-year-old Clay Guida against The Ultimate Fighter (Latin America) runner-up, Claudio Puelles. 'The Carpenter' will be fulfilling his duties as a gatekeeper of the lightweight division, testing young prospects with his frenetic striking and limitless engine.
Where: UFC Apex, Las Vegas, Nevada
When: Saturday 23rd April 2022, Prelims starts at 11pm BST, Main Card starts at 2am BST
How to Watch: BT Sport 1 from midnight
Lemos vs Andrade:
The main card fight will very much be fought under the strawweight division, but both of these fighters entered the UFC as bantamweights. Jessica Andrade, the challenger on this occasion, wants to carve out a route to gold in the division she used to reign supreme in. It's been three years now since she slammed Rose Namajunas head first into the canvas to win the strawweight championship, and since then she's been defeated by Zhang Weili, Namajunas in a following rematch and by Valentina Shevchenko as a flyweight. The experiment is over and the clock continues to tick for 'Bate Estaca' and she will be desperate to keep ahead in the rankings above any up and coming fighters like her opponent on Saturday.
We've got an all Brazilian clash on the cards!
🇧🇷 Amanda Lemos &
@JessicaMMAPro
both chasing championship contention!
#UFCVegas52
Amanda Lemos started her career in the UFC in rocky waters. A short notice loss to Leslie Smith in 2017 was followed by a two-year suspension after she tested positive for stanozolol, an anabolic steroid discovered in a sample taken in November of the same year. She waited for a return and defeated Miranda Granger in December 2019, starting a winning streak that's seen her move from 7 wins to 11. Like her opponent, she also started off in the bantamweight division when she lost her first fight in the competition, as well as when she fought in the Brazilian promotions. Both fighters have retained a tremendous amount of power despite the weight cuts, which will promise an action-packed fight with the potential for a first-round knockout from either side.
Guida vs Puelles
Clay Guida has had quite the career. A place in the UFC's Hall of Fame's fight wing for their headline performance for The Ultimate Fighter: US vs UK finale, where he lost via split decision to Diego Sanchez. He's on his 59th fight, and despite never winning a title in the organisation, he's fought some of the finest there is, like Nate Diaz, Anthony Pettis, Chad Mendes and Charles Oliveira. He's been around long enough to fight nearly every division of fighter, whilst keeping his signature hair and wiley strikes to attract fans. Rather amusingly, the aforementioned wild hair kept him out of the playable roster on the UFC 2009 Undisputed video game, as the hair was so difficult to put in the game. He even turned down $10,000 from Dana White to cut it off.
Before we carry on discussing every fun part of Clay Guida, like when he got the crowd going at Wrigley Field, his opponent deserves every ounce of respect going into this fight. Claudio Puelles has proved himself to be a bit of a submission expert. He was on Team Chuck Liddell on The Ultimate Fighter: Latin America, but unfortunately lost out in the finale to Martin Bravo. Since then he's fought four times in as many years, but is without a loss since his first official fight in the UFC. His kneebar has been a brutal weapon, something his veteran opponent is prone to falling into. For Puelles, a win can be taken by choosing his battles wisely rather than attempting to dictate a fight against such an energetic opponent. This one could go the distance, but don't sleep on a submission finish either.
Clay Guida's 59th pro fight is a critical one for his future. 🔨
#UFCVegas52
| More: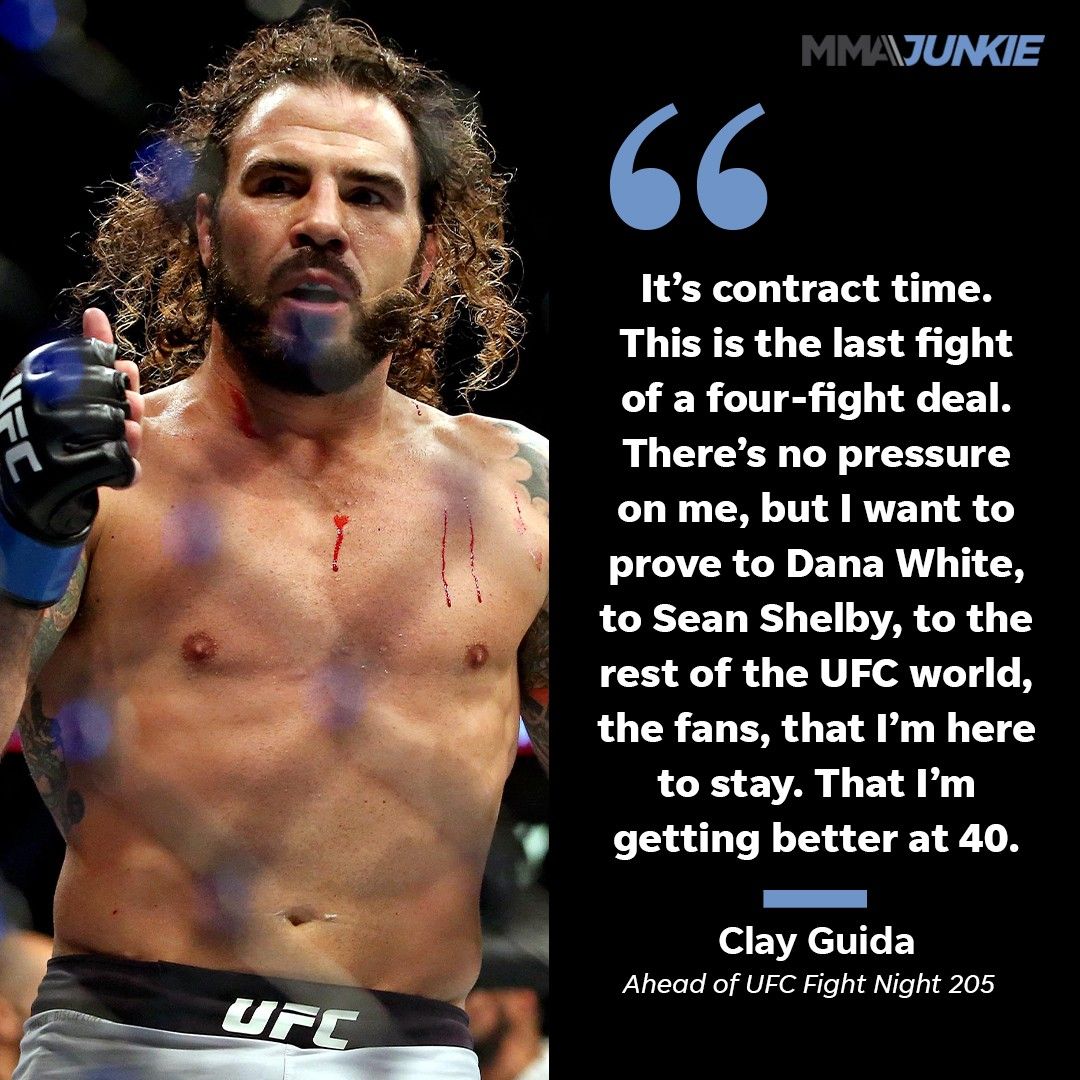 The Rest:
Alexander Romanov features against late-replacement Chase Sherman, a fight that seems to be a forgone conclusion before it's even begun. The original fight was between Tanner Boser and Rodrigo Nascimento, however the latter pulled out to make way to Romanov, before Boser tweeted on April 18th admitting that he had an injury and that he would pull out also.
The young Maycee Barber returns to the ring against Montana De La Rosa, with the hope of continuing to build momentum after only returning from a torn ACL in February 2021. She's not convinced too much since her return, which is a great shame for such a talented prospect, but a fight against someone who's historically struggled against athletic opponents could give her an advantage.
Full Card:
Main Card
Amanda Lemos vs Jessica Andrade
Alexander Romanov vs Chase Sherman
Clay Guida vs Claudio Puelles
Lando Vannata vs Charles Jourdain
Maycee Barber vs Montana De La Rosa
Manel Kape vs Su Mudaerji
Prelims
Preston Parsons vs Evan Elder
Jordan Wright vs Marc-André Barriault
Dwight Grant vs Sergey Khandozhko
Tyson Pedro vs Ike Villanueva
Qileng Aori vs Cameron Else
Marcin Prachnio vs Philipe Lins
Dean Barry vs Mike Jackson