It was a battle. It was tough. But ultimately, European champions Chelsea came up short against a Juventus side who got it tactically spot on. The Italian side sat deep at times and allowed their English opponents to come on to them, but managed to control the match at all times.
That is what experience brings you, and although it is Chelsea who are the current holders of the Champions League, it was Juventus that looked by far the more experienced, composed and competent side. Leonardo Bonucci patrolled the defence and although his long-term partner Giorginio Chiellini only joined him for the final few minutes, Matthijs de Ligt put in a brilliant display.
Between them, they not only managed to silence the potent Romelu Lukaku, who scored so many goals against Italian defenders as he fired Inter Milan to the title, but kept the entire forward line quiet. Worryingly for Thomas Tuchel, his side only managed one shot on target and having failed to muster one in their defeat to Manchester City at the weekend, questions will now be asked about the potency of this attack.
Lukaku is clearly an exceptional forward, but it seems in the last few games the service to him has not been good enough. Against Juve he saw one header go wide in the second half before he rolled his defender as we have seen so many times during his career but fired his shot over the bar. That was all he had to go at during the match and although he could have found the net, chances were at a premium.
For the majority of the match and in the key moments, Juventus' back four and the midfield in front of them had Chelsea bound and gagged. The Blues were stifled in a way that we haven't seen before this term. City came to Stamford Bridge and played the possession game to limit chances, while Juve just challenged them to break their defence down.
Juventus broke well in the first half as Chelsea's sloppiness let them down but in truth, the visitors never got going. The midfielders, especially Hakim Ziyech and Kai Havertez behind Lukaku, could not feed their main man and although Tuchel has options in that area, this week, none of them have clicked.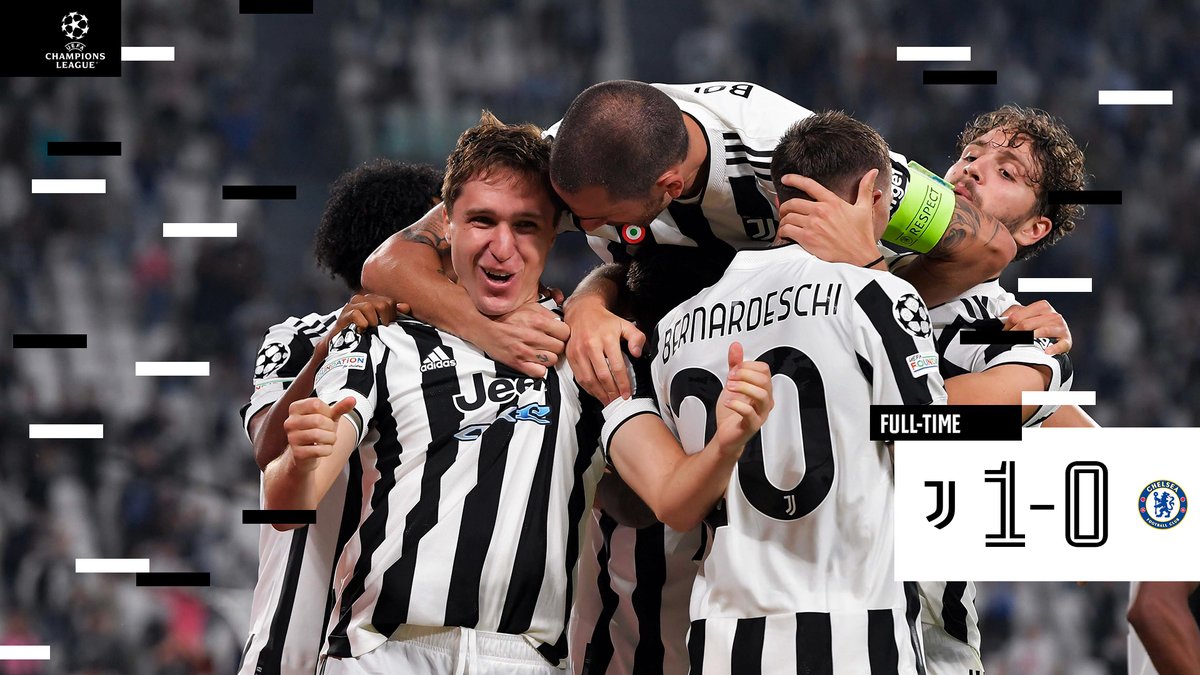 If the first half was a tragic affair, the second started with a bang as Federico Chiesa scored just 11 seconds into the half as he smashed the ball in from close range after Federico Bernardeschi played him through. Chelsea were caught cold, with half the side seemingly still in the changing room and that would give Juve the lead they wanted to hold on to.
Ben Chilwell's arrival at half-time for Marco Alonso was unfortunate. This is the only football he has played all season and although the goal did not come down his side, jokes will be made about his first 11 seconds on a football pitch leading to an opposition goal. For a side that has only lost one of their last 17 away games in European football, this was not a display to be proud of.
Bonucci continued to run the show at both ends and although Tuchel tried to shake things up with a triple substitution, Max Allegri used all of his experience to hold on. This is a big result for the Turin giants who started the season so poorly but have now won two from two in the UCL, but it spells more trouble for Chelsea.
They have the attacking talent and the defensive knowledge to win this competition again. Their manager has proved he is one of the best in the business, but for some reason things are not clicking on the pitch right now. One shot on target in two games is worrying, and Tuchel must get them back on track this weekend. Southampton await, and anything less than a convincing three points will provoke more questions.