World Champion would overtake Schumacher with victory in Germany
10:44, 23 Jul 2019
The seemingly unstoppable Lewis Hamilton can set another record at the German Grand Prix in the 11th race of the 2019 Formula One World Championship this Sunday.
The British superstar has finished top of the podium seven times already this year, including the last race on home soil at Silverstone.
Hamilton is sitting pretty on top of the Driver Standings, with Mercedes teammate Valterri Bottas and Max Verstappen the only other drivers to finish first in any race this campaign and just behind in second and third, respectively.
At the Hockenheimring on July 28, not only can Hamilton retain his crown after his 2018 success but he can set a new record for most German GP F1 victories.
The 34-year-old is currently level with the legendary Michael Schumacher on four F1 wins for the post-war Großer Preis von Deutschland.
Rudolf Caracciola, in a career that became enveloped in Nazi-era Germany, is recorded as having the most drivers wins at the GP, with six. In no way to denounce these achievements , they were, however, attained preceding the recognised establishment of F1 in 1946, and the launch of the drivers' championship in 1950.
Therefore, the post-war record is up for grabs, and something that - considering Hamilton's recent form - the current leader is determined to seize.
It would mark yet another significant record-topple for Hamilton, following on from overtaking Jim Clark and Alain Prost for most collections of the British Grand Prix Trophy a fortnight ago.
Hamilton will also go to within 10 of Schumacher's record GP wins, and stand on 81. A good pole position, or taking advantage of the 67 laps, could well see him overtake Schumacher for most laps-led.
Hamilton standing highest on the podium come Sunday afternoon would mark Mercedes' 15th win in Germany, catching up with Ferrari's 22, though this tally includes seven pre-official F1 drivers' championship races.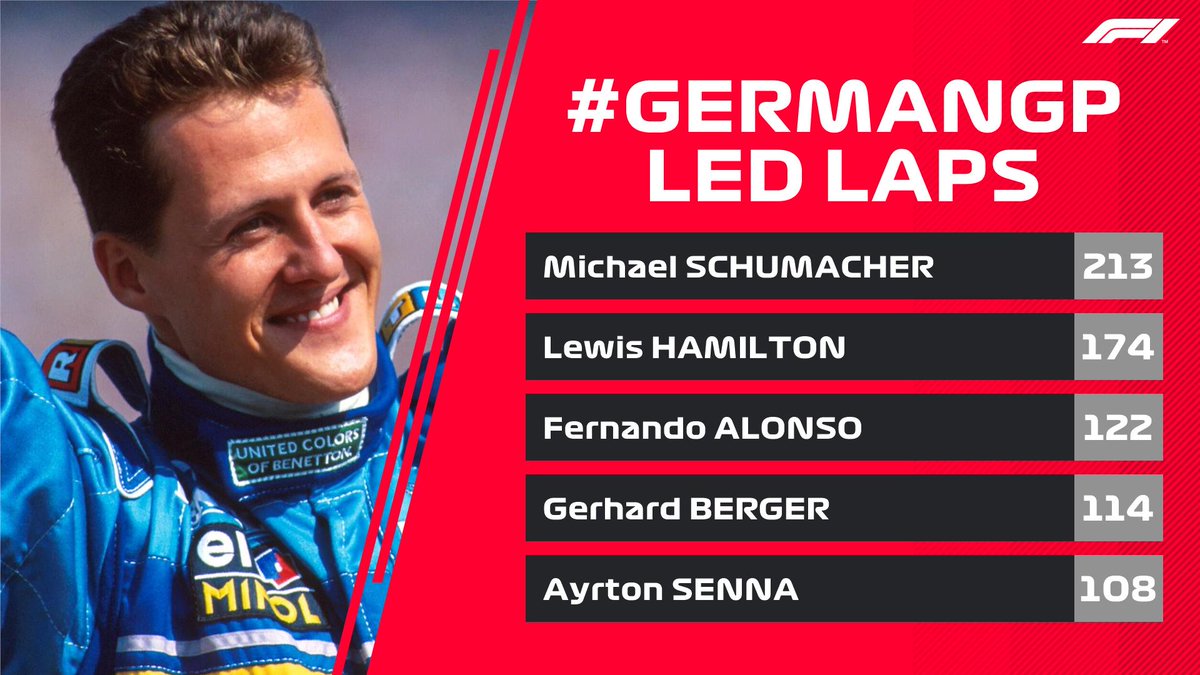 It's a different, rather more disappointing story for Sebastian Vettel and Ferrari.
Vettel, who has suffered a disastrous loss of form since the Canadian Grand Prix in the seventh race, has won just once in his home nation in his career. He is the only German to win in Germany in 13 years, with Schumacher in 2006, and that coming in his last Championship-winning season in 2013.
At Silverstone this year, the four-time World Champion finished a woeful 16th, having been involved in a collision with Verstappen on lap 38. Vettel will no doubt be hoping his Deutsch-homecoming this weekend will fare a little better.
Qualifying at the Hockenheimring takes place on July 27 from 14:00 (GMT), with the race commencing on July 28 at 14:10 (GMT).
HOCKENHEIM
Grands Prix: 36
First Grand Prix: 1970
Most wins: Michael Schumacher (4)
Most wins (team): Ferrari (11)
Most wins (current grid): Lewis Hamilton (3)
#F1
#GermanGP
🇩🇪